How to make Quick Pickled Carrots and how to serve them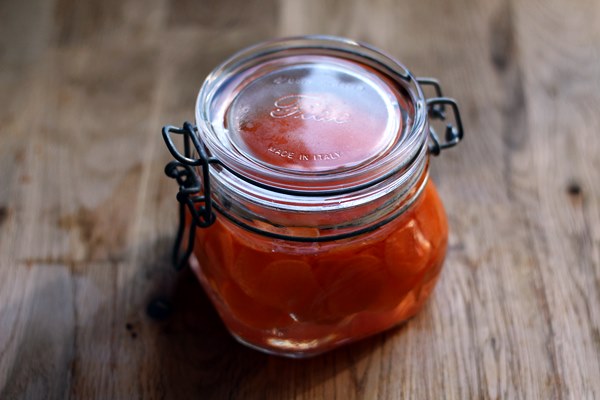 Now is the season to start making pickles and we want to share this simple recipe for pickled carrots. It is super simple to make and you can serve it with so many things. So learn how to make quick pickled carrots and how to serve it.
This recipe for quick pickled carrots is super simple and the best thing is that we are pickling thinly sliced carrots. That means you will be able to make and serve the pickles at the same day. In the recipe I am using a Swedish product called ättika. Ättika is a acetic acid that is mostly used for preserving herring and vegetables in Sweden. It is different from vinegar in taste, it has a very high acidity and a more clean and raw taste than normal vinegar.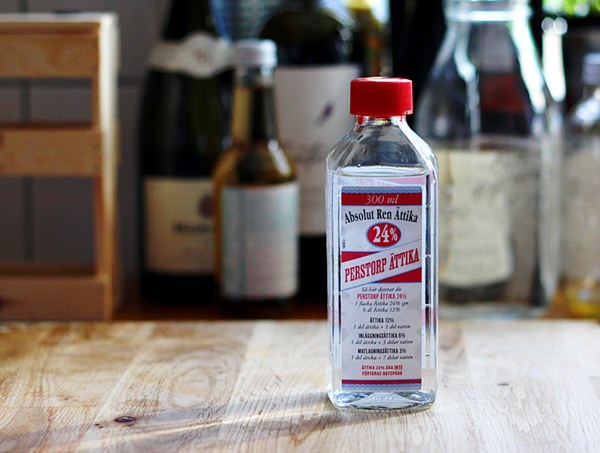 You probably won't find it outside Sweden so use distilled white vinegar instead. You will need to check the percentage of acid, I used a 24% strength when I made this recipe but I have recalculated the recipe for a acidity level of 5% that I know some distilled white vinegars have in the US. If you have a different strength you can adjust the recipe yourself.
Quick Pickled Carrots
carrots
1 part distilled white vinegar 5%
1 part sugar
1 part water
I wrote this recipe in parts and you can adjust it yourself depending on how much you are making.
Add the vinegar, sugar and water to a pot and bring it to boil. Set aside and leave to cool. Peel and wash the carrots and then slice very thin using a potato peeler. This is a bit time consuming so if you have a machine or different tool that make this quicker go ahead and use that instead.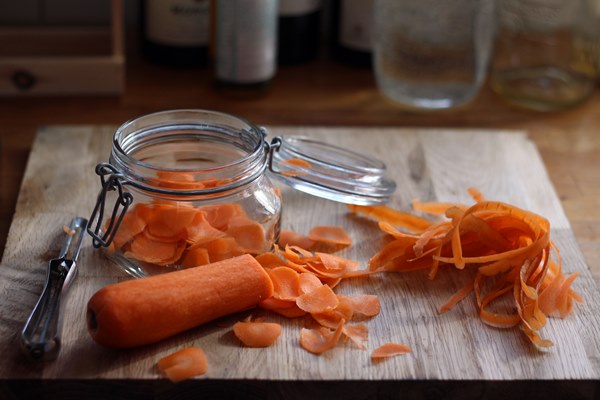 Put the sliced carrots in a pickling jar and pour over the liquid. It doesn't have to be cold but it shouldn't be piping hot. Make sure the carrots are covered with the liquid and close the lid.
Store the pickled carrots cold, they will last for at least a few weeks but I never keep them that long myself. Usually I make small batches and use them within a week.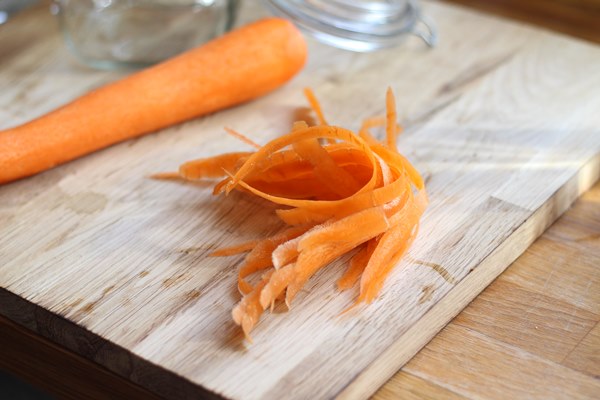 How to serve quick pickled carrots
There are so many ways to serve these carrots, below are a few examples.
Salads – add them to any salad, a crispy carrot with some sting adds great texture and taste.
Steaks – serve them with grilled meat, in my photo below I served them with a ribeye steak with porcini mushrooms and mashed potatoes. It worked great.
Tacos – the carrots works great as a taco topping, it ads a little bit of crunch and how often do you serve carrots with tacos?
Sandwiches – any type of sandwich is a great way to use these, I've tried them with a roast beef sandwich with mayonnaise, it was a perfect match.
These are only a few examples and there are so many other things you can use this for, don't be afraid to take some chances.