Check out 12 Food Truck Designs to check out before it is time to start your own, because these ones look amazing.
Let's check out some great food truck designs. Most of us love a great food truck, but sometimes that love goes beyond the food and is more focused on the food truck design. Because let's face it. It is so much more fun to get that taco from a cool looking truck than to a regular white one isn't it?
So I made this huge list of some of the coolest trucks I could find. These all look amazing and is a great source of inspiration if you're in the mood to starting your own truck. If you are a good design is always a good way to go. Sure what you serve is the most important thing but you have to get people to line up first. Easiest way of making that happen is all about two things. Location and looking tasty.
So let's check these great truck designs out shall we?
The Rocket Food Truck, Phoenix, USA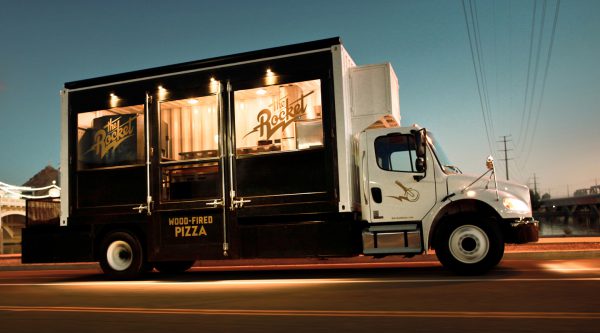 Wood-fired pizza inside a truck with plenty of windows for everyone to see. This food truck design stands out in so many ways. First of all just look at it. Amazing design, just cocky enough and a cool sounding name.
The downside is that this is a biggie, an actual truck and not one of those small Citroens you keep seeing. However if you would find this at a sidewalk nearby you would without a doubt lineup immediately. The design is made by Whiskeydesign, money well spent.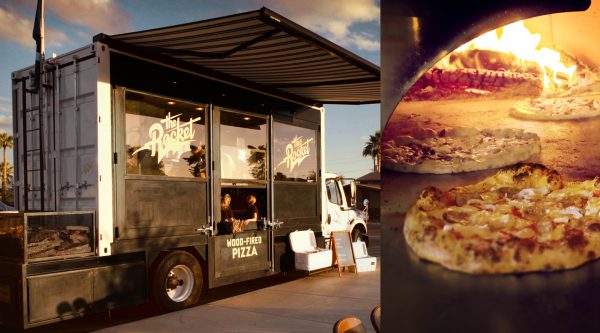 Falasophy Food Truck, Orange County, USA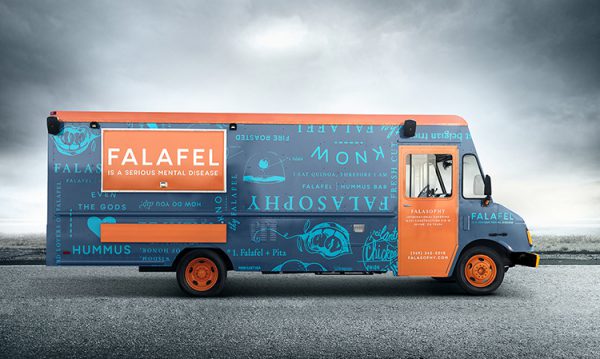 Dark blue with orange labels and great attention to detail. You will notice the Falasophy food truck design when you see it. Falasophy serves gourmet falafel and hummus made out of top quality fresh ingredients. Design Womb made the design and once again it is money well spent. I'm getting a hummus craving as I am writing this.
My favorite thing about this design is the colors, dark blue and orange just goes great together, sort of like hummus and falafel.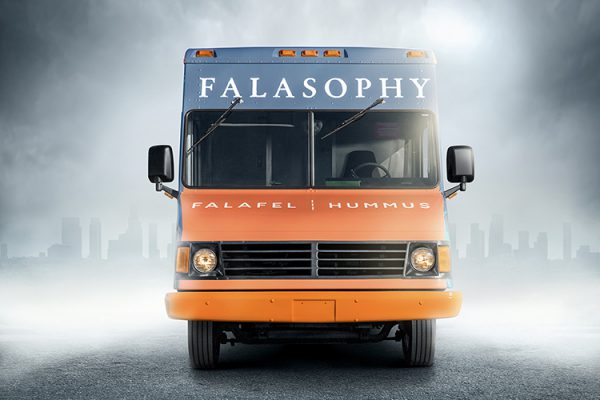 Feiner Herr Pancake Truck, Berlin, Germany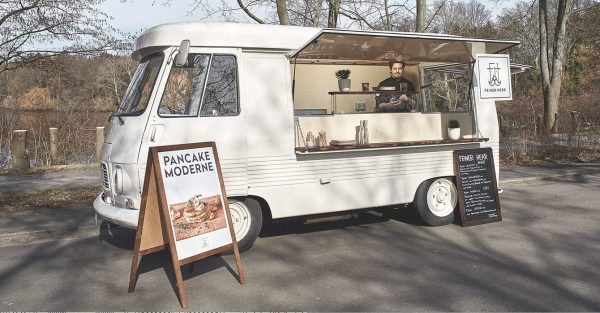 Not every food truck design have to be spectacular. Good looking is enough. This food truck roams the streets of Berlin and serves modern pancakes. That's about any type of pancake you can imagine and then some.
A small retro looking truck in one color with just a simple logo on the side. A great example of how you don't have to scream the loudest to get noticed.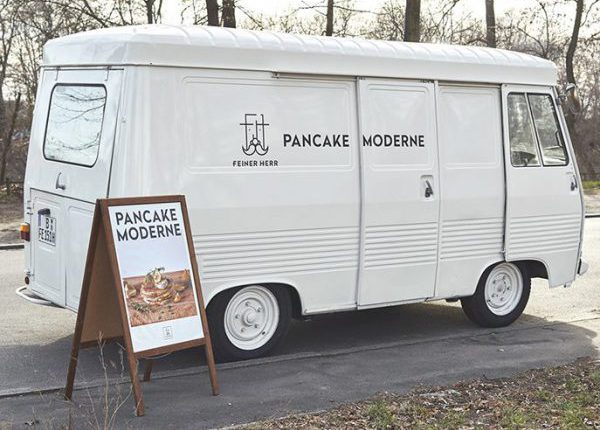 Maria Almenara, Lima, Peru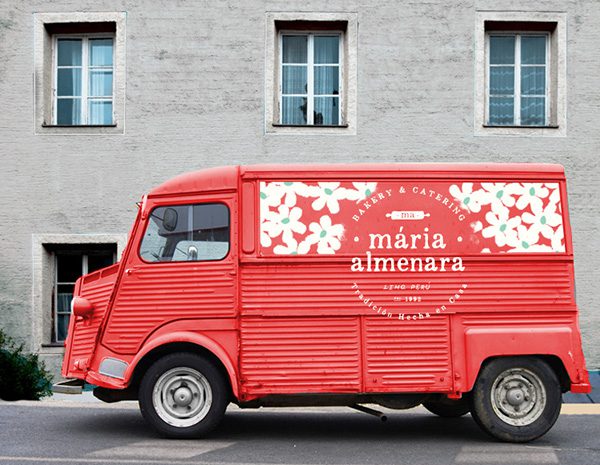 Another clean design. There are a number of things that I like about this truck. Firstly I really like the color and clean design. A rolling pin in the logo makes us know that this is a bakery. The flowers make it look cute and the truck itself is looking good from the start. What I like as well is that it's not a new truck. This one has been around for some time, maybe not as a bakery but it is hardly brand new.
As a bonus there is also some great branding for the products from the truck as well. The design is made by Wallnut Studio.
Coast Truck, Baltimore, USA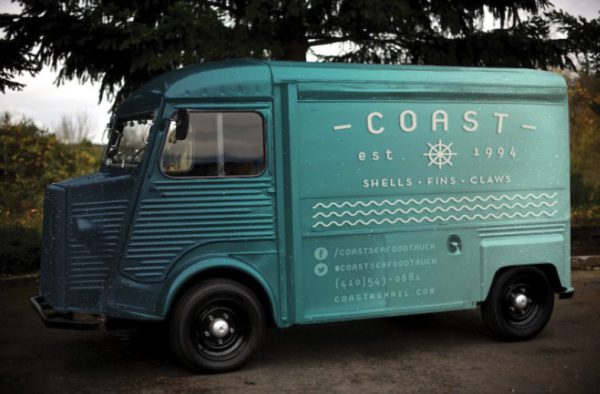 Coast is a seafood food truck in Baltimore, Maryland. Single color Citroen with some great design. The graphics are very clean but represents the products perfectly. The color is the same as the sea and there is a nice wave pattern on the side as well.
For some reason I really like these clean designs and single color always looks good. The design is made by Kylee Alvarez.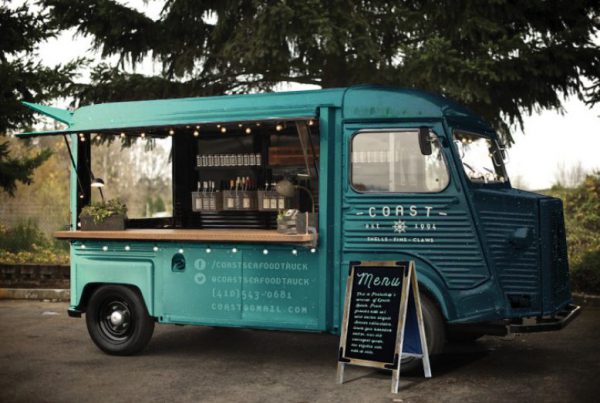 Boo Coo Roux Food Truck, Chicago, USA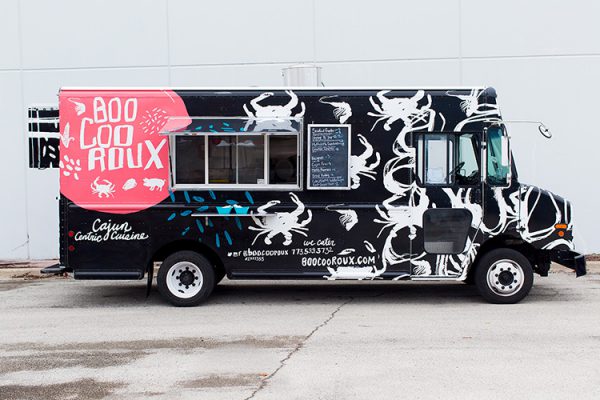 Back to something not so minimalistic. This cajun food truck can be found on the streets of Chicago serving all of us who love us some cajun food. Once again it is Design Womb who is behind this great design. Black with a crab inspired white pattern and a big pink splashed logo on the rear of the truck.
Often bigger trucks like this needs some more design work, the smaller retro trucks are cool on their own. But imagine this one without some great design, not that great then is it?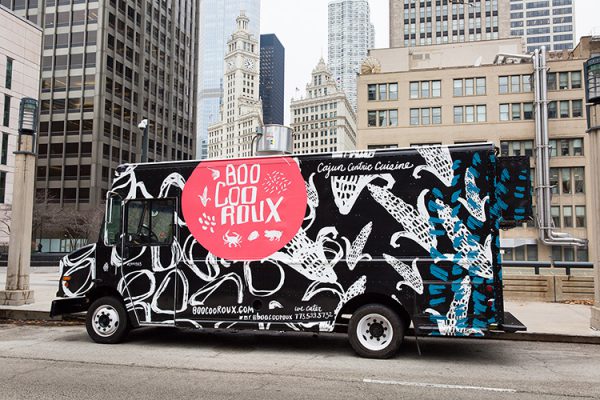 Coy Food Truck, London, England

This truck isn't really a truck. It's a small Italian scooter car that serves sushi to Londoners. Sort of a multi-cultural food service I guess. But since it looks great I think it's a great fit for this list. Sadly the images is a little bit small but hopefully you'll get the idea.
Small black scooter truck with a big round logo in white. Besides the truck designer Alex Celaire have also made some other great branding for the truck. Check out the stuff below.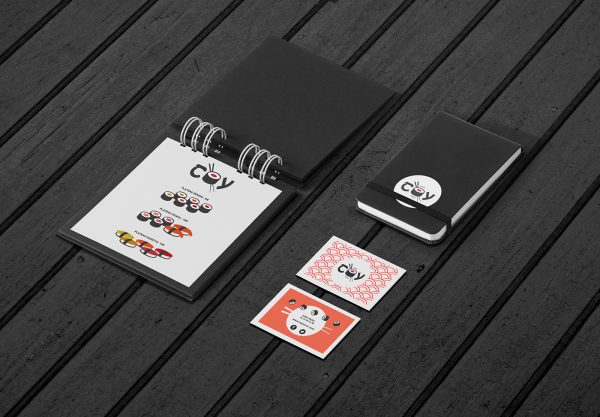 Combi Coffee Truck, Porto, Portugal
Clean and simple design for this coffee truck. I love the two-tone design with the green in the bottom and white on top. A clean logo in black on the side and you are good to go. The design is made by 327 Design Studio in Portugal.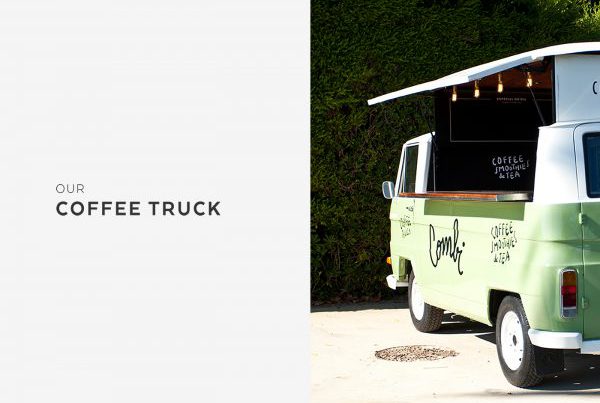 Bunker Caravan Food, Spain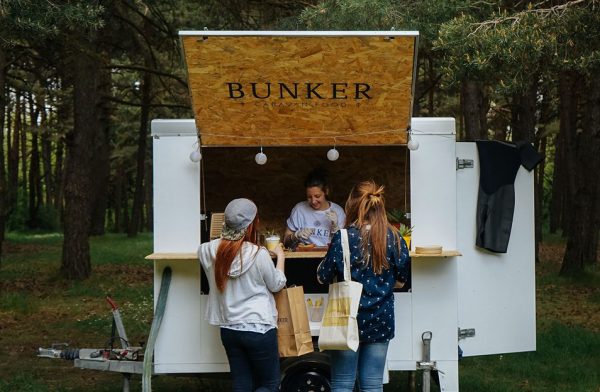 The cheapest way of starting a food truck is to not start a food truck. Start a food caravan instead. This Bunker Food Caravan was designed by Jairo Perez from Spain and it is a great idea. Get any car that can pull a caravan and get going. Caravans are way cheaper than food trucks and essentially it's the same thing.
This one is in all white with a plywood interior that gives it a low budget feel, in a good way.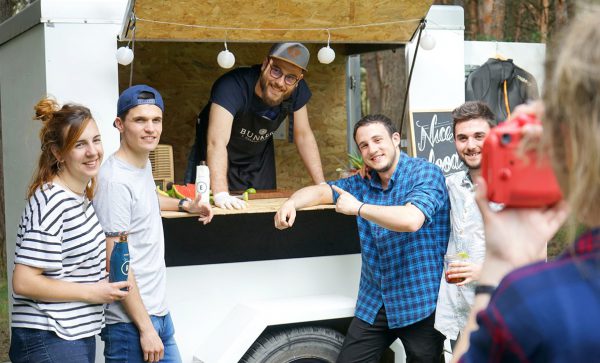 Pita For Good, Kansas City, USA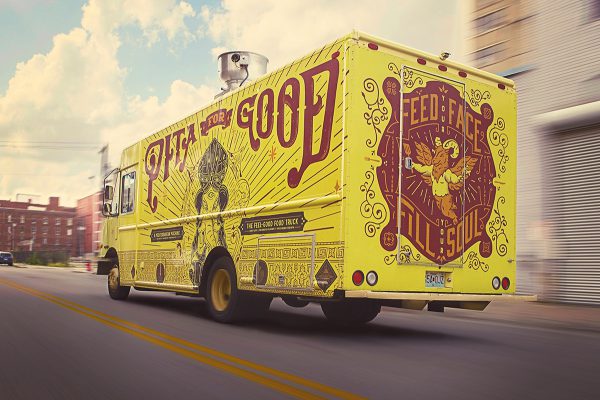 One look and you should be sold on this great design. The truck is called Pita For Good and it comes with the great slogan on the back. Feed your face, fill your soul. Who can resist that?
The design is made by Whiskey Design and I love everything about this one. Plenty of design, fun colors and plenty of details without making it too crazy.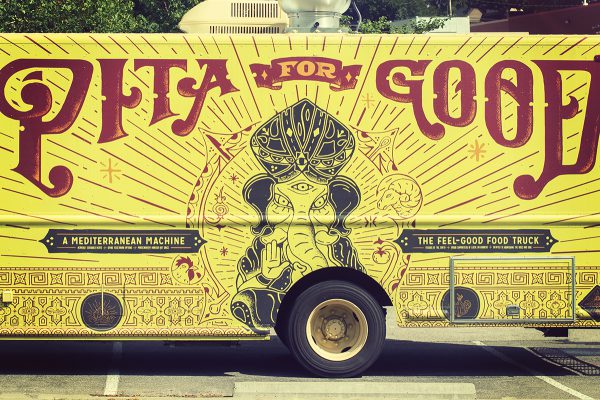 Bumblebee Dessert Truck, Denver, USA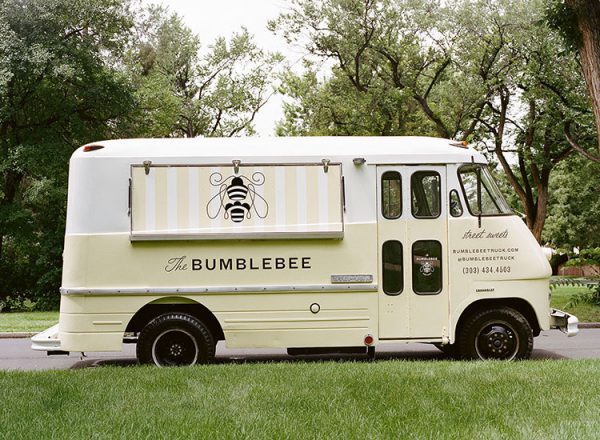 French style pastries and seasonal desserts is on the menu if you find this great looking truck. The inspiration comes from traditional French pastry and the charming American 1950's style. Delicious, sweet and nostalgic.
The truck is a 1962 Chevrolet P-30 and I think we all want one. Or at least get the chance to get a cookie or two. The design comes from Design Womb.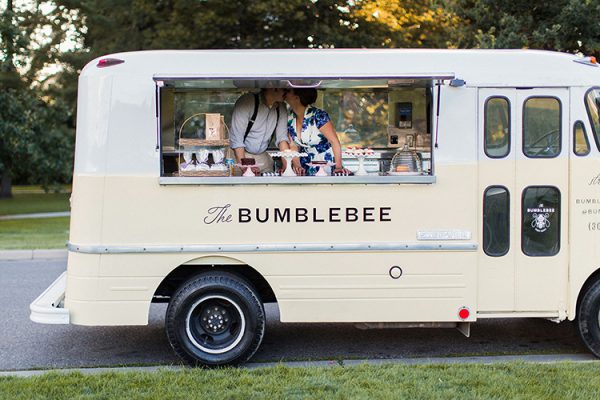 El Patrón Taco Truck, Sao Paulo, Brazil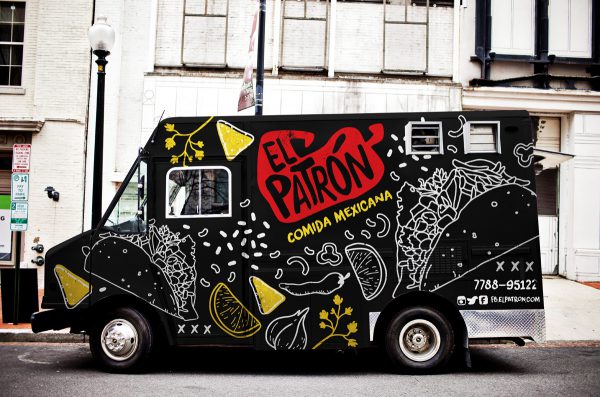 You can't put together a list like this and not include a single taco truck. So here it is. This one is called El Patrón and you will find it in Brazil. All black with some great graphics on the sides.
I really like the tacos and herbs and spices on the sides. It's also good that they didn't go with too many colors. This way it still looks fairly clean and still stands out.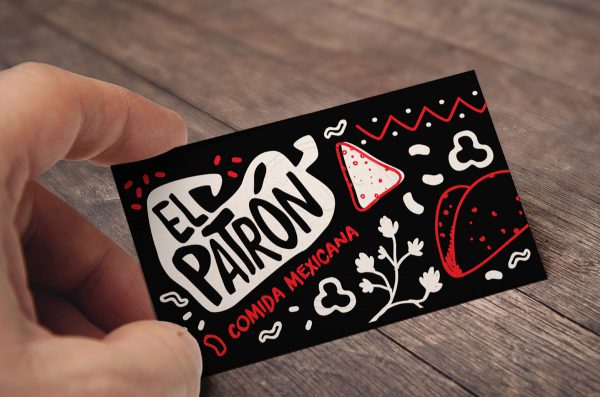 Tags: branding, design, food truck, foodtruck