5 Amazing Chanterelle Recipes You Will Love

Chanterelles are in season, that means it is time to share some of my favorite ways to cook with this great ingredient. I rounded up 5 Amazing Chanterelle recipes you will love, let's get cooking.
Chanterelle recipes are rarely complicated. The chanterelle is so good on its own you don't really need to complicate things. The chanterelle is a big thing in Sweden, easiest the most popular mushroom and people keep their locations on where to pick them as secret as possible.
SInce the chanterelle is also one of the easiest mushrooms to identify it can be hard to find any. Luckily you can usually get some in the supermarket when in season. So let's try out some great chanterelle recipes.
These recipes are all a little different from each other. If you're going to try only one I recommend the Chanterelle Toast with Parmesan cheese. It's the easiest one to make and it's the one that truly honors the chanterelle. Each recipe is described here, there is also a link for each recipe that takes you to the original post if you want some extra details about each one. Good luck!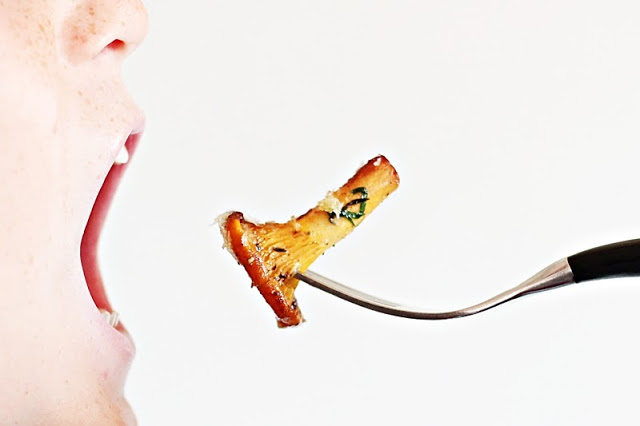 Serves 4 as an appetizer
600g / 20 oz fresh chanterelles
4 slices white bread
½ handful fresh parsley
2 cloves garlic
1 tsp thyme
1+3 tbsp butter (1 for toast, 3 for the chanterelles)
2 tbsp olive oil
1 shallot onion
Parmesan cheese
salt, pepper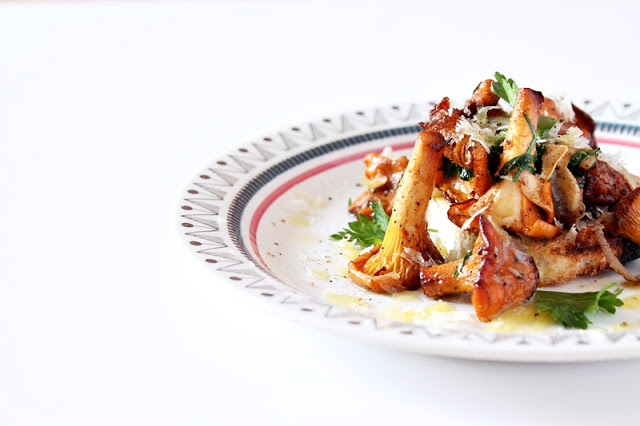 Fry the bread in butter until golden. Dice the garlic and slice the onion, chop the parsley roughly. Fry the chanterelles in butter and olive oil with the garlic, onion and a little bit of thyme. Season with salt and pepper. When the chanterelles are done add the parsley. Put the chanterelles on top of the toast and grate some Parmesan cheese on top. Serve immediately.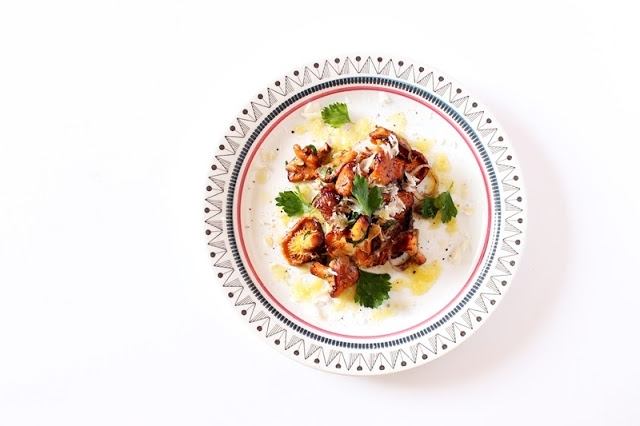 Serves 4 as an appetizer
200g / 7 oz chanterelles
About 8 Jerusalem artichokes
4 tbsp cream
chives
1 tbsp butter (for the sunchokes)
1 tbsp butter (for the chanterelles)
salt, pepper
2 tbsp white wine
1 shallot
150g / 5.3 oz bleak roe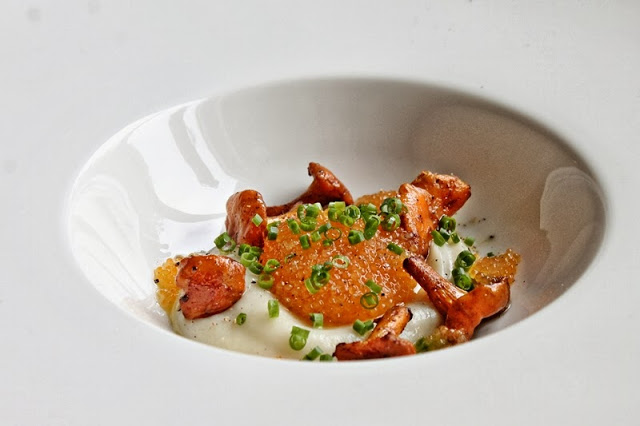 Peel the artichokes and the shallots and chop them roughly. Fry them on medium heat in a pan for a few minutes, add salt, pepper and white wine and bring to a boil. Add water and the cream and let the artichokes simmer until cooked through. Once done remove the liquid and set aside and the blend the artichokes to a smooth puree. If it gets too thick then thin it with the liquid.
Fry the chanterelles in butter and season with salt and pepper. Serve the artichoke cream with the bleak roe and the chanterelles, when serving add some sliced chives.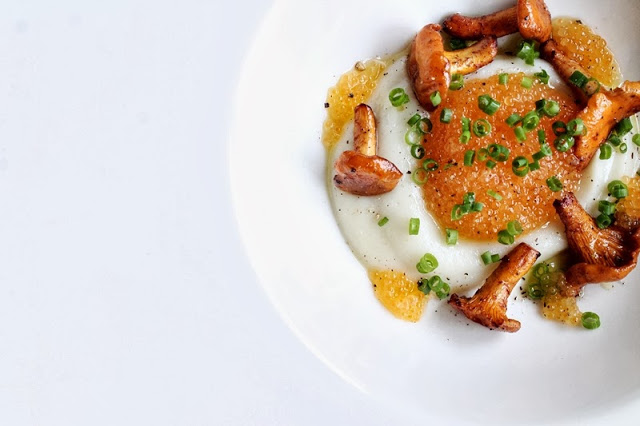 Serves 4
500g fresh chanterelles
1-2 shallot onion
2 cloves garlic
½ tsp dried thyme
2 tbsp butter
black pepper
water
5 dl / 2 cups cream
salt
2-4 slices fresh bread
8 tbsp grated Parmesan cheese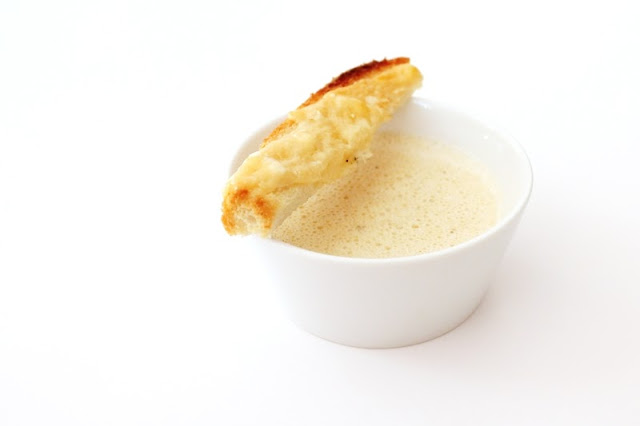 Dice the onion and garlic, add butter to a pan and add the chanterelles, garlic and onion and fry until golden and they start to dry out. Season with salt, black pepper and thyme. Add water until the mushrooms are covered and simmer for about fifteen minutes.
Add a little bit of cream and bring it to a boil and then blend into a smooth soup, adjust the thickness with cream or water if necessary and season to taste.
For the Parmesan bread, I just take a good fresh bread and grate loads of Parmesan on top and roast it in the oven until golden. Serve warm with the soup.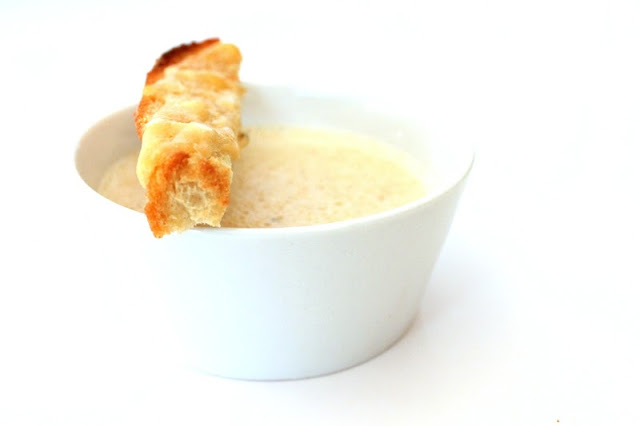 I love the combination Chanterelles with cauliflower, something about just works. Since this dish comes with many parts let's break things down in separate recipes and by the end, I'll also go through the plating and I promise you'll love how it turns out. All the individual recipes will be enough for four servings. In some cases, it will last for a few more servings.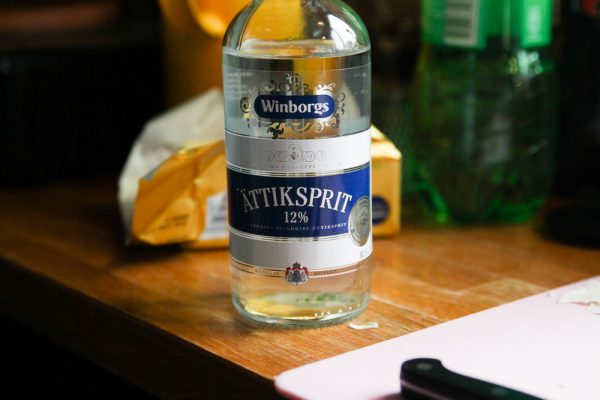 Fried Chanterelles
7 oz / 200 g fresh chanterelles
1 tbsp butter
1 tbsp oil
salt
black pepper
Make sure you've cleaned the chanterelles. Add the oil to a frying pan and then add the mushrooms. They will release water so cook them until they start to dry out, then add the butter and season with salt and freshly ground black pepper.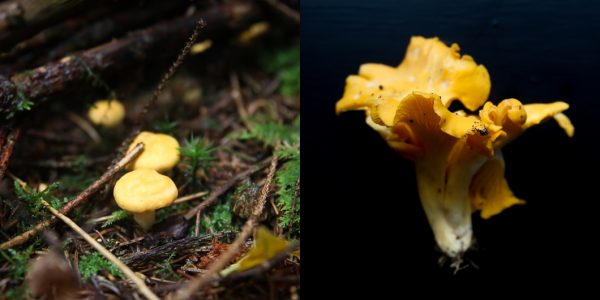 Pickled Funnel Chanterelles
7 oz / 200g fresh funnel chanterelles
0.4 cups / 1 dl Swedish ättika or strong white wine vinegar
0.6 cups / 1.4 dl sugar
0.8 cups / 1.9 dl water
Clean the funnel chanterelles. Bring ättika/vinegar, sugar and water to a boil in a pot. Once it's boiling add the chanterelles and then leave to cool. The mushrooms can be served cold or warm.
Ättika is a type of industrial vinegar that is common in Sweden and Scandinavia and is often used for pickling.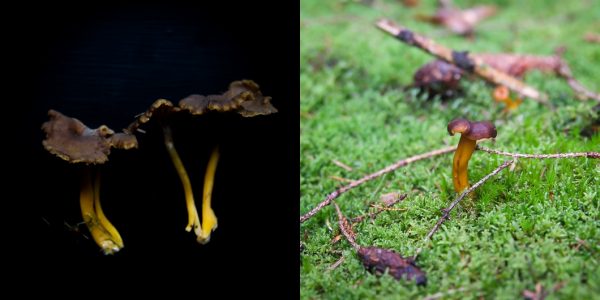 Cauliflower Cream
300g fresh cauliflower
0.6 cups / 1.5 dl heavy cream
1 small clove of garlic
salt
pepper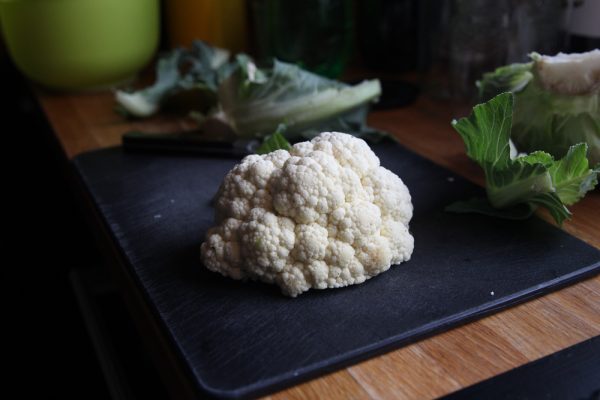 Clean and cut the cauliflower into small pieces. Peel the garlic. Add the cauliflower and garlic to a pot, add a pinch of salt and the cream. Bring to a boil and then put a lid on and let the cauliflower simmer on low heat until it's completely cooked through. Strain the cauliflower through a sieve but keep the liquid.
Transfer the cauliflower to a blender and blend until smooth, during blending add a little bit of the liquid to make it almost liquid. Once it's completely smooth season with salt and pepper.
Shaved Cauliflower
2-3 pieces of fresh cauliflower
Cut a bulb of cauliflower in half. Then slice it as thin as possible to get crunchy slices of cauliflower. The reason for first cutting it in half is so that you'll get bigger pieces, if you start at the end you'll only get crumbles at first.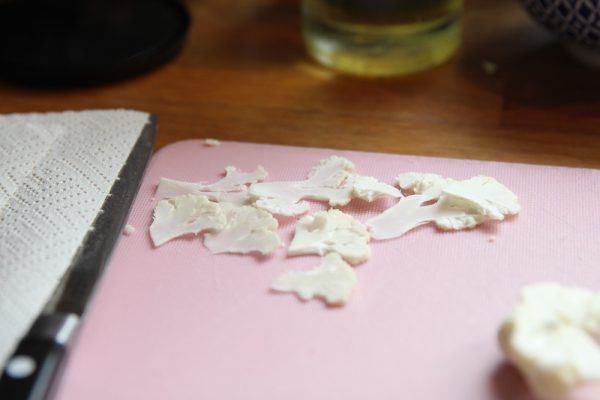 Fried Onions
8 small onions
salt
1-2 tbsp of oil
Peel and cut the onions in half lengthwise. Add the oil to a frying pan and fry the onions with the cut side down on low heat. Cook like this until it's almost completely blackened.
Remove from the pan and separate each half into its individual pieces. Now you'll have beautifully cooked onions. You've most likely seen this in a number of dishes since this technique of cooking onions seems to be a never ending trend in restaurants.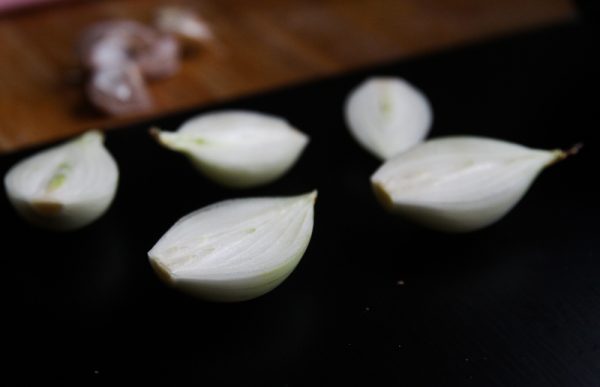 Wood Sorrel
This is just freshly picked wood sorrel. You can buy it in some good vegetable stores. If you can't find it, it can be replaced with a mild herb like flat leaf parsley or chives.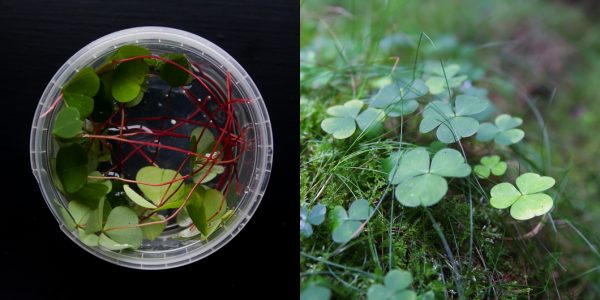 Plating Chanterelles With Cauliflower, Onions and Pickled Funnel Chanterelles
Let's plate this thing, you'll start with the cauliflower cream and work yourself up from there. Use the photos for reference. This is the order and a rough estimate on how much I added for each part of the dish.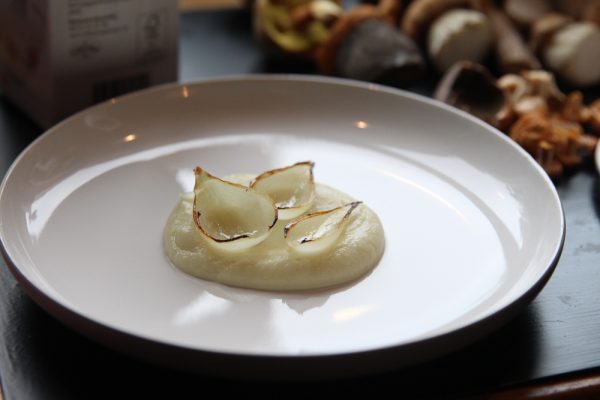 Cauliflower cream 1.5 tbsp
Fried onions 3 pieces
Fried Chanterelles 6-8
Pickled Chanterelles 6-8
Wood Sorrel 4 pieces
Shaved Cauliflower 4 pieces
Butter 2 tsp (from the chanterelles)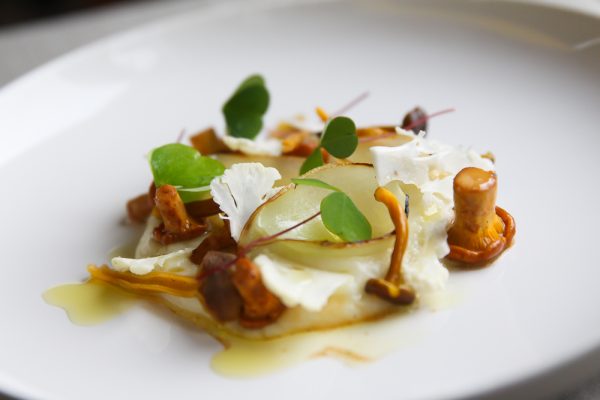 Serves 4 as an appetizer
250g / 8.8 oz fresh chanterelles
4 eggs
1 clove of garlic
1 sprig fresh rosemary
A few straws of chives
3 tbsp butter
4 big outer leaves of fresh white cabbage from one head of cabbage
1-2 slices of white bread
1,5 tbsp white wine vinegar
1,5 tbsp olive oil
Salt, pepper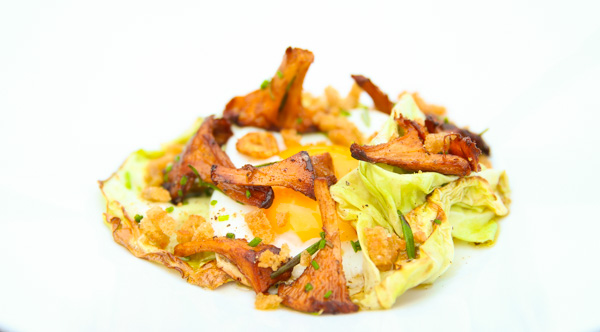 What to do
Remove the outer leaves of the cabbage, remove the stems from the leaves and cut into three big pieces for each serving. Save the rest of the cabbage for another day. Chop the chives and rosemary. Peel the garlic and slice thin. Remove any dirt from the chanterelles and pull into smaller pieces if they are big. Leave smaller ones whole.
Heat a frying pan and add the butter. Add the chanterelles and fry until slightly crisp and dark brown to golden in color, season with salt and pepper. Add the garlic and herbs and turn down the heat and cook for another minute. Remove the chanterelles and set aside. Keep warm.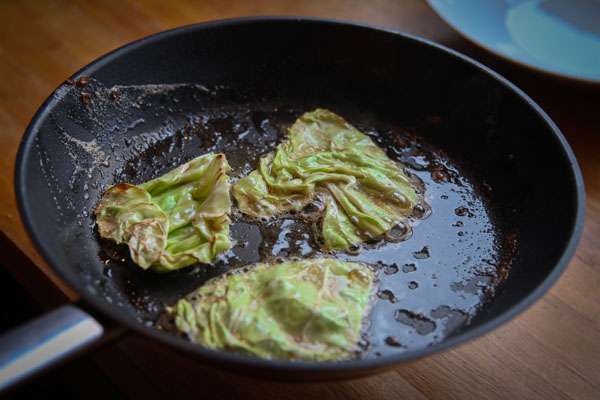 Reheat the butter and fry the white cabbage in the same butter. A few seconds on each side should be enough. Remove from the pan and season with salt, pepper. Marinate the cabbage while still warm with the vinegar and olive oil. Keep warm.
Fry the eggs in the pan at the same time as the bread. The bread should be crisp when the eggs are done, use two pans if you have trouble fitting it all at once. When the bread is crisp chop it to smaller pieces.
Plate the dish, start with some cabbage, then the egg and top things off with the chanterelles and croutons. Serve.