6 Soup Recipes That Will Get You Through Winter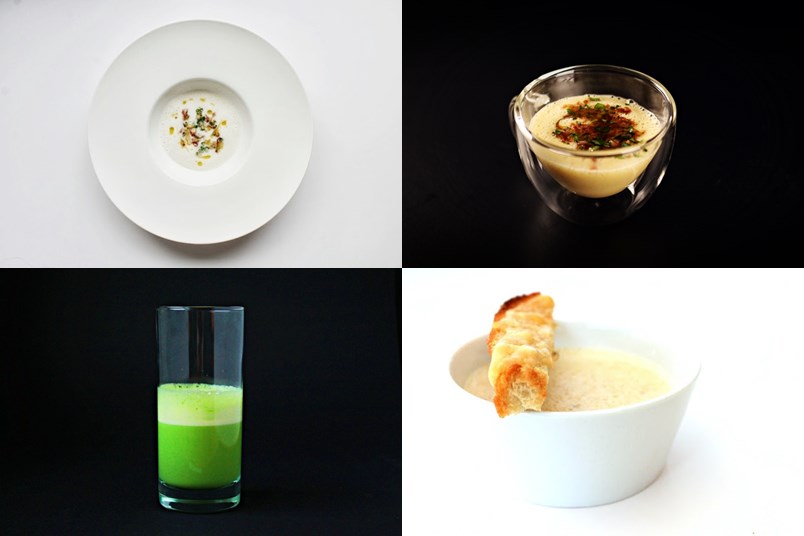 To get through the cold season you'll need something warming, try any of these 6 soup recipes, they will all help you get through winter. Enjoy!
Once winter is here, in Sweden that means actual winter if you're living in the Northern parts and a cold and rainy hell if you live in the Southern parts. Either way, you will need something warm to get you through this time of the year. Luckily you don't have to be in Sweden to need these soups, anywhere where it's cold or where you are hungry and looking for soup will do the trick.
I rounded up a few of my favorite soups, each one goes great as an appetizer or you can scale up and turn it into the main course. In its original form, all of them have been served as appetizers. Let's kick this soup list off, the title of each soup also include a link to the original post where there are more photos and information, enjoy!
Serves 4 as an appetizer
About 500g / 1.1 lb Sunchokes/Jerusalem artichokes
2 dl / 0.84 cups cream
4 dl 1.7 cups water
1 clove garlic
2 tbsp butter
2 shallot onions
1 dl / 0.4 cups white wine
1 tbsp olive oil
1 lemon
Salt, pepper
Garnish
2-3 parsnips
8 thin slices salami
10 straws fresh chives
Olive oil, for garnish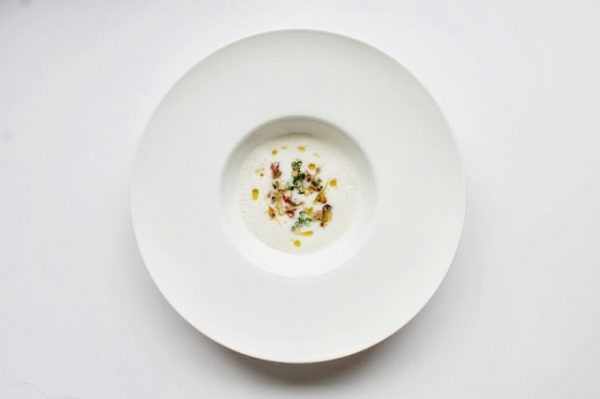 Peel the artichokes and put in cold water with some lemon juice, this will keep the artichokes from going brown. Chop the garlic and shallots and fry them until soft with the butter, add the artichokes and fry them for a few minutes without browning.
Add salt, pepper and white wine let the wine reduce until half is left and the cover with water and simmer until the artichokes are cooked through. Add the cream and bring to a boil and then blend the soup until completely smooth. Season with salt, pepper and the olive oil. Adjust the thickness and creaminess with water and cream if necessary.
Peel and dice the parsnip, dice the salami and slice the chives. Roast the diced parsnip in some butter, remove from heat and combine with the salami and chives. Serve the soup with the parsnip and salami mix and a few drops of olive oil. Good luck.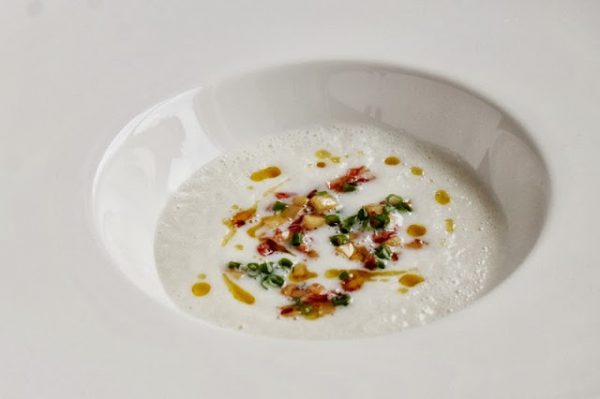 Serves 6-8 as a small appetizer
1 can 400g / 14 oz canned cannellini beans
100g / 3.5 oz sliced pancetta
1 tbsp chopped parsley
4 tbsp olive oil
1 tsp olive oil, for topping
½ tsp thyme
½ tsp rosemary
½ tsp oregano
2 cloves garlic
1 shallot onion
Water
Salt, pepper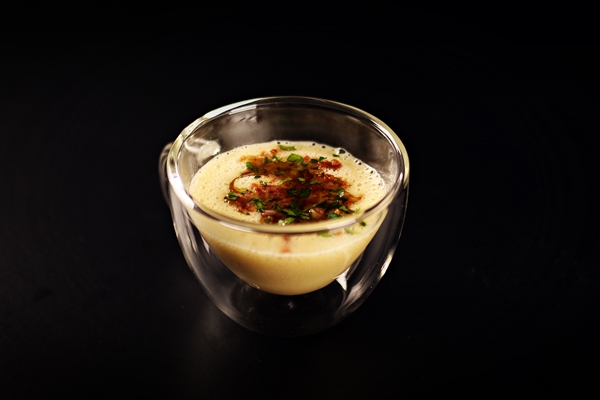 Fry the pancetta crisp on medium heat in a frying pan, remove but leave the fat in the pan and remove from the heat. Open the can and drain the beans in a sieve, if they are a bit slimy you can rinse them with a little bit of water. Chop the garlic and shallot, add the olive oil to the frying pan with the garlic and shallot. Cook for a few minutes, add the beans, thyme, rosemary and oregano and season with salt and pepper.
Let the beans cook for a few more minutes and then cover with water and leave to simmer for about ten minutes. Transfer everything to a blender and mix the soup smooth. Season with more salt and pepper if necessary.
Chop the fried pancetta and parsley and combine. Pour the soup into small cups and top with a few drops of olive oil and the pancetta and parsley mix. Serve.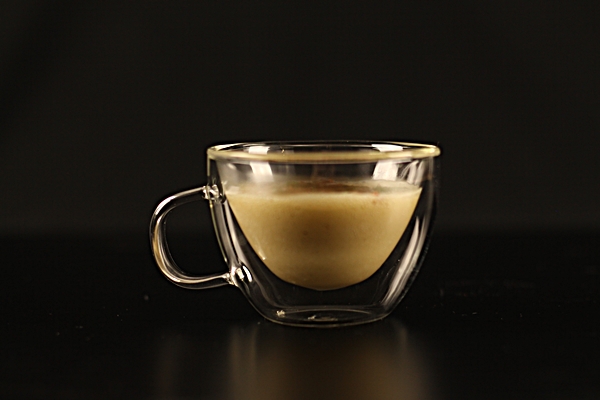 Serves 4 as an appetizer
4 potatoes
1 dl / 3.4 oz cream
2 dl / 7.2 oz water
1 small onion
2 cloves of garlic
1 tsp thyme
3 tbsp olive oil
2 tsp lemon flavored olive oil
A little bit of fresh parsley
140g / 5 0z bacon
salt, pepper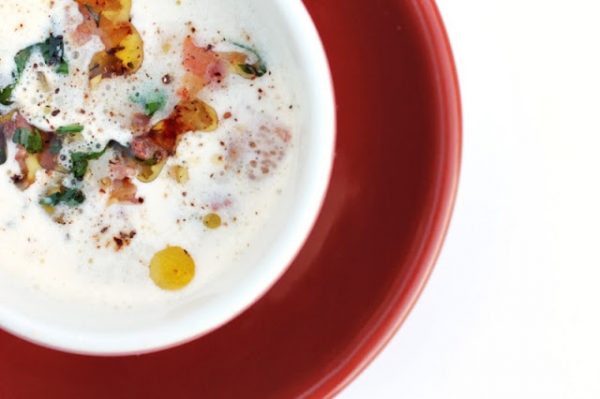 Peel and dice the potato, garlic and onion, save some onion and garlic for the bacon and add the rest to a pan with some olive oil and gently let it cook for a few minutes, add some thyme and cover with water. Let the potatoes simmer until cooked through and then add a little bit of cream. Blend the soup until smooth, you may need to thin it with some more water and cream. Season to taste and the bring it to the boil before serving.
Finely dice the bacon and fry until almost crispy in a pan, add the onion, garlic and some chopped parsley and season with some pepper. Pour the soup into cups and add the bacon and onions. Top of with a little bit of lemon oil and a few drops of cream.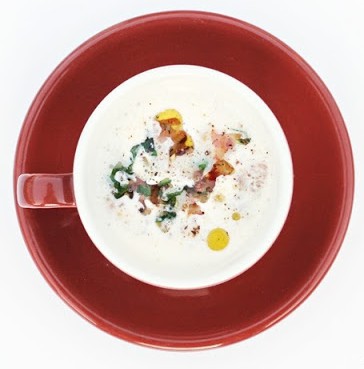 serves 4 as an appetizer or light lunch
Broccoli Soup
2-3 broccoli
2 garlic cloves
1 small onion
2 tbsp butter
2 tbsp vegetable oil
8 dl / 4 cups milk
2 dl / 1 cup cream
3 dl / 1,5 cup water
salt pepper
Lemon Creme Fraiche
1 dl / 0,5 cup crème fraiché
1 lemon
salt, black pepper
Bacon
140g / 5 oz sliced bacon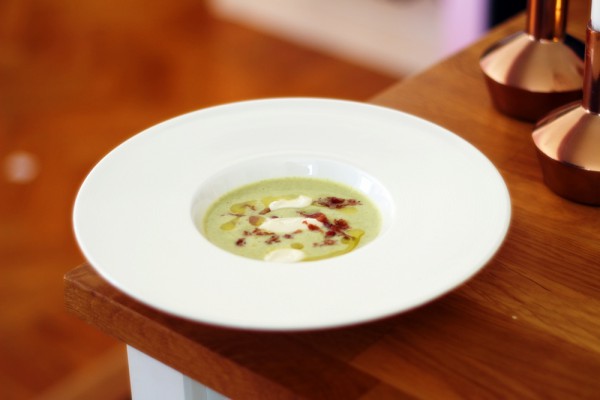 Peel and chop the onion and garlic cloves. Roughly chop the broccoli. Add butter and oil to a pot and add the onion and garlic and saute for a few minutes. Add the broccoli and keep sauteing for a few more minutes. Season with salt and pepper and add the water and leave to simmer under a lid for about ten minutes. Remove the lid and add the milk and cream, let the soup simmer for another five minutes.
Blend the soup until completely smooth and pour back into the pot and set aside until serving.
Wash the lemon and grate the skin and combine with the creme fraiche. Squeeze out the lemon juice and add to the creme fraiche. Season with salt and pepper.
Fry the bacon until crisp in a pan, remove and let the fat drip off on some kitchen paper. Then chop the bacon into small pieces.
Pour the soup into serving bowls, add a spoonful of lemon creme fraiche into each bowl and sprinkle some bacon on top. Serve.
Serves 4
500g fresh chanterelles
1-2 shallot onion
2 cloves garlic
½ tsp dried thyme
2 tbsp butter
black pepper
water
5 dl / 2 cups cream
salt
2-4 slices fresh bread
8 tbsp grated Parmesan cheese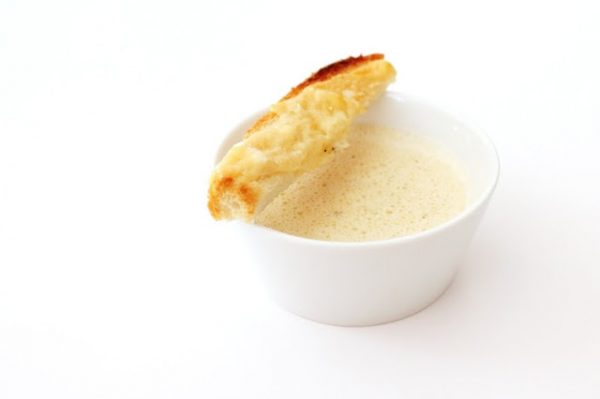 Dice the onion and garlic, add butter to a pan and add the chanterelles, garlic and onion and fry until golden and they start to dry out. Season with salt, black pepper and thyme. Add water until the mushrooms are covered and simmer for about fifteen minutes.
Add a little bit of cream and bring it to a boil and then blend into a smooth soup, adjust the thickness with cream or water if necessary and season to taste.
For the Parmesan bread, I just take a good fresh bread and grate loads of Parmesan on top and roast it in the oven until golden. Serve warm with the soup.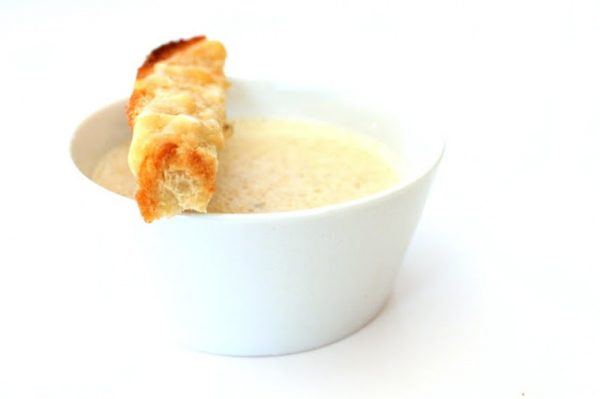 Serves 4-6 as an appetizer
300g / 10 oz frozen green peas
1 dl / 0.5 cups Champagne (or any dry sparkling white wine)
1 onion
2 tbsp butter
6 dl light chicken stock or vegetable stock
2 dl / 1 cup cream
2 dl / 1 cup  milk
1 tbsp lemon juice
salt, pepper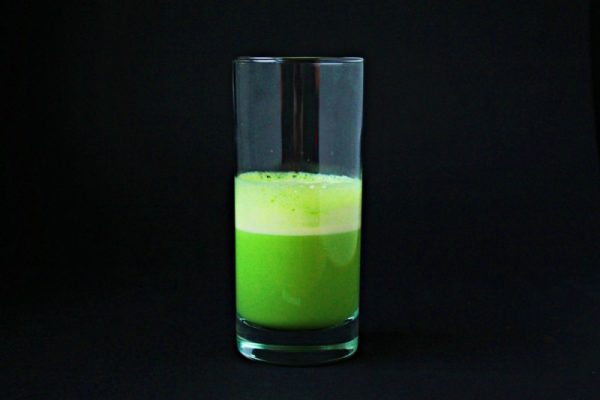 Dice the onion and saute it on low heat in butter until it's soft, add the peas and cover with chicken stock, add milk and cream and quickly bring to a boil. Remove from the heat and blend the soup and then strain the soup through a sieve to get rid of any bigger pieces. Season the soup with salt, pepper and a little bit of lemon juice.
Whip the cream until it thickens, you don't want to whip it too hard, just the get it semi-thick, the cream is supposed to almost melt when you add it to the soup. Add about two spoonfuls of Champagne to each glass and then pour over the soup. Top the soup with the whipped cream. Serve.