8 Amazing Avocado Recipes – Yes, Guacamole is one of them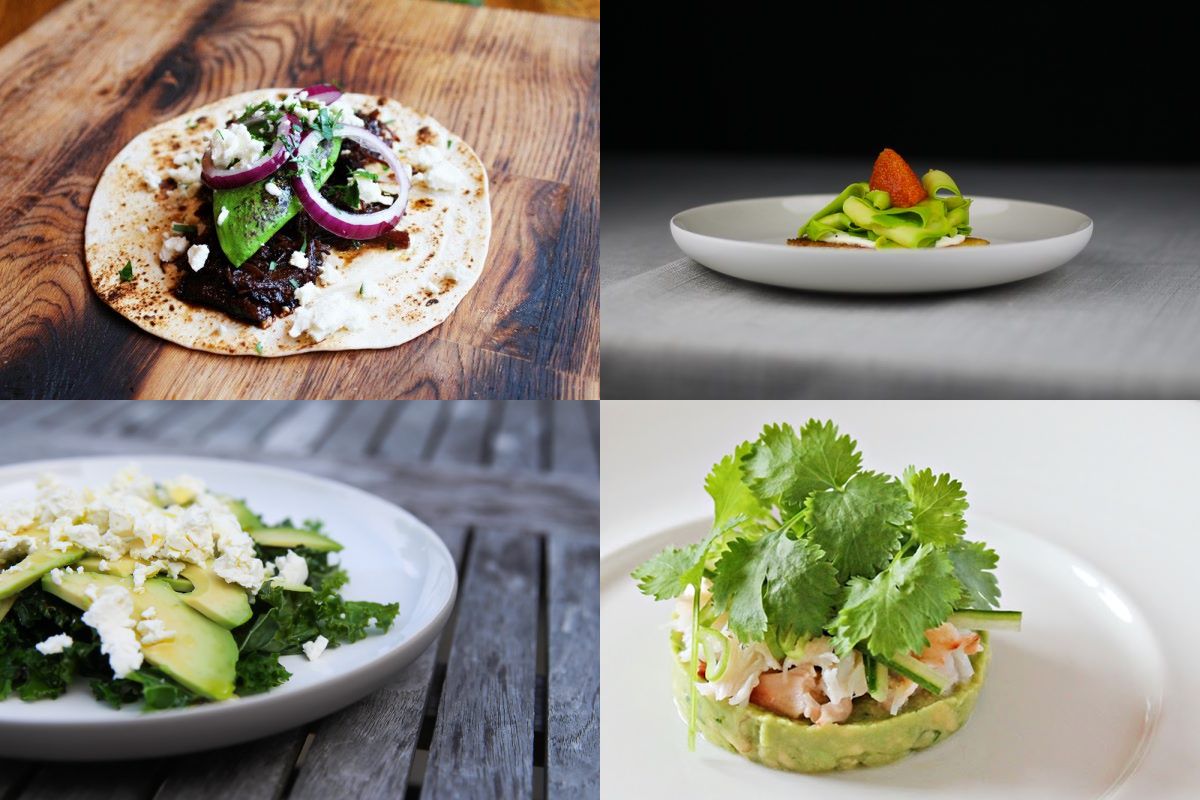 Let's put all the focus on the avocado, there are way more good stuff to use it for besides toast and guacamole, but don't worry. Those are among these avocado recipes.
So let's pick up some new avocado recipes. The avocado is not just good on its own or on a simple toast. It can be used for much more. So I put together this collection of avocado recipes. I hope you'll like them as much as I do.
All of these recipes have been published here before, if you want more details and photos on any of the recipes just click the link in the recipe title and you'll get sent to the original post. Now let's check out the avocado recipes.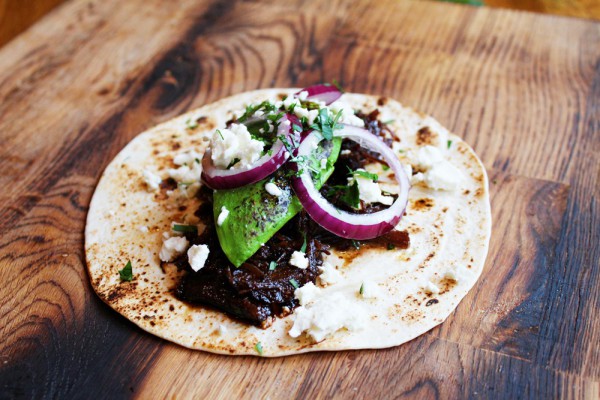 wheat tortillas
beef meat for pulled beef or bought pulled beef
avocado
red onion
feta cheese
cilantro
teriyaki sauce
salt, pepper
The meat
First the meat, (if you haven't bought it pre-made), season a piece of beef with salt and pepper and roast in the oven on low to medium heat until it's tender enough to be pulled, you can add a bit of water in the bottom of the pan while cooking to keep the meat moist. This is usually a step that is good to make a day ahead.
Once the meat is done pull it into strips and heat in a pot, add teriyaki sauce the way you normally would add BBQ-sauce. You want the pulled beef to be slightly creamy and moist with a clear taste of the teriyaki. Set aside and keep warm.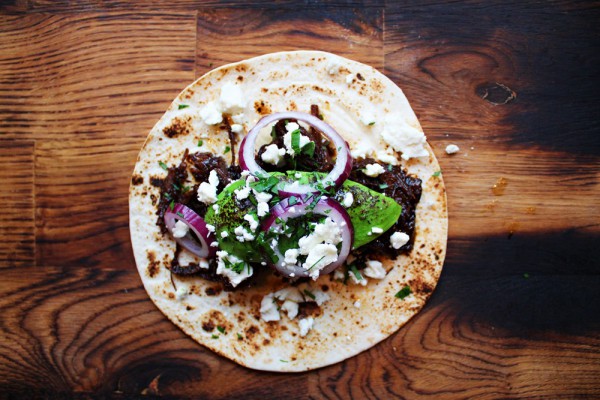 The vegetables
Slice the onion, chop the cilantro, crumble the feta cheese. Split the avocado and remove the pit, then cut it into four wedges, brush the avocado with olive oil and roast in a hot pan for a few seconds.
Plating
Heat the tortilla and put on a plate, put a bit of pulled beef in the middle, top with avocado, onion and sprinkle the feta cheese and cilantro on top. Eat.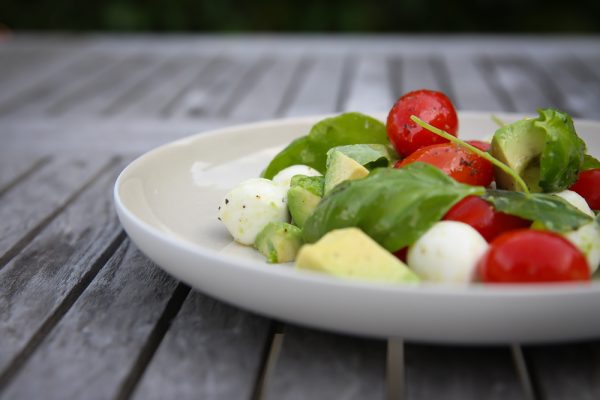 serves 4 as a side
7 oz / 200 g mini mozzarella balls
1 avocado
7 oz / 200 g cocktail tomatoes
about 10-15 fresh basil leaves
about 10 fresh nasturtium leaves
1 tbsp olive oil
salt
black pepper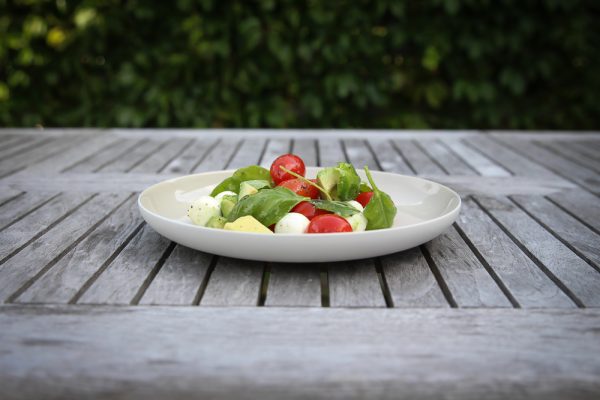 Open the mozzarella and discard the liquid. Add them to a big bowl. Rinse and add the tomatoes whole. If you can't find good cocktail tomatoes you can use regular tomatoes and cut them up into big chunks. Add the nasturtium leaves and half of the basil leaves. Chop the other basil leaves roughly and then add. Add olive oil and season with salt and pepper. Serve immediately.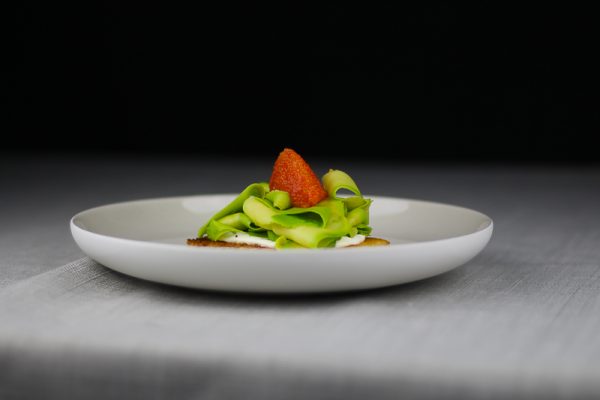 serves 2 as an appetizer
2 slices of white toast bread
2 tbsp butter
1 avocado
1 lemon
2 tbsp lumpfish roe
2 tbsp full-fat creme fraiche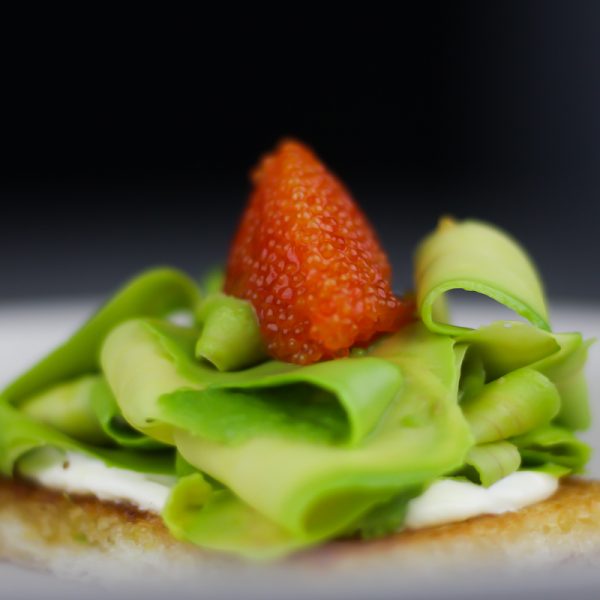 Cut off the crust of the toast bread and then fry it on both sides in a frying pan in the butter until golden. Take out and let the excess fat drip off. Put the toast on one plate each.
Spread one tablespoon of creme fraiche on each toast. Then cut the avocado in half and then spoon out each half. Slice the avocado thin on both toasts using a potato peeler.
Once you have all the avocado on there add the lumpfish roe on top and squeeze the lemon on top.  Done!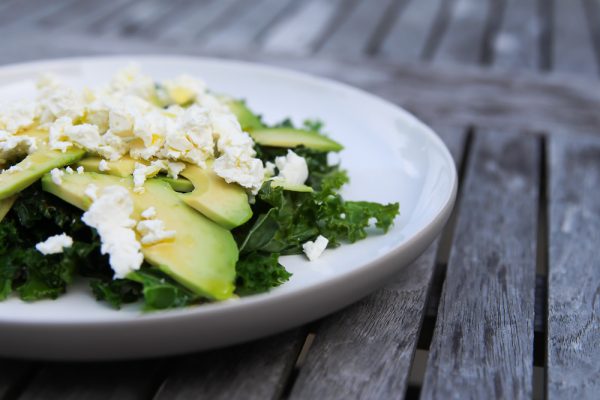 serves 4 as a side
2 avocados
100g / 3.5 oz crumbled Feta cheese
4 big handfuls of chopped kale
1 + 1 tbsp olive oil
salt
pepper
1 lime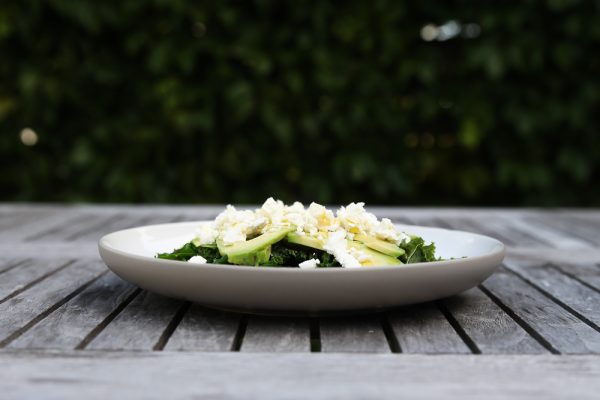 Chop the kale if you didn't get it chopped. Heat a pan and add the olive oil. Add the kale and sautee in the pan for about 30 seconds. Season with salt and pepper. Remove from the heat and add the kale to a serving platter.
Split the avocados in half and remove the stone. Using a spoon remove the avocado from its skin and then slice. Put the slices on top of the kale and then squeeze the lime on top.
Crumble the Feta Cheese if you haven't bought it crumbled. Add on top of the avocado, drizzle with a tablespoon of olive oil. Serve.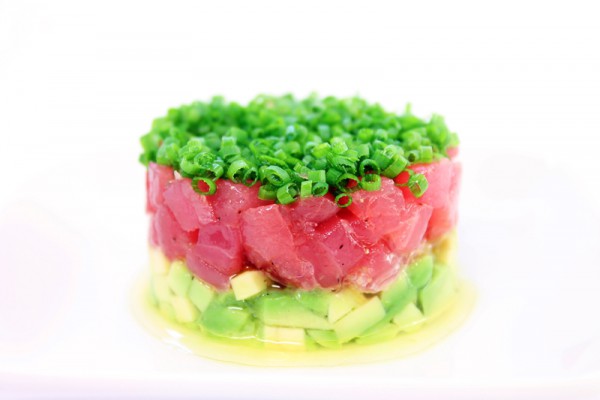 60g / 2 oz fresh tuna, without skin or bones
½ fresh avocados
2 tbsp fresh chives, sliced
olive oil
salt, pepper
lime juice, from 1 lime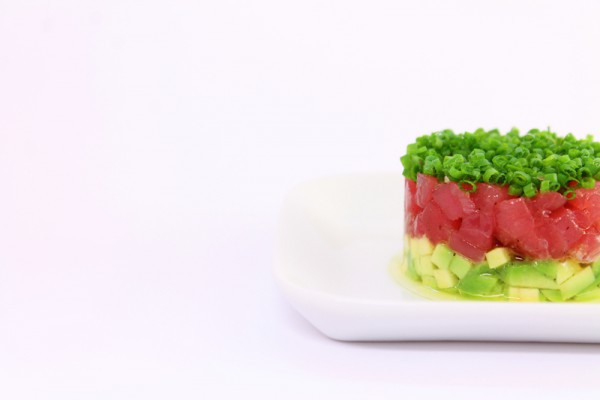 Finely dice the tuna and combine with olive oil, salt, and pepper. Peel and dice the avocado and combine with a little bit of olive oil, lime juice, salt, and pepper. Slice the chives as thin as you can. If you want to serve it looking like in my photos you'll need a round cylinder, a cookie cutter is good.
If you are serving something this way to a lot of people you can buy plastic pipes at a hardware store and saw it in smaller pieces. This may sound crazy but it will cost a fraction of for example going and buying ten cookie cutters. Just remember to clean it thoroughly before using them.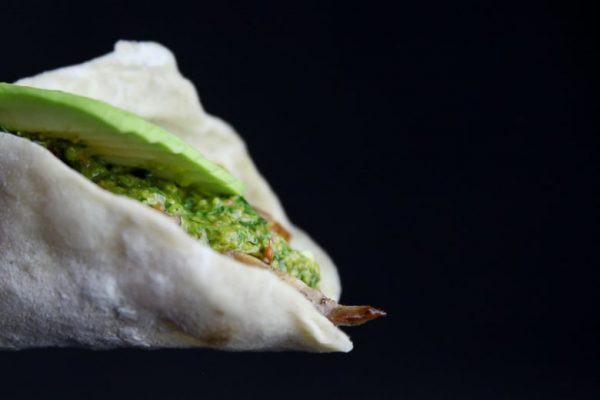 4 tacos
4 wheat tortillas
4 tbsp yogurt coleslaw (recipe below)
1 slice about 5-6 oz / 150-170g of pork collar
2 tbsp BBQ Sauce, store-bought
salt, pepper
4 tbsp chimichurri (recipe below)
1 avocado
Assemble the taco as in the video below. Start out with the tortilla, heat it in the oven or in a dry frying pan before serving. Top with the coleslaw, meat, chimichurri and finally the avocado. Now let's talk a bit about the meat for the grilled pork taco.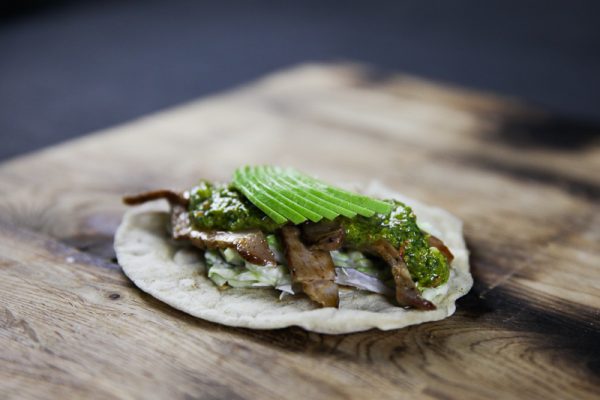 Grilled Pork Collar for Tacos
Pork collar is one of my favorite cuts for tacos. This meat comes at a great value and is often very tender. It has some fat so it rarely gets dry. Since I was just making some tacos I just got one slice. I seasoned it with salt and pepper and simply grilled until cooked through. Then leave the meat to rest.
Slice the meat into thin slices and add the BBQ sauce, keep warm. That's it. You can, of course, use all sorts of meat for tacos with similar flavors as this. But the good thing here is that it's a quick way to cook things up. I like a whole day BBQ project for tacos as well, maybe even more than this meat but you don't always have that time to spare. That's when it's great to get a slice of pork collar.
Yogurt Coleslaw
10.5 oz / 300g fresh white cabbage
1 red onion
½ lemon
½ tsp salt
2 twists of black pepper
3 tbsp Greek-style yogurt, 10% fat
Slice the cabbage as thin as you can. Peel and slice the onion as thin as you can. Combine the salt, pepper, and yogurt in a bowl. Squeeze in a half lemon. Check the flavor and adjust if necessary.
Chimichurri Sauce
I don't claim this chimichurri recipe to be authentic in any way. I used more or less what I had at home and it turned out delicious. What I mean by that is that feel free to improvise.
2 handfuls of mixed herbs, I used cilantro, chives and parsley
1 clove garlic
1 red fresh chili
1 fresh onion or 2 scallions
2 tbsp canola oil
1 tbsp vinegar
1 tbsp olive oil
salt, pepper
Chop the herbs, garlic and chili roughly. Add to a mixer or a cup so you can mix it with a handheld blender. Add the rest of the ingredients. Blend until you have a rough sauce. Season with salt and pepper.
As you most likely already know chimichurri is great with all meats and lots of other stuff too. So if you get some leftover it shouldn't be a problem. It lasts 2-3 days in the fridge.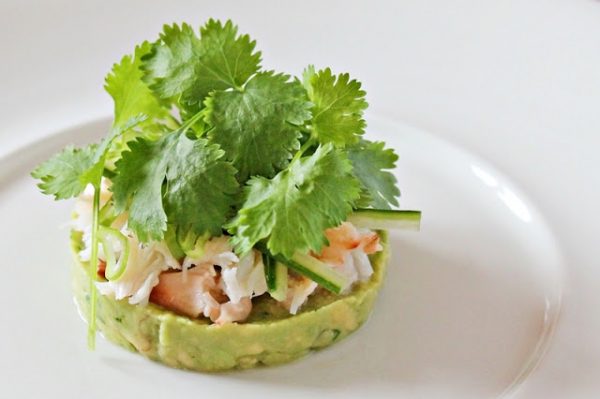 serves 4 as an appetizer
300g / 10 oz crab meat
fresh cilantro
2 avocados
½ cucumber
3 spring onions
2 tbsp olive oil
2 limes
salt, pepper
Peel and crush the avocado into a rough paste, chop some cilantro and add to the avocado and combine. Add fresh lime juice, salt and pepper. Season to taste.
Dice the cucumber and slice some spring onion. Plate the avocado cream and put the crab meat on top together with some cucumber and spring onion. Garnish with fresh cilantro.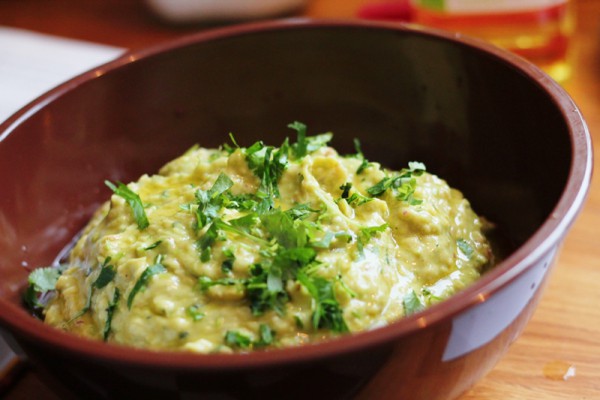 2 big ripe avocados
1/2 teaspoon salt
1 Tbsp of fresh lime juice
½ Diced onion
1 red chili, stems and seeds removed, minced
2 tablespoons cilantro (leaves and tender stems), finely chopped
A dash of freshly grated black pepper
1 small tomato, deseeded and chopped
Cut the avocados in half and remove the seed, now you can either mix it by hand using a fork or spoon or use a food processor. I like to do mine by hand but if you are making a lot a food processor will save you a lot or work.
Then add lime juice and salt and keep mixing until you like the texture, add remaining ingredients and adjust the taste if necessary, good luck!