Apple Cabbage Coleslaw Side Salad With Pumpkin Seeds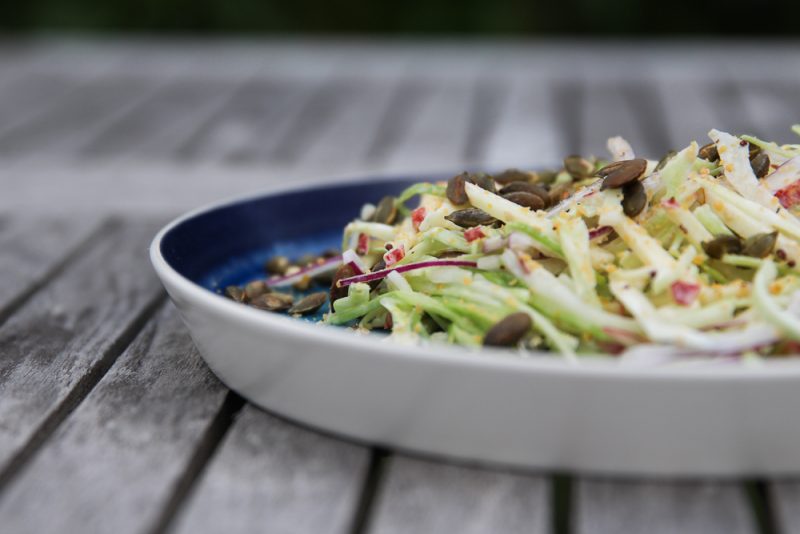 This Apple Cabbage Coleslaw Side Salad comes with toasted pumpkin seeds and mustard and is a newfound favorite of mine. Try it out!
Using apples for coleslaws is always a good idea as you will know if you try out this Apple Cabbage Coleslaw with pumpkin seeds and mustard.
Instead of going with the classic cabbage, carrot and mayo (which I also love) this one comes with fresh red apples, cabbage, red onion, yogurt and some mustard seeds and pumpkin seeds. Let's see how it's made.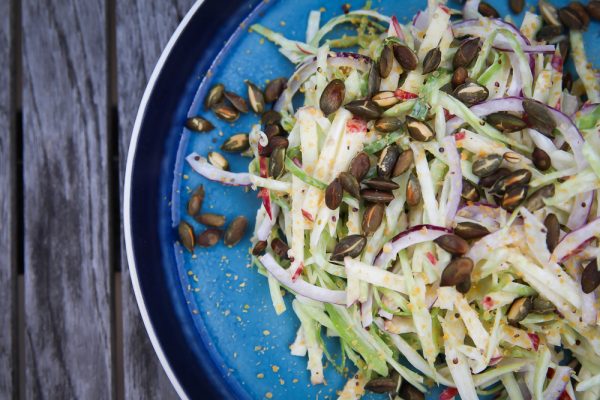 Apple Cabbage Coleslaw Side Salad With Pumpkin Seeds
serves 4 as a side salad
300g / 10 oz cabbage
2 red apples
1 red onion
1 dl yogurt / 0.4 cups Greek style yogurt 10% fat content
1 lemon
3 tbsp pumpkin seeds
1 tbsp olive oil
1-2 tsp crushed mustard seeds
salt
pepper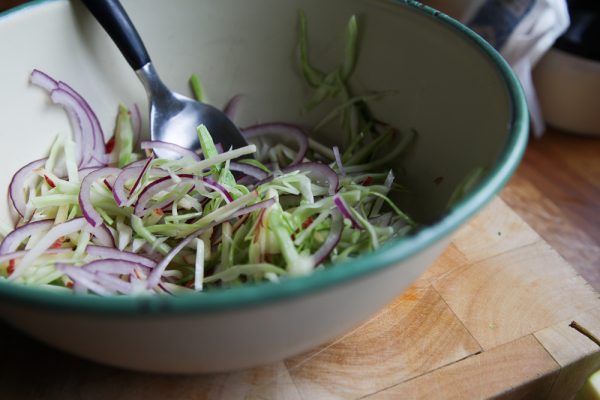 Shred the cabbage and season with salt. Set aside. Then peel the onion and cut in thin slices. Shred the apples. Add both the onion and apples to the cabbage.
Squeeze the lemon into the yogurt and season with salt and pepper. Combine with the shredded vegetables.
Heat a pan and add the pumpkin seeds. Toast in the pan until they start to pop, this happens when the thin green shells crack. Set aside and leave to cool. What I like about pumpkin seeds is, of course, the flavor and texture. I love that crunch you'll get and the flavor is great too. Whenever I toast them like I do in this recipe I use all the seeds I happen to have at home. They tend to get eaten once you have some leftover.
Transfer the coleslaw to a serving platter. Sprinkle the pumpkin seeds on top and finish off with the crushed mustard seeds. Done, good luck!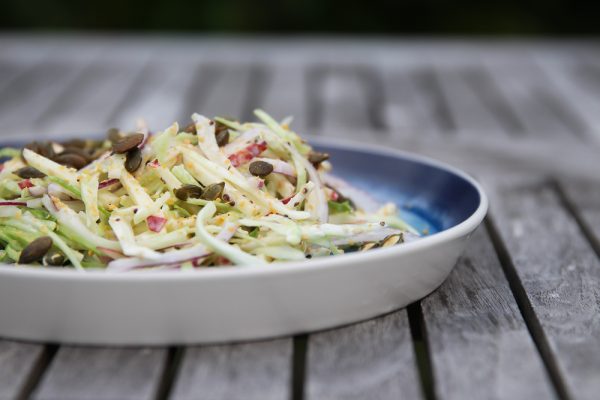 Apple Cabbage Coleslaw Side Salad Serving Suggestions
This coleslaw can replace regular coleslaw in most cases. Naturally, you can use it with whatever you prefer, here are some of my own recommendations.
Hamburgers

Any type of ribs

Grilled chicken

Falafel