Asparagus Salad with Lemon and Parmesan Cheese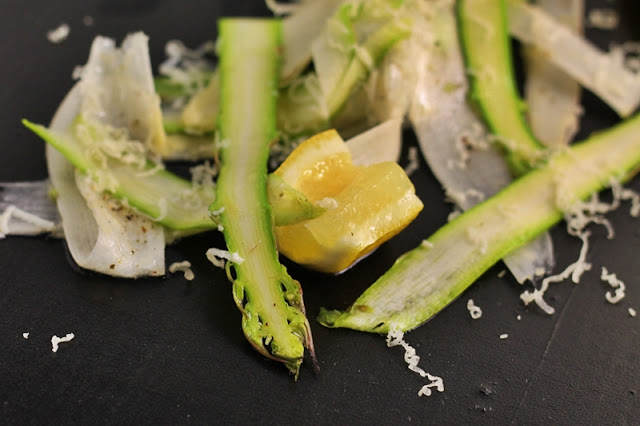 Asparagus salad with lemon and Parmesan cheese made with raw white and green asparagus. A great salad perfect as a side or a fresh appetizer.
So let's make this simple asparagus salad. It's made out of green and white asparagus which is shaved into thin strips using a potato peeler and I serve it raw with some lemon and Parmesan cheese.
Asparagus served raw is a great way to change up your normal asparagus recipes. It´s easy to do, tastes great and there is a chance a lot of your guests may not have tried it. I used both white and green asparagus when I did it but using only one kind works good too.
Rinse the asparagus in water before you slice them, if you rinse them after they will get a bit crispier but you will wash away a lot of the flavor.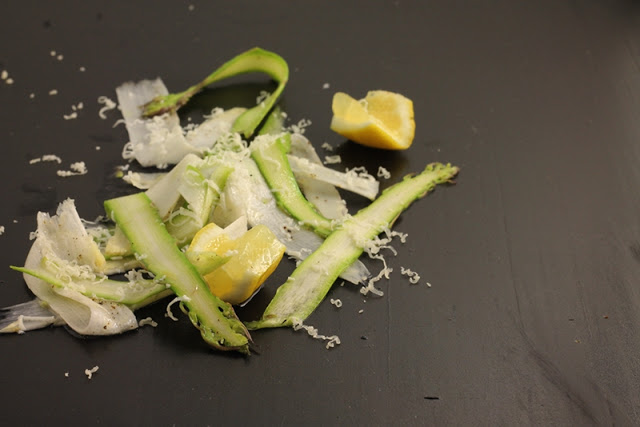 Raw asparagus salad with lemon & Parmesan
Serves 4 as an appetizer or side dish
6 + 6 Asparagus, green and white
2 tbsp Olive oil
1 Lemon
1 handful of grated Parmesan
Salt, pepper
Thinly slice the asparagus lengthwise with a vegetable peeler, toss in olive oil and lemon juice, season with salt and pepper. Grate Parmesan on top. Serve.
The recipe is served here as a salad on its own but the great thing about this is that you can change it any way you like and serve it in a number of ways.
First besides a snack or appetizer you can add it to a bruschetta, build it into a bigger salad, put it on top of fish and steam it, put on a toast and use it as a tapas. That's just a few examples I thought of now. The important thing is that there are no rules, you can turn a recipe into whatever you like.
Also why not add other great vegetables to it? Try fennel/anise, carrots, herbs, turnip just to name a few.
As a final tip I have made a few other asparagus recipes that you can check out here. Enjoy!