Mini Baked Potatoes with Sour Cream, Bacon and Chives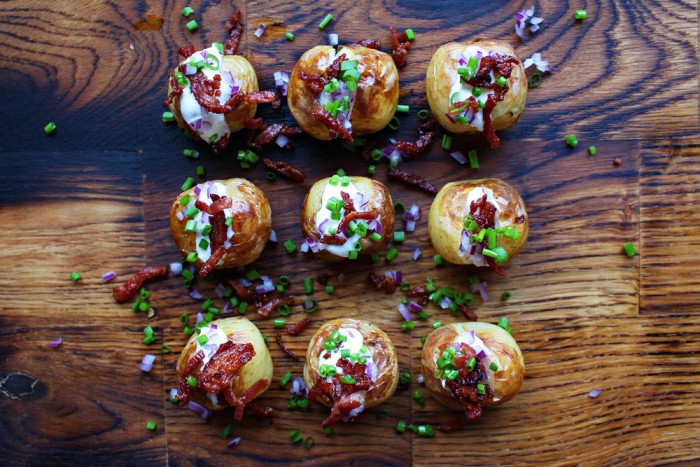 These mini baked potatoes with sour cream, bacon, and chives are the best. Instead of just one huge potato, you should try these min baked potatoes. They are very easy to make and a great thing besides the flavor and how cool they look is that you can eat and serve how few or how many you like.
Baked potatoes are a classic side for all grilled meats but why always serve one big potato for each guest?  Using small tasty potatoes is more fun, looks better and each guest can eat as much or little as they like. This recipe can of course also be served on its own like a tapas. Let's make some delicious mini baked potatoes, pack them with sour cream, bacon, and chives and eat some.
The recipe here is not specified with exact amounts of the ingredients. That's because it is simply so easy to make. After you've roasted the potatoes, cut and crack them open and then add about half a teaspoon of sour cream and then top off with the rest. Read it all in detail below.
Mini Baked Potatoes with Sour Cream, Bacon and Chives
small potatoes
sour cream
vegetable oil
chives
red onion
bacon
salt, pepper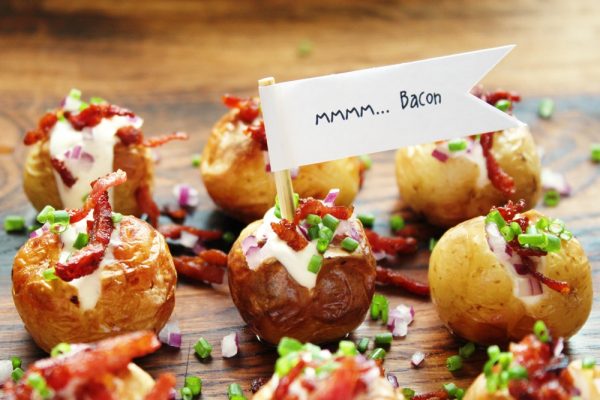 Dice the red onion, slice the chives and dice and fry the bacon until crispy, leave to cool. Clean the potatoes if necessary. Toss them in vegetable oil, salt, and pepper and then roast them on high heat in the oven until golden.
Remove and leave to cool for a few seconds and then cut them halfway through and carefully break them open. Fill each potato with sour cream, chives, bacon and red onion, serve.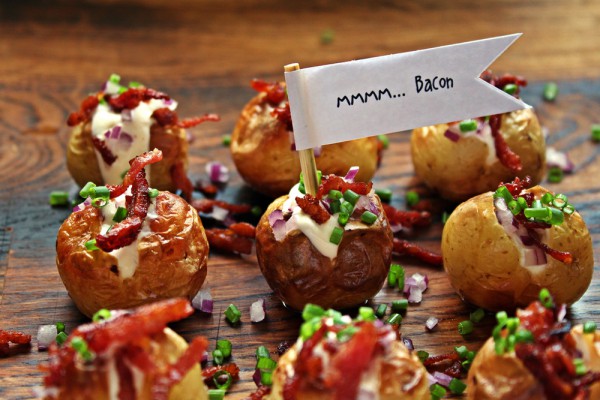 Mini Baked Potatoes Serving Suggestions
You can use these in many great ways. The most obvious thing is as a side for a great steak or for the weekend barbecue. I've also served them as tapas or small bites. Way more appreciated than a bowl of chips.