Beer Ice Cream – Carlsberg will sell Beer Ice Cream This Summer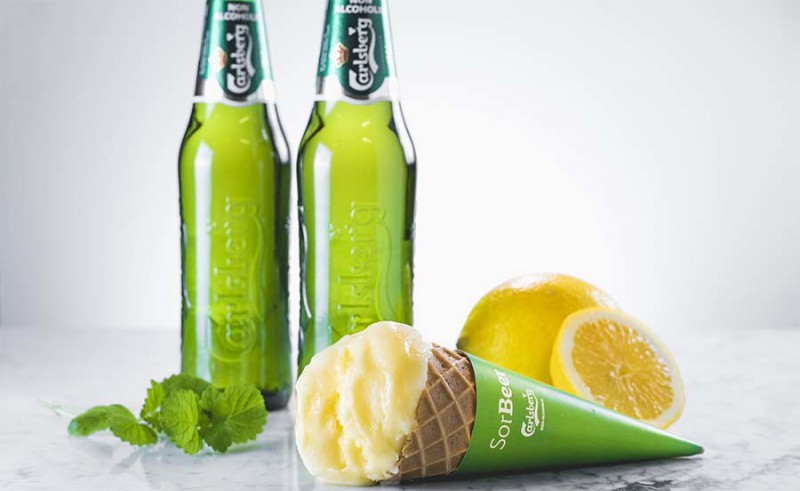 This summer Carlsberg will sell Beer Ice Cream in Sweden, that's right ice cream made out of beer.
Beer Ice Cream is a ice cream made out of sugar, lemon and Carlsberg non alcoholic beer. The ice cream will go on sale on June 20th in Sweden. The ice cream (or sherbet really) will go on sale in the six StikkiNikki organic ice cream shops in Sweden and will be available until July 31st.
The beer ice cream or SorBeer which it is named by Carlsberg Sweden has been developed in collaboration between Carlsberg and StikkiNikki founder Nicole Emson. The flavor is suppose to be of beer malt, fresh lemon with notes of Swedish hard bread known as knäckebröd in Swedish, honey and mandarin.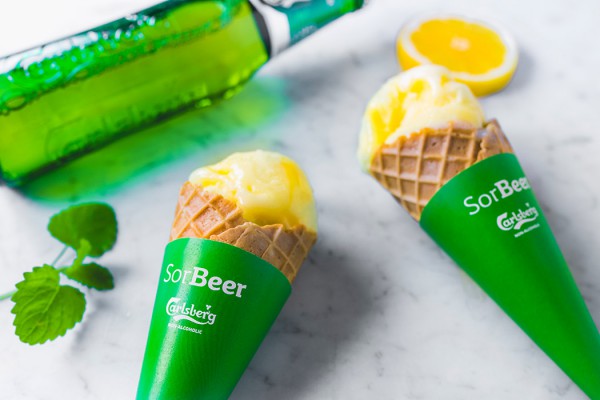 Non Alcoholic Beer is a hit in Sweden
Non Alcoholic beer have become a hit the last ten years in Sweden and Carlsbergs own version is one of the most best selling brands of non alcoholic beer in Sweden. Sales have been rising every year since its launch and the beer ice cream is one of the ways that Carlsberg have chosen to celebrate.
So if you're in Sweden this summer you could go for a SorBeer instead of having to choose between beer or ice cream. But you will still be in Sweden so chances are you will be able to cool yourself down enough by just stepping outside.
More Fun Stuff from Carlsberg
Now this is not the first time Carlsberg have made campaigns that is both fun and innovative, especially for a beer company. We have written about their Beer Shampoo and Beer Shaving products here before and just a few weeks ago they made a full bar entirely out of chocolate, so with some Beer Ice Cream I'm really excited to see what they think of next.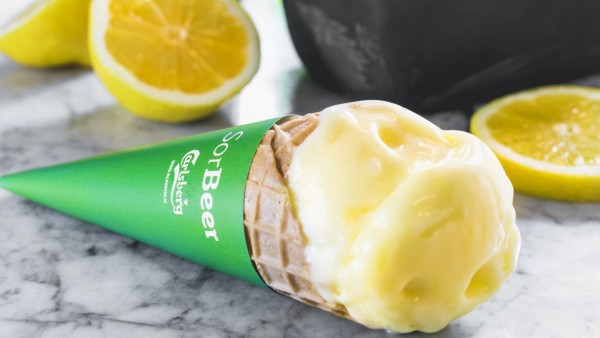 Make Beer Ice Cream at home
If you happen to not be in Sweden this year you can make some SorBeer at home, below is the full recipe for the SorBeer. If you can't get your hands on some Carsberg Non Alcoholic you can try it with any low alcohol lager beer.
SorBeer Recipe
500g Sugar
1,1 l Carlsberg Non Alcoholic (about 3 bottles)
1,25 dl Lemon Juice
Heat the sugar with half of the beer in a pot on low heat until the sugar is dissolved. Add the rest of the beer. Leave to set in the fridge until cold. Add the lemon juice. Freeze the liquid in an ice cream maker. Serve on a hot day.
About Carlsberg Sweden
Carlsberg is the leading brewery in Sweden an offer a wide range of beverages. The company develops, manufacture and sell beer, mineral water and soda and distribute a wide range of wine and spirits. Carlsberg's success is a combination of strong local brands and international brands, a brewing tradition that goes back 300 years. Carlsberg, Pripps Blp, Falcon, Ramlösa and Pepsi are a few of the brands marketed by Carlsberg in Sweden. Carlsberg Sweden is a part of the international company Carlsberg Group which is active in more than 40 countries.