Boiled Eggs, Bacon, Mayo, Tabasco, Parsley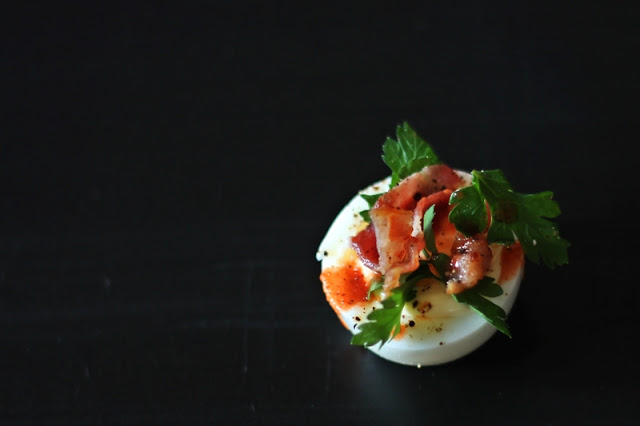 Try this easy recipe for boiled eggs, bacon, mayo, Tabasco and Parsley. All on top of each other, you'll like it. I promise.
Eggs is such a great thing to use in recipes for many reasons. One of my favorite ways is to simply boil them, cut them in half and top them off with something tasty. For me that often means herring, fish roe or some other type of seafood since those pair so good with eggs.
But there are a lot of eaters out there that are not such big fans of seafood or even worse, allergic to them. So why not make one with some bacon, mayonnaise, tabasco and parsley on top instead. Turned out to be a great idea so try this one, you won't regret it.
Boiled Eggs, Bacon, Mayo, Tabasco, Parsley
Serves 4 as a snack
4 eggs
100g / 3.5 oz bacon
4 tbsp mayonnaise
Tabasco or any other great hot sauce
Parsley
Black pepper
Boil the eggs, I like them a little bit creamy in the yolk for this recipe but choose yourself. Just don't make them too soft or the yolk will mess things up. Cut the bacon in strips and fry until crisp in a frying pan. Peel the eggs and cut them in half, also cut of a little bit on each tip. This way the eggs can stand up all by themselves.
Top each egg with mayonnaise, fried bacon, a dash of Tabasco and some parsley and finally a twist of black pepper.