Braised Pork Belly With Cucumber and Fennel Coleslaw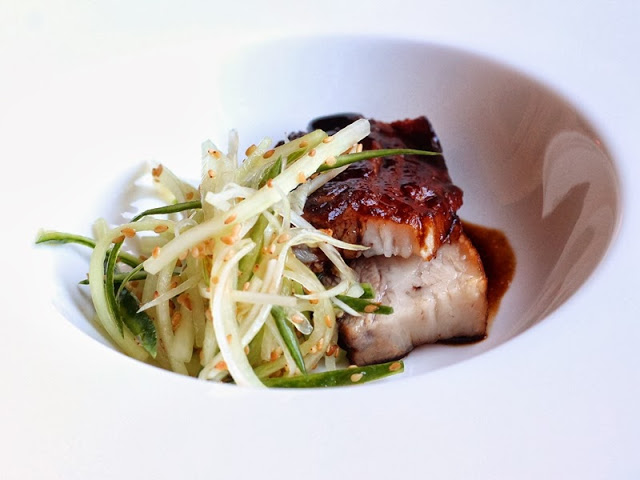 Few things work better with Asian fresh flavors like pork. Try this recipe for Braised Pork Belly with cucumber and fennel coleslaw. It brings out the best in this delicious cut.
Braised pork belly is one of the tastiest and cheapest part of the pig you can serve and if you do it right it will be simply amazing. It's quite easy to get the belly tasting good, all it needs is loads of time. The ways of seasoning the belly is numerous but I chose to make it a bit Asian with Japanese soy this time because I like how it matches the crisp raw salad of the cucumber both in flavor and texture.
Since braising pork belly isn't too much work once you got it in the oven or pot you can make a big batch and save some for dinner, tacos or some nice sandwiches. The extra effort in time is almost nothing but the reward to have some pre-braised belly waiting in the fridge is priceless.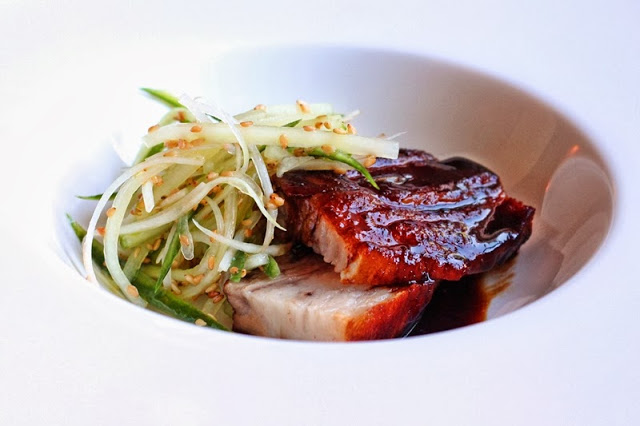 Braised Pork Belly With Cucumber and Fennel Coleslaw
Serves 4 as a appetizer
Pork Belly
500g / 1.1 lb pork belly
Japanese soy
2 tbsp Beef stock (store bought)
1 tbsp fish sauce
1 tsp dried chili flakes
Water (enough to cover the meat)
salt, pepper
Cucumber and Fennel Coleslaw
1 tsp honey
½ cucumber
1 small fennel
2 tbsp lime juice
1 tsp sesame seeds
1 tsp sesame oil
2 tsp olive oil
Salt, pepper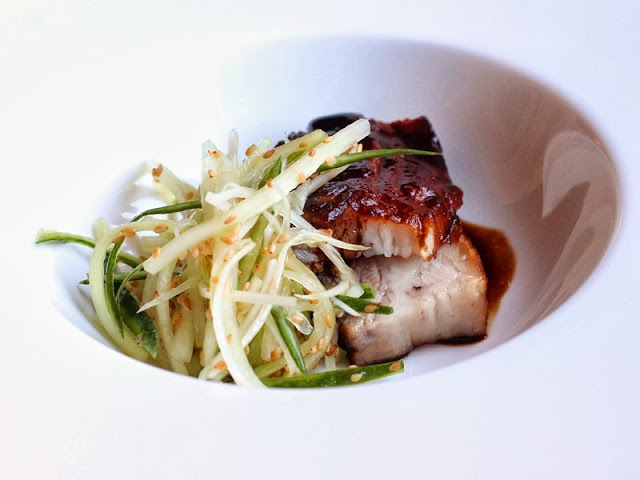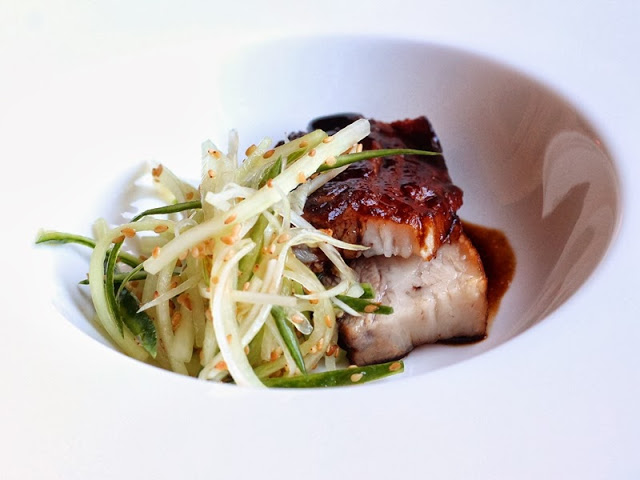 Cut of the skin of the belly if it´s still left on, season the meat with salt and pepper. Sear it on all sides until golden in a pan. You don't need to add any fat while you sear it. The fat from the meat is enough to sear it in a good way.
Remove from the pan and transfer into a pot and add the Japanese soy, beef stock, fish sauce, dried chili and honey and then cover with water. Leave to simmer under a lid until tender, this takes about 4-6 hours, however it´s almost impossible to let i cook for too long so up to ten hours is not a problem. Once done remove the meat and reduce the liquid until it's a thick sauce.
Cut the cucumber and fennel in thin stripes and combine with sesame seeds, olive oil, lime juice and a few drops of sesame oil. Season with salt and pepper.
Slice the pork belly and plate it, drizzle with some of the cooking sauce, serve the salad on the side.