Breaking eggs in slow motion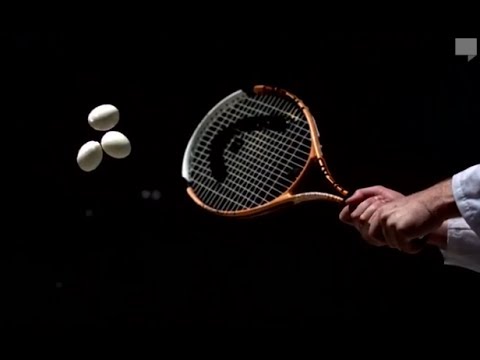 There is something truly fascinating about watching breaking eggs in slow motion. Luckily the Slow Mo Lab have clips for any slow motion craving you might want. And today that craving is watching eggs break into pieces in super slow motion.
The first video above is some great shots of boiled eggs who has a close encounter with a Head tennis racket. But the Slo Mo Lab did not stop there, below are a few more videos. Eggs getting cut in two pieces using a rat trap,
a paintball gun and an egg explode together and even eggs crushing eggs.
The Slo Mo Lab uses a Phantom v2010 slow motion camera to create their films and it seems like more than us are enjoying their films. As of writing this they have had over 14 million views for their clips and a couple of hundred of thousands of subscribers.
For more breaking eggs in slow motion you should head over to their Youtube page and subscribe, as a bonus there are all sorts of food related slow motion stuff as well.