Broccoli soup with bacon and Lemon Creme Fraiche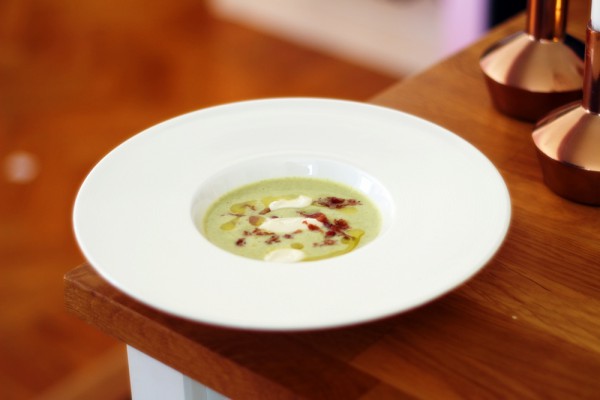 Broccoli is such a great tasting vegetable if you know how to treat it, this is one of the easiest and best ways to use it. Try our recipe for Broccoli soup with bacon and lemon creme fraiche.
Broccoli and bacon is a flavour combination that just can't go wrong and a creamy soup of broccoli with crispy bacon and a fresh lemon creme fraiche is a great way to try this classic combo. When using broccoli chose fresh broccoli that are dark green, you don't want it to be turning yellow or brown. Also the flowers in the top of the broccoli should be tight. A clear sign of a broccoli which is getting old is when the flowers start to open up and the top of the broccoli turning yellow.
Also don't just use the top of the broccoli, the stem is also packed with flavor and you should absolutely use it as well. In this soup just chop it a little more than with the tops. If you get stems left over you can slice them thin and serve in a salad, a great crunchy way to eat broccoli. Now let's get started with our soup.
Broccoli soup with bacon and Lemon Crèmé Fraiche
serves 4 as an appetizer or light lunch
Broccoli Soup
2-3 broccoli
2 garlic cloves
1 small onion
2 tbsp butter
2 tbsp vegetable oil
8 dl / 4 cups milk
2 dl / 1 cup cream
3 dl / 1,5 cup water
salt pepper
Lemon Creme Fraiche
1 dl / 0,5 cup crème fraiché
1 lemon
salt, black pepper
Bacon
140g / 5 oz sliced bacon
Peel and chop the onion and garlic cloves. Roughly chop the broccoli. Add butter and oil to a pot and add the onion and garlic and saute for a few minutes. Add the broccoli and keep sauteing for a few more minutes. Season with salt and pepper and add the water and leave to simmer under a lid for about then minutes. Remove the lid and add the milk and cream, let the soup simmer for another five minutes.
Blend the soup until completely smooth and pour back into the pot and set aside until serving.
Wash the lemon and grate the skin and combine with the creme fraiche. Squeeze out the lemon juice and add to the creme fraiche. Season with salt and pepper.
Fry the bacon until crisp in a pan, remove and let the fat drip off on some kitchen paper. Then chop the bacon into small pieces.
Pour the soup into serving bowls, add a spoonful of lemon creme fraiche into each bowl and sprinkle some bacon on top. Serve.