Brodo – A Bone Broth Cookbook by Marco Canora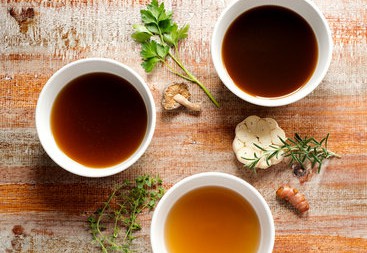 Marco Canora has been serving bone broth to New Yorkers like no other and now he is releasing a full book on this subject, check out Brodo – A Bone Broth Cookbook by Marco Canora.
Most chefs have been cooking bone broths as long as they have been in the kitchen but they haven't been drinking very much of it. Instead all those broths have been made into bases for soups and sauces. Nothing wrong with that,  but New York Chef Marco Canora took his Brodo, or broth and added it to his diet. The broth had an positive effect on Marco Canora's health so he decided to sell his Brodo to New Yorkers.
From a small window in East Village, the broth business was a hit from day one. Now Marco Canora is sharing his recipes in book form as well. In the book, Marco shares the recipes for his nutritious broths and show how to serve them. Besides the basic drinking broths, there are also other ways of serving them that is also part of the Brodo book.
Brodo – A Bone Broth Cookbook is released by Pam Krauss Books on the 1st of December.
More About Bone Broth
In case you don't want to invest in a bone broth book right now I found a great guide to bone broths online. The article that you'll find here is mainly focused on all the health benefits that you can get from this nutritious and delicious food, enjoy!
For more cookbooks check out my full coverage here.