Calamari Pasta Sauce with Homemade Black Tagliatelle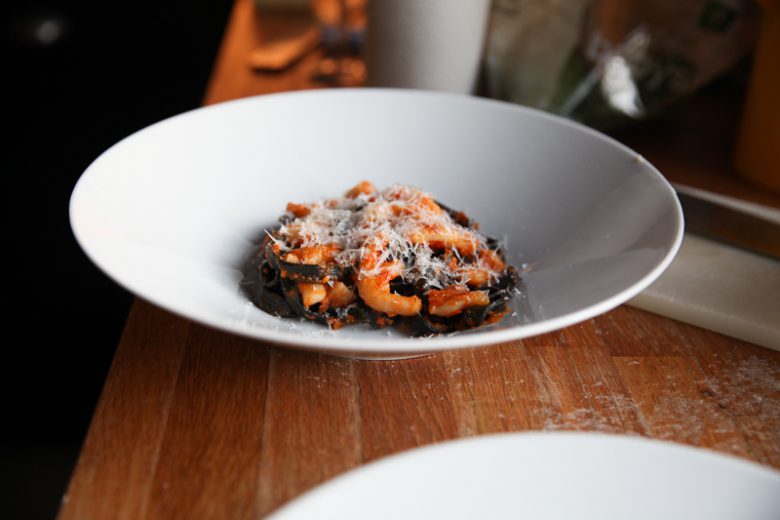 Try this great Calamari Pasta Sauce, it's a rustic tomato sauce with plenty of calamaris and it goes great with some black homemade tagliatelle.
This calamari pasta sauce is a classic in my home. I make this one at least a few times a year and it never disappoints. It basically a calamari tomato sauce and it very easy to make. The pasta is handmade so that's a little bit trickier if you've never done it before. But who says you need to make the pasta from scratch? It's totally fine to buy pasta. It doesn't even need to black.
But if you like me like to try new things then do try it, it's lots of fun and if you have children in the house I guarantee that they will love to help out. Now let's check out the recipe, it comes in two parts. One for the sauce and one for the pasta, make as much as you want.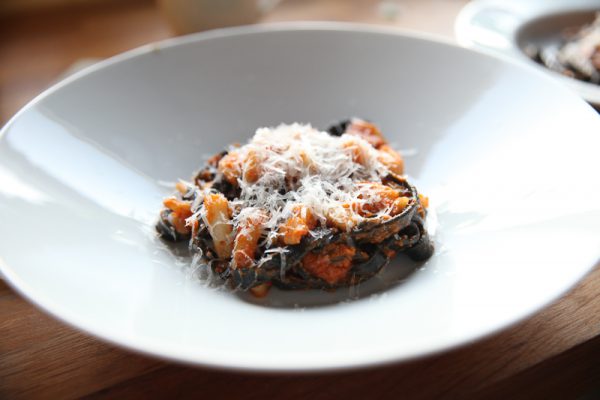 Calamari Pasta Sauce 

enough for at least 4 servings
7-10 oz / 2-300g frozen calamari (fresh if you can find it but frozen works great)
3.5 oz / 100g calamari (optional)
1 carrot
3 cloves of garlic
1 stalk of celery
1 fresh onion (or regular small onion)
14 oz / 400g canned tomatoes
3 tbsp olive oil
salt, pepper
Peel the carrot, garlic and onion. Add them and the calamari and celery to a mixer and mix into a rough paste. Add the olive oil to a pot and add the mixed vegetables and calamari. Place on the stove and start cooking on low heat. Stir every few minutes and season with salt and pepper. This process can take about 15 minutes for everything to be cooked through.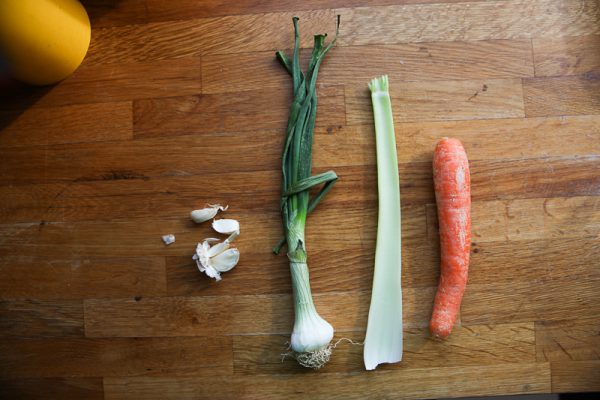 Once cooked add the canned tomatoes and leave to simmer for about half an hour. Check the seasoning and adjust if necessary.
That's it! As you can see this sauce is very easy to make, a great way to pair seafood flavor with tomatoes. It's also worth testing this recipe for guests who don't usually like calamari. That's because here you won't get that rubbery texture which is often the thing they don't like about calamari.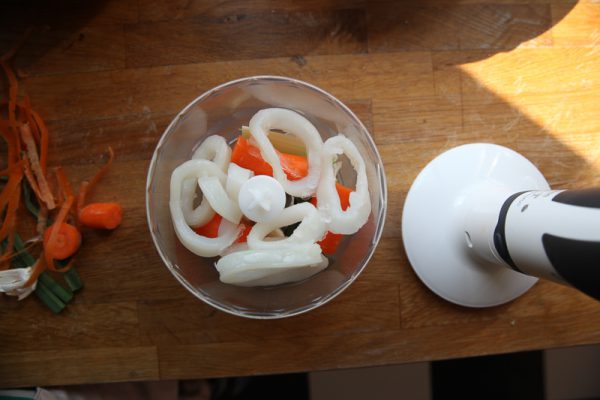 The extra calamari in the recipe is added to the sauce before serving if you want some pieces of calamari in the sauce. I like but this is optional.
Now let's make some pasta.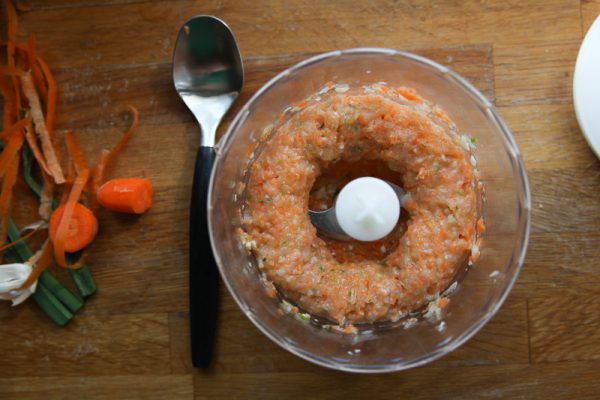 Pasta dough
3 dl / 1,3 cups wheat flour
3 egg yolks
1 egg
1 tbsp olive oil
½ tsp salt
This pasta is made using a pasta maker I bought at IKEA, you will need one to make the pasta. If you don't have one you can cut the pasta by hand and roll it with a rolling pin. But that is hard work and it's not easy getting the dough evenly thick.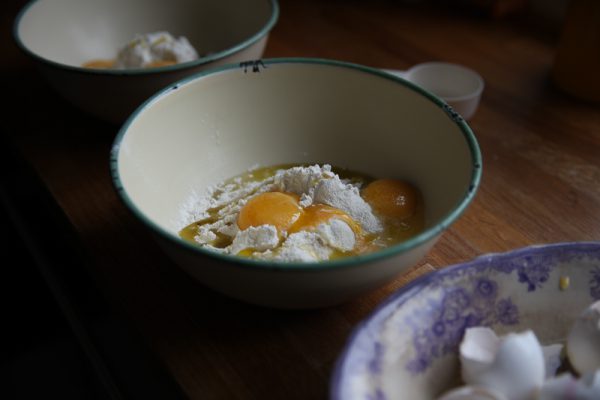 Some people use Durum wheat but I prefer regular wheat flour. Put the wheat in a bowl and add the eggs, olive oil and salt and squid ink and combine. Knead in the bowl until you have a firm dough. It should be evenly black once it kneaded enough. Then transfer it to a counter and knead the dough for a good ten minutes or so. You want the dough to feel slightly elastic, but still firm and a bit shiny.
In many pasta recipes you are instructed to make the dough entirely on a counter. I think this only makes a bigger mess. The result is the same so make it the way you prefer yourself. Once the dough is done wrap it in plastic film and set in the fridge to rest.
Rolling the pasta dough
Start rolling out the pasta dough. Start at the thickest setting and let the dough go through once or twice before making it thinner, for every roll through sprinkle the dough with some flour so it won't stick on the rollers.
My pasta roller goes from 1 as the thickest setting to 9 as the thinnest. The tagliatelle had it's final roll on number 4. Then I roll it through the wide cutter that makes the tortellini and sprinkle with flour.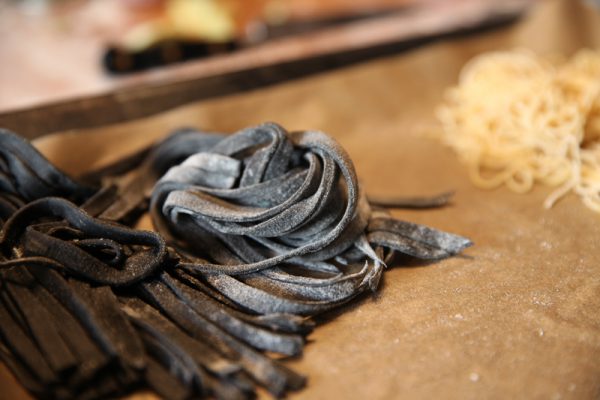 Plating and serving
Once you have the sauce made and the pasta is rolled then bring salted water to a boil. Take some of the pasta sauce and add it to a frying pan and set on low heat. Add the extra calamari in the sauce recipe and let it simmer in the sauce.
Add pasta to the boiling water and let boil for about one minute. Then remove it from the water and add it to the sauce in the pan. Let it simmer for a minute or two and add more sauce if it feels dry. Check the flavor and season more if necessary.