Caprese salad Recipe, because it's that time of the year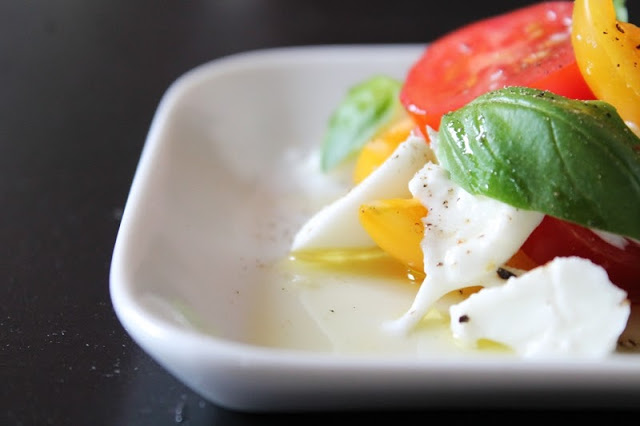 It's that time of the year, try our great Caprese Salad recipe.
For me this is one of the must have dishes for summer, with great tomatoes, high quality buffalo mozzarella and fresh basil you simply can't go wrong. If you can't get hold of buffalo mozzarella then I shouldn't make this dish because it is so dependent on the cheese. But it shouldn't be a problem finding at a good store. Another alternative that is at least as good is to use Burrata, Mozzarella sassy cousin.
Also use different sizes and shapes of the tomatoes, this make the dish look better and it´s more fun to eat when the tomatoes varies in taste. The dream is to head over to the nearest farmers market and pick out some heirloom tomatoes but nowadays there are usually a decent variety in most stores.
We didn't add any exact amounts in this recipe but if you are serving this as an appetizer use one mozzarella for two servings, about the same amount of tomato is a good match. Now for the cooking here is the Caprese salad recipe.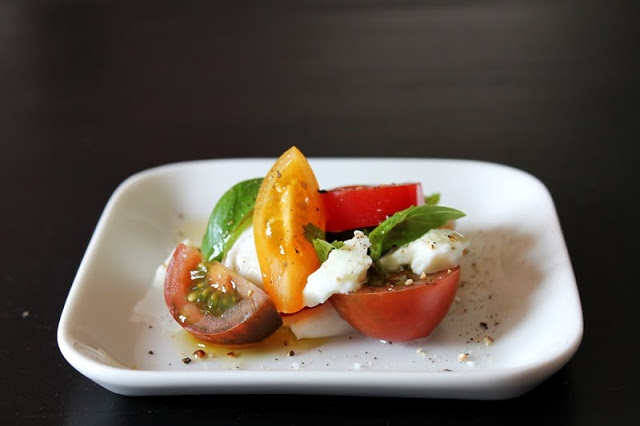 Caprese salad
tomatoes, different varieties
fresh basil
buffalo mozzarella
black pepper
salt
olive oil
Cut the tomatoes in different shapes, break the mozzarella into smaller pieces and combine with fresh basil leafs and the tomatoes. Season with salt, black pepper and olive oil. Serve immediately.
If you need to make or prepare the salad ahead of time then keep each ingredient separate until serving, otherwise the salad loses it's freshness and tends to get soggy. Good luck.