Carolina Reaper Madness – World's Hottest Tortilla Chip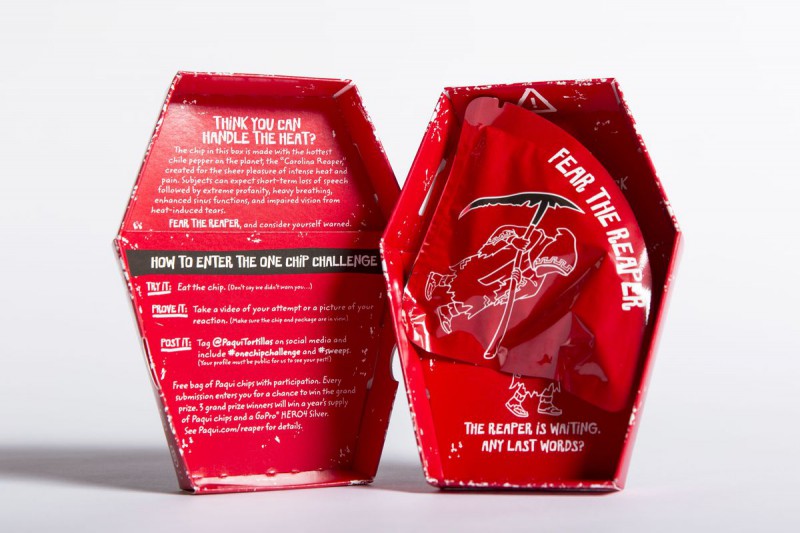 Starting this October you can buy and eat one single Carolina Reaper Madness Tortilla Chip. You'll only need one since it's the hottest tortilla chip in the world.
The Carolina Reaper Madness is the name for one single tortilla chip which will be sold by the gourmet tortilla maker Paqui. The chip, yes chip is only sold in single packs since it is believed to be the hottest tortilla chip in the world.
The name Carolina Reaper Madness comes from one of the three types of chili which the chip is flavored with. The name of the chili is Carolina Reaper, besides this super hot pepper the chip is also flavored with Ghost Peppers and Chipotle.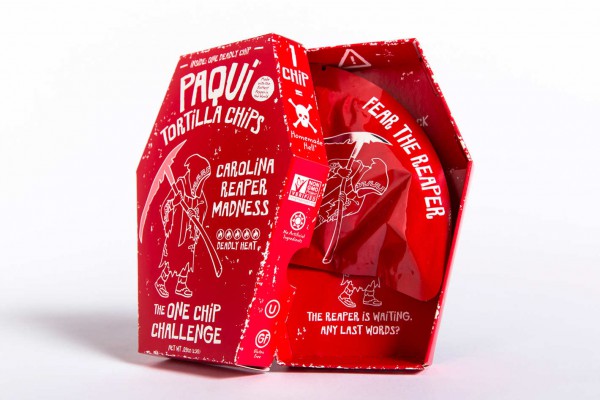 The Carolina Reaper Madness Comes With A Challenge
As always the chip comes with a full online campaign where the end goal is to go viral and thereby selling more chips. Paqui makes a full range of more regular flavored tortilla chips that I'm sure you like better than the hot single chip.
The idea is this. You buy the chip, you eat it, you post a video of you eating it with the packaging in clear sight. You'll might win some stuff. Paqui will sell more chips. Don't forget to use the official hashtag #oncechipchallenge as well.
No surprises here. This is more or less the same idea that every modern campaign in social media have tried to get airborne since the ice bucket challenge.
For once I actually do think this campaign have a chance of going seriously viral. People love to eat nasty things and put them on Youtube. Just do a quick search for something with eating hot and you'll have today's entertainment lined up. If you're into watching people suffer of course.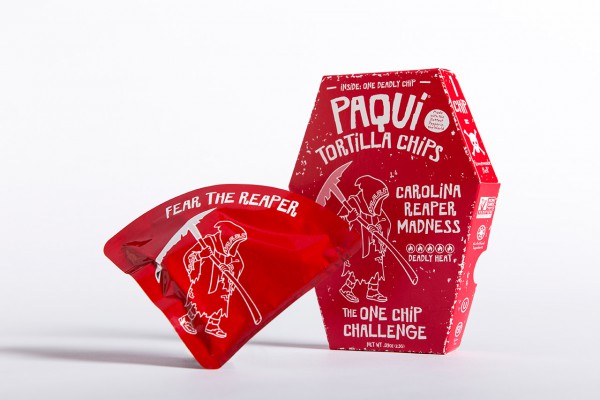 The Carolina Reaper Madness Packaging Is Awesome
What can't be missed in this campaign is the great packaging. The single chip comes in a double packaging. First thing you'll notice is a coffin shaped red box with a reaper on the front. The red design with white graphics look great and is a perfect fit for the product.
Once you've opened up your coffin there's a second packaging inside which holds the actual chip. On this second packaging there is only a reaper and the phrase "Fear the reaper" written on it. Absolutely wonderful.
The inside of the box is also printed with design and of course the full instructions to the online challenge. Just in case you might forget to post a video of you eating it.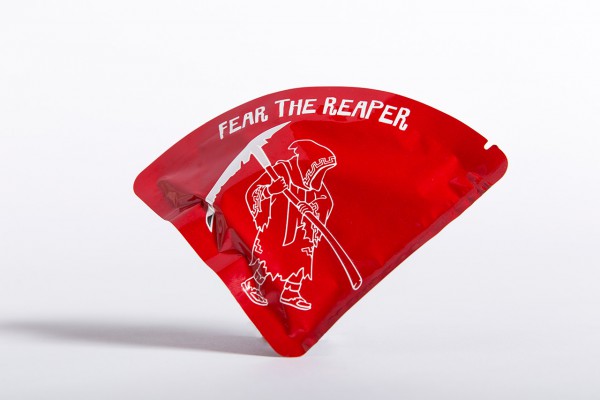 Where to buy the chip?
The chip will go on sale in October in select stores. For a full listing on where you can check out the Paqui website. The price for the chip will be $4.99, it's not cheap to go viral these days is it?