Cheese and Ham Tortillas – You'll want to eat these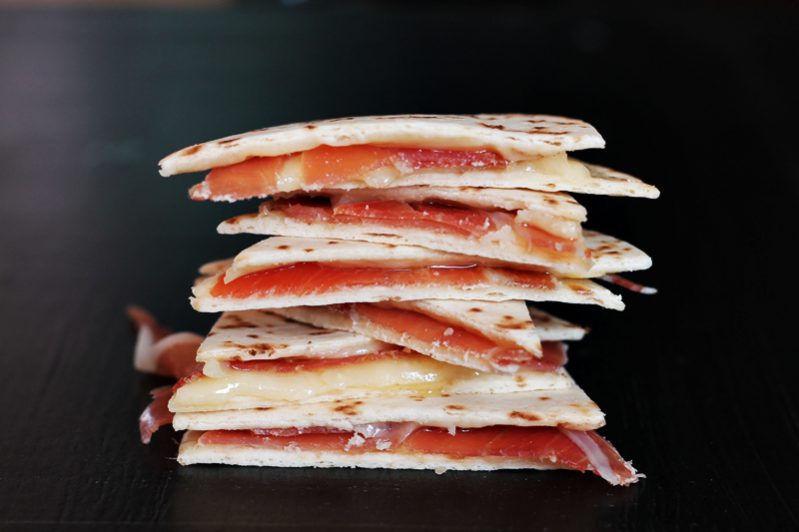 You'll love these Cheese and Ham Tortillas. It's as simple as it sounds, Serrano ham, two types of cheese, a tortilla and some heat and you've got yourself a great snack, let's do it.
Let's make some Cheese and Ham Tortillas. Melted cheese, you can never have too much so let's have some with this cheese and ham tortilla recipe. This is a very simple recipe that can be served as a side, snack or appetizers. I prefer to serve them on special occasion like when there´s Champagne is being poured. It´s a fun contrast between serving something a bit rustic a simple like this and the flavor is actually quite refined.
In this recipe I use two types of cheese, a Swedish Grevé which is similar to a mild Swiss cheese like Emmenthaler. I combined it with some Italian Parmiggiano-reggiano, the king of the Italian cheeses. The ham is a Spanish Serrano. But the great thing about this is you can put whatever cheese or ham that you like.
Cheese and Ham Tortillas
side or appetizer, serves 4-6 people
12 wheat tortillas
12 big slices of Serrano ham
100g/3,5oz grated mild cheese
100g/2,5oz grated Parmiggiano-reggiano
Sprinkle the cheese on six of the tortillas, add the ham and put the other tortilla on top. Heat the tortillas in a dry frying pan on both sides until the cheese has melted. Cut the tortillas in half or quarters and serve warm, oh and don´t forget about the Champagne…