Check out the Cheetos Museum and get rich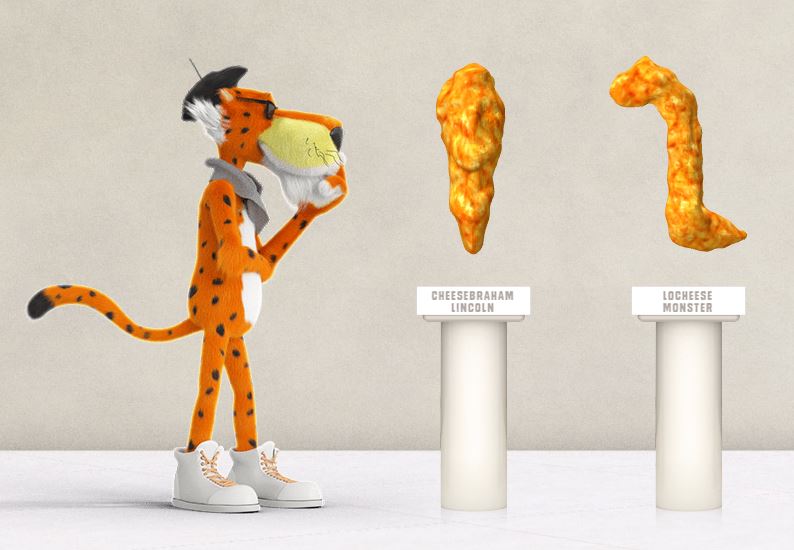 This summer you can visit the Cheetos Museum online where a selection of weirdly shaped Cheetos will be on display. But there is also money to be made, keep reading.
The Cheetos Museum is open. In it you can check out some of the 15.000 weirdly shaped Cheetos that have been submitted by fans all over the US. But now the hunt for the next Cheetos Mona Lisa is on and you can be the one who takes home the grand price of $50.000, not bad for eating some snacks.
The contest opened in May 31st and submissions of the Cheetos Pièce de Résistance will stay open until the 15th of August. Then the 10 best submissions will be selected and be awarded a total of $150.000 in prize money.
And it is simple to be a part of this fun contest. All you have to do is keep eating Cheetos and once you stumble upon a shape you love you save. Take a photo and write down the story of your special Cheetos shape and submit it to the museum.
All submissions are judged weekly based on visual interest, buzzworthy and creativity. Each week a winner is selected who receives a $10.000 price and their masterpiece will be available to see at the online museum. Later this summer there will also be a real life exhibition on the coolest Cheetos.
Once all the weekly winners have been selected the voting for the grand prize will be determined by the public. The winner will be awarded $50.000 plus bragging rights that will last a lifetime of course.
Here's what Jeannie Cho, vice president of marketing said about the idea for the Cheetos Museum.
"Cheetos are like clouds – each has a unique shape that comes to life with your imagination. Since their inception, Cheetos snacks have captivated consumers with their whimsical shapes and uncanny resemblances to landmarks, animals, objects and even deities."
"We have seen people share, tell stories, and even sell them online— now we have an official Cheetos Museum to celebrate the creativity out there, and we want to fill it with your imagination!"
For more on the Cheetos Museum and the rules for the competition go here.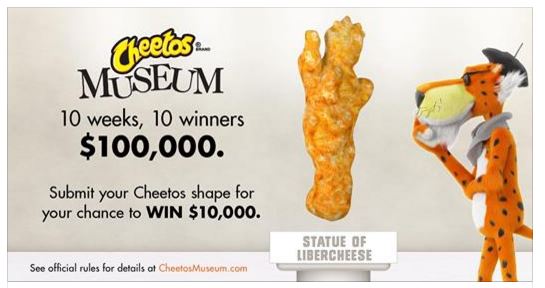 About Cheetos
Cheetos is one of many Frito-Lay brands in North America – the $14 billion convenient foods business unit of PepsiCo (NYSE: PEP), which is headquartered in Purchase, NY. Learn more about Frito-Lay at the corporate website,http://www.fritolay.com. The Snack Chat blog, http://www.snacks.com and on Twitter at http://www.twitter.com/fritolay. Learn more about Cheetos by visiting www.facebook.com/Cheetos.
About PepsiCo
PepsiCo products are enjoyed by consumers one billion times a day in more than 200 countries and territories around the world. PepsiCo generated more than $63 billion in net revenue in 2015, driven by a complementary food and beverage portfolio. That includes Frito-Lay, Gatorade, Pepsi-Cola, Quaker and Tropicana. PepsiCo's product portfolio includes a wide range of enjoyable foods and beverages. Including 22 brands that generate more than $1 billion each in estimated annual retail sales.