Chef Q&A with Phil Pretty of Restauration, Long Beach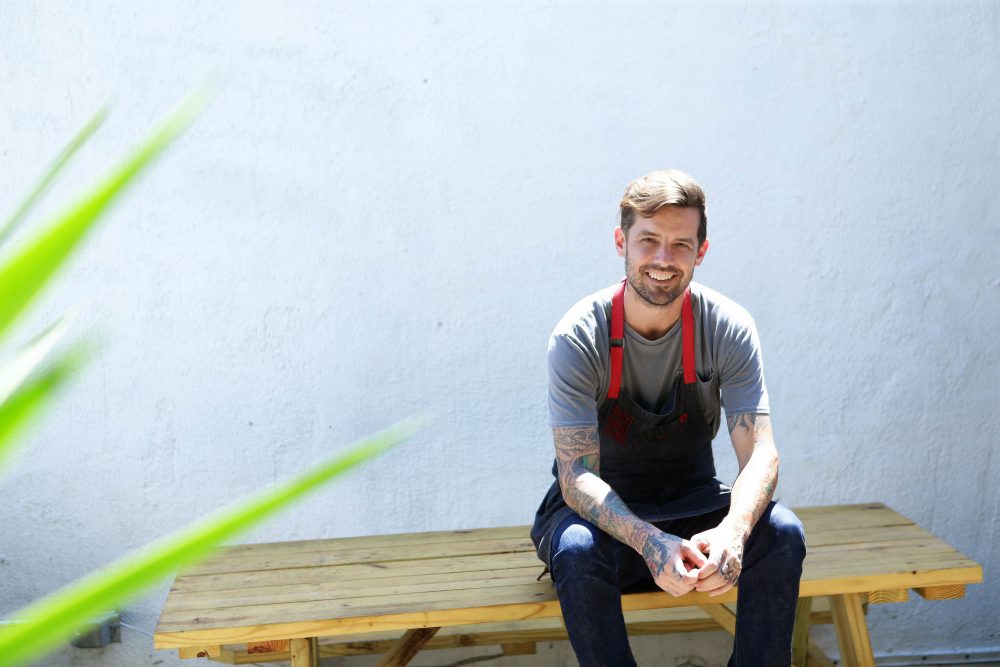 Meet Chef Phil Pretty of Restauration Restaurant in Long Beach. We talk becoming a chef, why coming home to Long Beach is great and much more, keep reading.
Phil Pretty is a Long Beach native who returned to his hometown and Restauration. His first years in the kitchens was spent in some great restaurants in Los Angeles including The London, Axe, and FundamentalLA. Now let's talk food with Phil Pretty.
How did you become a Chef?
I actually used to cook for my little sister all the time, while my mom was at work. But it wasn't until I was 26 that I finished Le Cordon Bleu and landed my first job in the kitchen at Providence. Basically did my best to climb the ladder from there and learn from the amazing chefs I was working with at the time.
How would you describe your cuisine?
Restauration's cuisine is a combination of American classics with a high-end twist for an extremely reasonable price. We do things like Duck Confit + Waffles instead of the traditional chicken and waffles dish or Shrimp + Grits with a little higher end twist.
What encompasses Restauration the most is seasonality. Together with Organic Harvest Gardens, a farm here in Long Beach, we work to plant, grow and harvest a large portion of our own ingredients. So if an ingredient or even a popular dish like Brussel Sprouts aren't in season, you won't find it on our menu.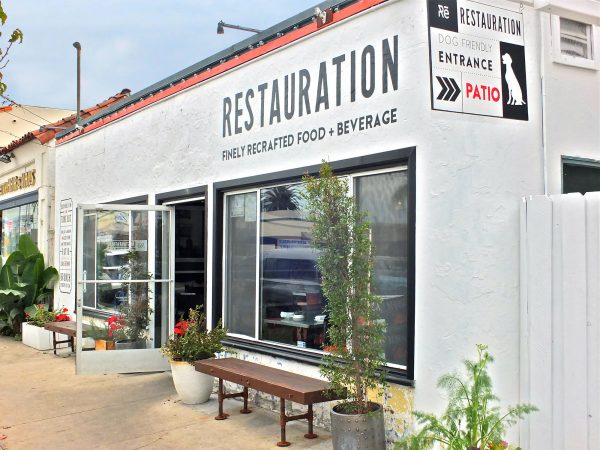 You've spent most of your career in LA but now you've joined Restauration in Long Beach, can you tell us about the restaurant?
Restauration is a place you can relax and have a great meal that makes you feel like you're dining at one of LA's popular hotspots, without being in LA. Long Beach, in general, is very big on community and making people feel welcome and we like to do the same here at Restauration.
What made you choose to relocate to Long Beach?
I was born and raised in Long Beach so while I was in LA, I heard Restauration was looking for an executive chef and I immediately jumped at the opportunity to bring LA style cooking back to my hometown. If you're a local boy, you always find your way back to Long Beach!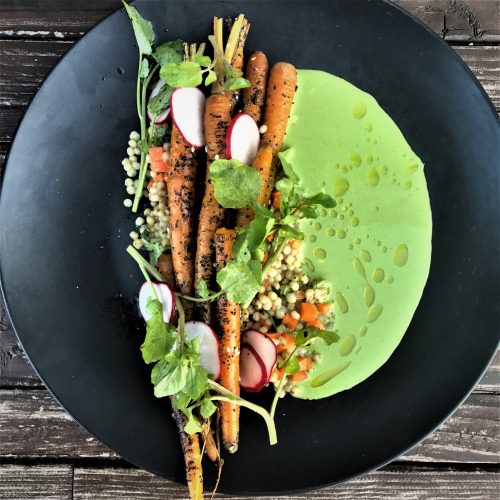 How is the dining scene like in Long Beach?
The food scene in Long Beach is really coming up. We have a ton of outstanding chefs here that have come from big restaurants and we are all doing really great, unique things in our kitchens. When you eat somewhere in Long Beach like Restauration, James Republic, Michael's on Naples, etc. you'll find yourself feeling like you're in LA or New York.
You mentioned earlier that you grow much of your own produce, how much would you say you can supply yourselves.
We are in a partnership with Organic Harvest Gardens in Long Beach, just a few miles up the road from Restauration and we are able to source nearly 40% of our own produce there. They recently expanded the lot as well, so soon we will be able to harvest about 90% of our own ingredients which is unbelievable.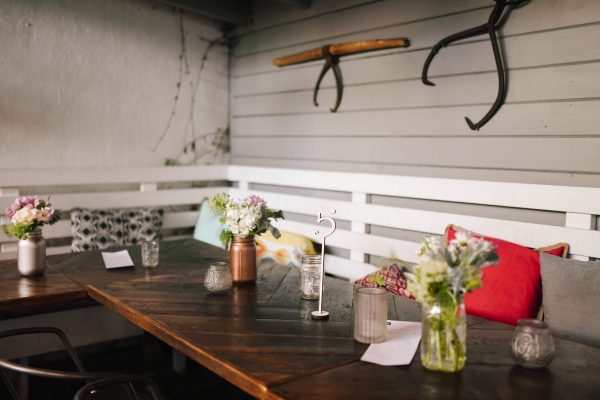 Do you have a process when creating new dishes?
For me, it's kind of an impulse. Everything comes in sparks to me. I feel more creative when I am around creative people, even if they aren't chefs. It influences me to be creative in the kitchen to keep up with their creativity.
I also don't mind ever letting someone in the kitchen create a dish – our kitchen gives opportunities to our employees regardless of their titles. Also, environment is a big part of sparking ideas. For example, the other day I saw a Ralph's grocery store truck drive by with a lobster on the side of the truck and it sparked an entire dish that I plan on creating later on.
Do you have a guilty pleasure in food?
McDonald's, for sure. I am not ashamed of it, but I do think it's as awful as it is good. The chicken nuggets are my go-to every time.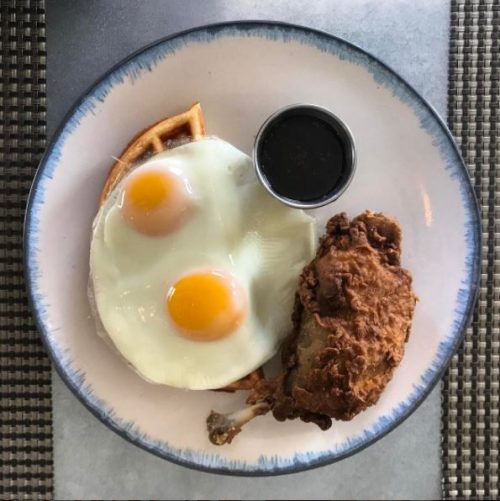 Do you have another passion besides food, something that you do on a day off to do something else?
Music is another passion of mine. I collect music, I love it. I used to collect CDs and right now I have about 2,000 CDs. Of course, once Apple came out with iTunes, my CDs became more novelty since all of my music is on my phone. I also love clothes, although I hate admitting that, but it's true.
On a night out, what's your drink of choice?
Whatever cool soda, or in-house, non-alcoholic drinks are on the menu.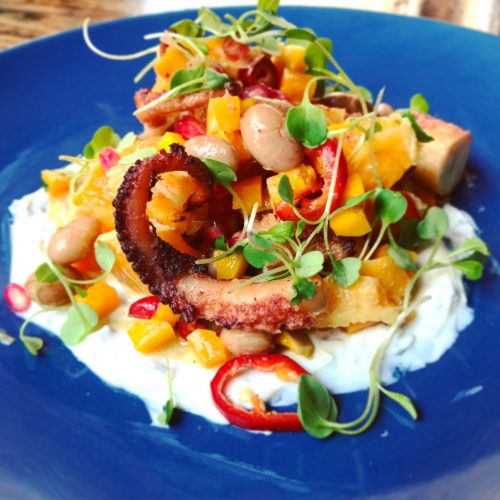 What is your favorite culinary destination?
To me, Portland, Oregon has a great culinary scene. Not only does my family live in Portland, but they are all foodies so they take me to all the best restaurants whenever I visit. Portland is very much like Long Beach and what we are doing here, using their own farms and actually being farm-to-table.
What I love about Portland is that they are so attached to good food – to the point where the farmers are coming to the restaurants to hand delivery the produce, seafood, etc. – there's no middle man.
Who do you think I should interview at Ateriet?
I have two people that I think you should interview; Matthew Parker with Shiitake Happens and Eric Samaniego with Michael's on Naples.
Thanks Phil Pretty for your time and keep cooking. More on Restauration below.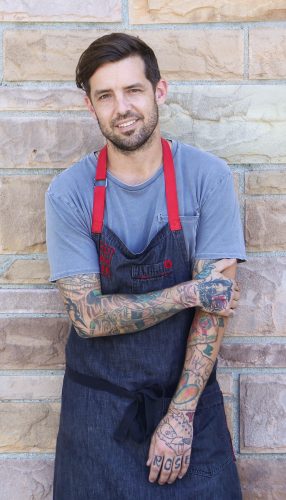 Name: Chef Phil Pretty
Age: 37
Birth city: Long Beach, CA
Current city: Long Beach, CA
Education: Le Cordon Bleu
Previous profession: Always been a chef
Favourite quote: "Don't be scared, it's only cooking"
About Restauration Restaurant, Long Beach
Restauration is a restaurant located on a stretch of 4th street between Cherry and Temple called Retro Row. There Chef Phil Pretty creates seasonal dishes of local and sustainably sourced ingredients. To go with the food there is also a wide selection of craft beer and a comprehensive wine list from many of the great small producers in California. For menus and more info visit Restauration online or via social media. You'll find them on Instagram, Facebook and Twitter.
About Ateriet's Chef Q&A
Chef Q&A at Ateriet is my way of giving great chefs the respect they deserve. I interview chefs from all over the world with the stuff I want to know. If you know a chef I should interview or have any other suggestions don't be afraid to let me know, just leave a comment or send an email. You can read my other Chef Q&A's here or explore all these great chefs and restaurants in my Chef Q&A Map, you'll find it here.