Chef Q&A with Ethan Speizer of West Coast in San Francisco
Ethan Speizer is the Chef at West Coast Wine & Cheese in San Francisco. At West Coast you can try more than 700 different wines as well as small plates, cheese and charcuterie. We asked Ethan Speizer about his favorite food memories, working in a restaurant with only American wines and his guilty pleasures. Keep reading to learn more about Ethan Speizer and the food and wine of West Coast.
Have you always wanted to work with food?
Growing up I was drawn to cooking, but decided to keep it a hobby. So instead of culinary school, I chose to study economics at UC Davis. But after I graduated, the kitchen came calling and I gave in to pursue a career as a chef. If it's in you, you can't avoid it.
What's your favourite food memory?
I spent an amazing three months eating my way around the world this past summer, and had some of the best food experiences of my life. Too many to count in fact. But my favorite memories were those in San Sebastian and Tokyo. The freshness of the seafood, the inherent salinity in the food, and the simplicity of the Spanish and Japanese cuisines were inspiring.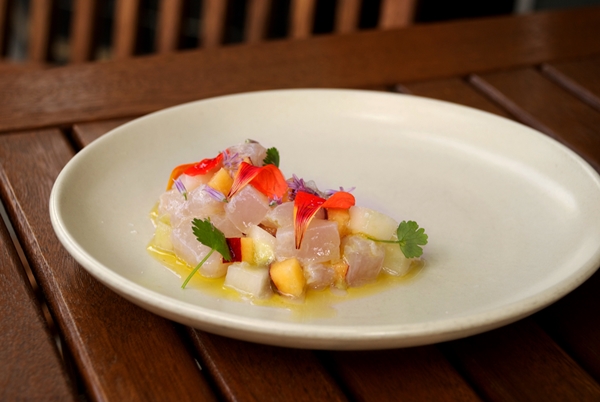 What is your favorite ingredient at the moment?
I've been really, really into cabbage lately. Savoy is my favorite. I love the umami flavor that develops when you slowly caramelize or char it. At West Coast we're working on fish tacos using beautiful raw albacore and caramelized cabbage leaves as shells. So far it's a winner.
What inspires you in your work?
I draw inspiration from so many sources, so it's a hard question to answer. My brain isn't creative in any other facet of life – so cooking is my only creative outlet. That and I love exposing diners to new flavors or combinations they haven't tried yet, or simply turning something they dislike into an ingredient they love.
Also, traveling and seeing other cultures around the world is incredible inspiring. As a whole, I think the US food culture leaves a lot to be desired, so it's rejuvenating to be exposed to things you can bring back home to you friends, family, and diners.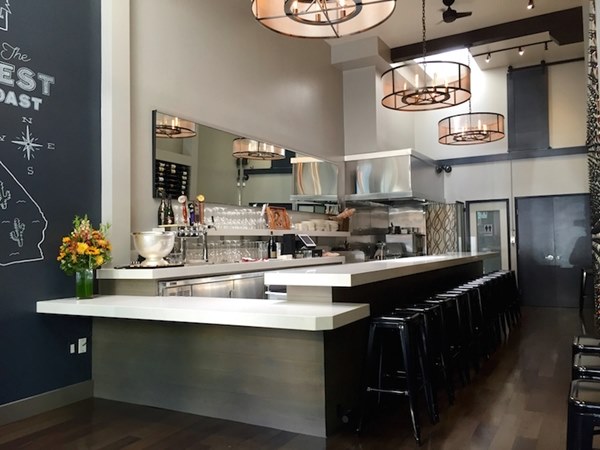 Describe your style of cooking?
My cooking is very market driven and eclectic but also very simple – our menu changes about once a week and has influence from so many parts of the globe. I think it's important to not pigeon-hole myself and declare that I'm cooking "northern Italian food" or something like that.
Freedom is important when you're developing a menu and it's pretty damn fun to draw influence from say, Thailand and Spain on the same menu. But past those influences, my cooking is based purely on the seasons. We'll cook whatever looks good at the market and try to develop flavors while keeping our dishes very simple and minimalist.
At West Coast & Cheese wine is very much in focus, are you working in a different way than you would in a regular restaurant when it comes to creating dishes and menus?
You know, we don't worry too much about pairings with wine when we've developing a dish. We definitely tone down the acid and heat levels in some dishes but all in all we just try to cook delicious, approachable food and nine times out of 10 our wine list will have a glass that pairs perfectly.
What's your take on charcuterie at West Coast?
Unfortunately we don't make our own charcuterie, we do our own pate's and liver mousses but we have such an incredibly small space, which at times limits what we can and can't do. That being said, we source our charcuterie from Zoe's Meats – an outstanding company with beautiful product.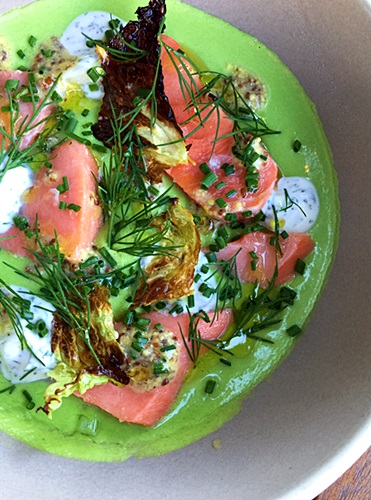 Serving only American wine and local ingredients, how often do you just say to hell with it and go buy a bottle of Amarone and a piece of Parmigiano-Reggiano cheese?
Haha, I absolutely love drinking from our exclusively west coast wine selection but whenever I'm out for dinner or a drink I'm going for something foreign, something different than what I am exposed to everyday. My palate has a short attention span, so I'm constantly needing something new! And yeah, I put Parmigiano on absolutely everything. Having learned my trade in an Italian kitchen, parm is close to my heart. PS. We use Spanish anchovies at West Coast. Don't tell anybody 😉
Do you have a guilty pleasure in food, and if so what is it?
I eat more junk food than I'd like to admit. Especially goldfish and top ramen. Some people have this weird idea that chefs only eat great restaurant food all the time…when in fact it's quite the opposite. We gravitate towards fast and easy whether it be take out chinese or a slice on the walk home.
Who do you think we should interview here at Ateriet?
Trevor Kunk, Chef at Press Restaurant in St. Helena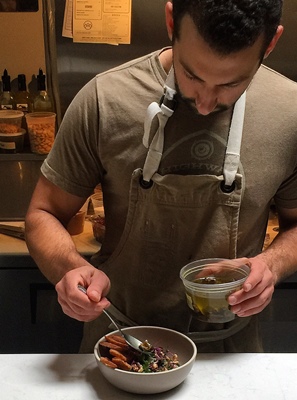 Name: Ethan Speizer
Age: 25
Current city: San Francisco
Education: BS Managerial Economics, UC Davis
Previous restaurants: Oenotri, Inn on Randolph
Favourite quote: One cannot think well, love well, sleep well, if one has not dined well. -Virginia Woolf
Thank you Ethan for your time and keep cooking great food.
To keep up with what Ethan Speizer is cooking and creating you can follow him on Instagram @chefethanspeizer and at Twitter @ethanspeizer. For West Coast wine you can visit www.westcoastsf.com and keep up with them on Instagram at @westcoastwinesf and at Facebook.
You can read more about West Coast Wine & Cheese below.
About West Coast Wine & Cheese
West Coast Wine & Cheese is a wine bar in central San Francisco run by owners Lindsey and Chris Wanner who both have a long experience with wine. They have a selection of more than 700 bottles of wine and around 30 by the glass. All the wines are American, mostly from California, Oregon and Washington State.
If beer is your thing you can still visit West Coast since they also have a small but carefully selected range of beers and ciders. The menu by Ethan Speizer changes with the seasons but there is always a wide selection of cheese and charcuterie.
West Coast Wine & Cheese are located on 2165 Union Street in San Francisco and is open daily.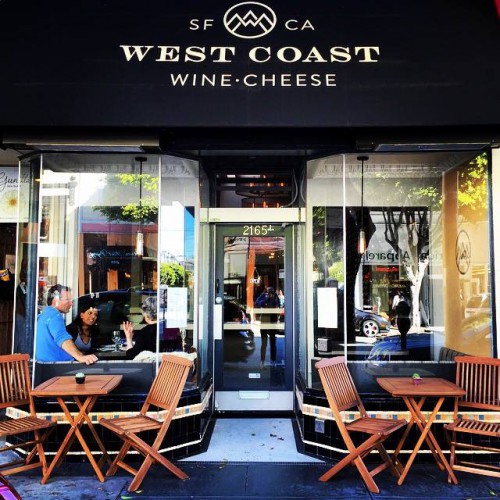 About Ateriet's Chef Q & A
Chef Q&A at Ateriet is my way of giving great chefs the respect they deserve. I interview chefs from all over the world with the stuff I want to know. If you know a chef I should interview or have any other suggestions don't be afraid to let me know, just leave a comment or send an email. You can read my other Chef Q&A's here or explore all these great chefs and restaurants in my Chef Q&A Map, you'll find it here.