Meet Chef Ricardo Jarquin of Travelle Kitchen + Bar in our Chef Q&A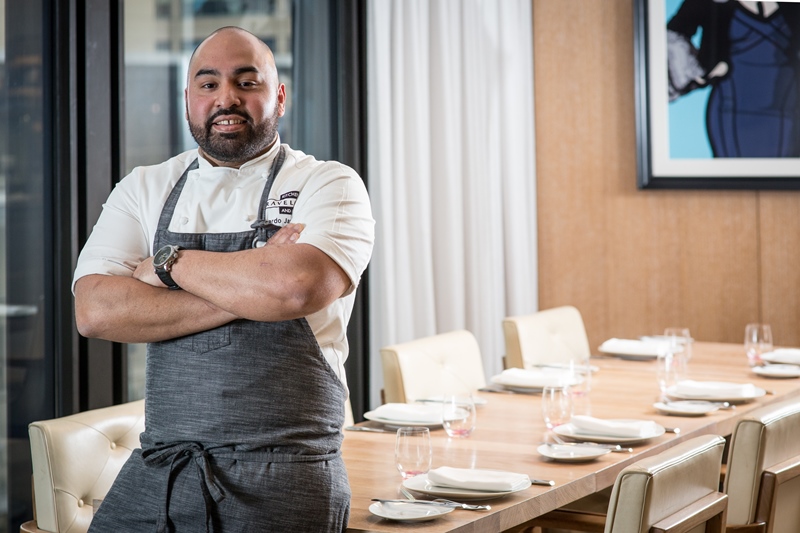 In this Chef Q&A we meet Chef Ricardo Jarquin of Travelle Kitchen + Bar in Chicago where Ricardo Jarquin landed after cooking in other parts of the country. We had a talk about how he became a Chef, his favorite local ingredients and photography. Keep reading.
In 2016 Ricardo Jarquin came to Chicago to be the new Chef de Cuisine at Travelle Kitchen + Bar at the Langham Hotel in Chicago. Before this he had cooked in Miami, New York, San Diego and Hawaii. At Travelle Chef Ricardo and his team offers a seasonal and modern American cuisine based on mainly local ingredients. Naturally Ricardo Jarquin was a Chef I felt I needed a chat with, enjoy.
How did you become a Chef?
I don't have any whimsical stories about how I became a chef. I actually got into this industry for all the wrong reasons. I took four years of culinary classes in high school. I had two reasons why, I needed an elective and I found out there was going to be twenty girls enrolled in it and me, the only guy.
Second  year into I found a passion for cooking, I started working in a hotel my senior year as a banquet cook to make sure cooking was something that I really wanted to pursue as a career. It's been a steady climb ever since. After high school I got a bachelor's degree from Johnson and Wales University.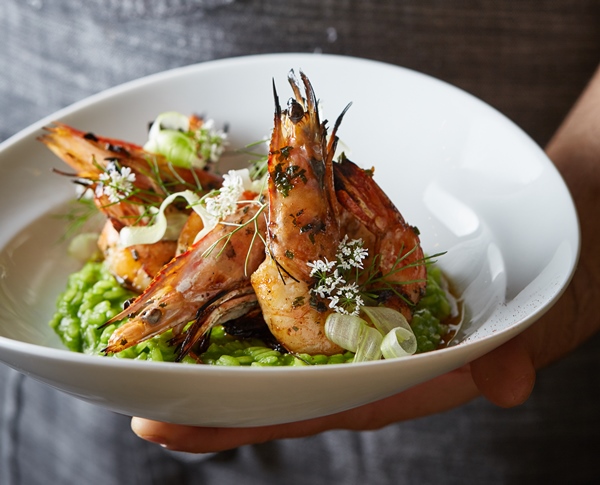 How would you describe your style of cooking?
I'm very focused on seasonality, simplicity, and sourcing from my surroundings whenever possible. My food is very technique driven, with flavors that are pure, clean, and natural. There's no point in working with great products if you're not able to process them in a way that will enhance its natural form.
You've been in Chicago at Travelle for almost a year now, how has the first time been?
I'm loving it out here, Chicago is a great city. The restaurant is amazing, I have a lot of support and I work with a very talented crew. This allows me to focus on the food that I cook.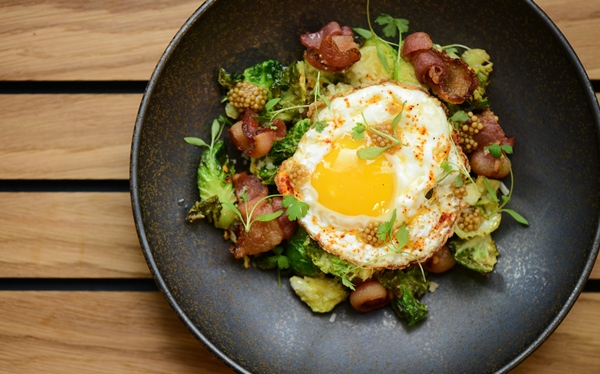 You're fairly new to Chicago and I know you love to source ingredients locally. Have you found any new favorite ones?
Definitely, we have great products to work with here in Chicago. Green Acres Farm and Mick Klug Farm always have beautiful produce, Leaning Shed Farm and Iron Creek Farm have beautiful heirloom tomatoes. Smits Farms have an amazing herb selection, and the mushrooms from River Valley Ranch are top notch. These are just a few, but the list goes on and on.
What's your favorite thing on the menu right now?
I just added a crispy cauliflower dish on the menu not too long ago, and I feel that it really embodies my cooking style. It's beer-battered cauliflower florets which get glazed with gochujang and rice wine vinegar reduction. I top the cauliflower with kewpie mayo, furikake, fresh basil, and pickled ramps.
You originally come from Nicaragua and grew up in Miami, how do you think you background has influenced your food?  
Miami is a melting pot of Central and South American culture so I grew up exposed to its diverse gastronomy. I think this is where my severe infatuation with pork comes from. If it were up to me I would put pork product on every single dish on the menu.  I grew up eating it almost every day in one form or another whether it was chicharones, pork croquetas, media noches, or my mom's achiote pork chops… I'm getting hungry just thinking about it.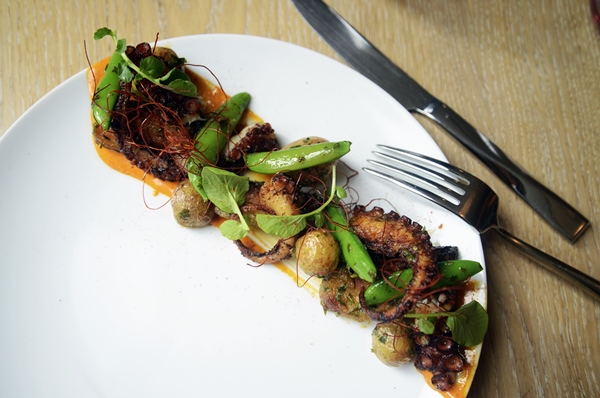 Before Travelle you've been in a few different places like San Diego, New York, Hawaii and now Chicago. How has working as a Chef in these different cities been?
All very different experiences with unique challenges. It's definitely a struggle starting from scratch with every move. It puts you out of your comfort zone but this is where I feel I learn the most. With every move, I get exposed to different cultures, chefs, products, work environments and I feel all these experiences have made me the chef I am today.
You're into photography and food photography is that something you do often?
Yeah definitely, I haven't done it as much as I would like to recently. I feel photography goes hand in hand with being a chef. It's an outlet which allows you to document and showcase your talent.
Have you ever considered trying photography out as a profession?
I have, I've done some photo shoots for chefs and restaurants around San Diego and had a blast doing so. I can definitely see myself doing something like that for a living but I'm not ready to give up cooking. I feel that in order to be successful in any craft you have to be willing to invest 100 percent into it.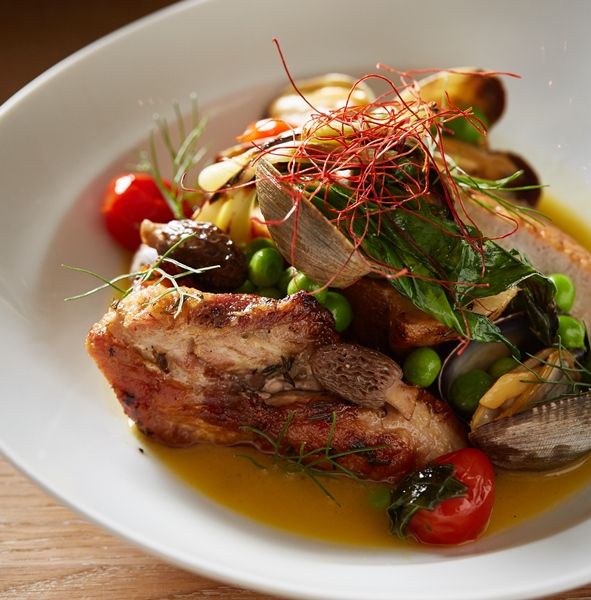 Where do you like to travel for culinary inspiration?  
Anywhere outside the US, I haven't really done much travelling these last few years but I think it's very important as a culinary professional to travel as much as possible. You get exposed to different gastronomies and you're able to pick up recipes, techniques, flavor profiles which you can later use in the food that you cook. I'm actually planning a trip to Spain in March. I've never been, so I'm super excited.
Do you have a guilty pleasure in food, and if so what is it?
I don't know if I should share this but I enjoy instant ramen. I warm it up in a pot and add sesame oil, soy sauce, kimchee, butter for richness and sliced scallions. It's a quick and easy late night fix.
Who do you think we should interview here at Ateriet?
Harold Villarosa, he's executive sous chef for the newly opened Maison Pickle in New York City. I met him in New York and have kept up with him ever since. The passion he has for his craft really separates him from a lot of chefs out there.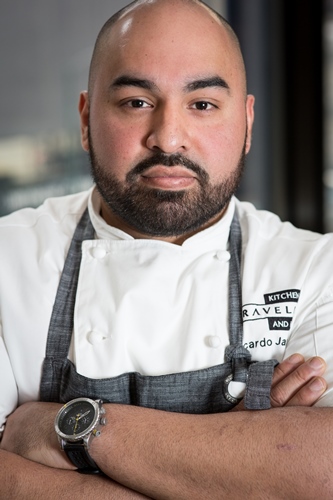 Name: Ricardo Jarquin
Age: 30
Birth city: Managua, Nicaragua
Current city: Chicago, IL
Education: B.A Johnson and Wales University
Favourite quote: There is no elevator to success: you have to take the stairs.
To keep up with Ricardo Jarquin and to see some of his food and food photography you can follow him on Twitter, Instagram and check out his blog On Food and Feasting. More about Travelle Kitchen + Bar below.
About Travelle Kitchen + Bar
Travelle Kitchen + Bar is the main restaurant in the Langham Hotel in Chicago. The hotel is located on 330 North Wabash Ave just steps away from Millennium Park and the Magnificent Mile. On the second floor inside the hotel you'll find Travelle Kitchen + Bar where Ricardo Jarquin offers his seasonal modern American food.
Travelle Kitchen + Bar is opened daily for dinner and breakfast and lunch Monday through Friday. For menus and reservations visit them online here and do check out the Langham on Facebook and Instagram as well.
About Ateriet's Chef Q&A
Chef Q&A at Ateriet is my way of giving great chefs the respect they deserve. I interview chefs from all over the world with the stuff I want to know. If you know a chef I should interview or have any other suggestions don't be afraid to let me know, just leave a comment or send an email. You can read my other Chef Q&A's here or explore all these great chefs and restaurants in my Chef Q&A Map, you'll find it here.