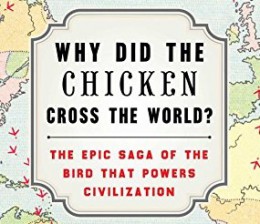 Why did the chicken cross the world? That is the question that journalist Andrew Lawler tries to answer in his new book with the same name.
In the book Andrew takes you on a journey from the start of the chicken in southeast Asia over 10.000 years ago to today's engineered meat that is the worlds most popular. Read about how we feel and think about our most important animal and also on our other domesticated  animals and how our approach to our food and nature have changed and keep evolving.
Why did the chicken cross the world is available at Amazon and you can read more about both the book and Andrew Lawler here.
Tags: amazon, books, chicken, cookbooks, food facts, food history, food science, shopping