Chicken Skewers with Smoked Paprika and Mint Yogurt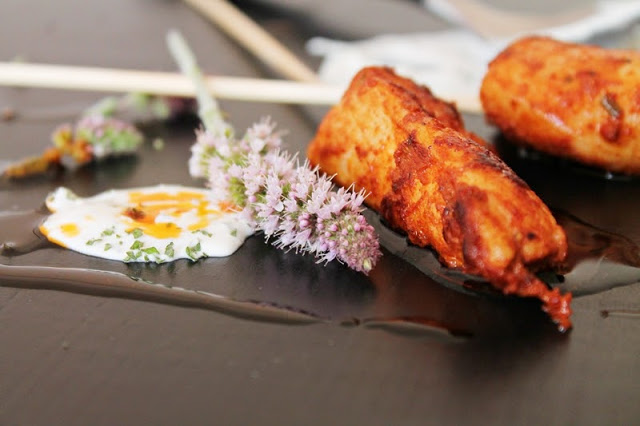 These great tasting chicken skewers are flavored with Spanish smoked paprika powder, with a refreshing mint yogurt it's a perfect snack or appetizer.
What makes these chicken skewers taste really good is the Spanish smoked paprika powder I picked up during vacation, with a little luck you can find it in a good grocery store otherwise search online because the taste is great and can be used for all lot of stuff.
To go with the slightly smoky chicken I've made a refreshing mint yogurt. It's very easy to make, yogurt, salt, pepper, mint and some lemon and you're good to go.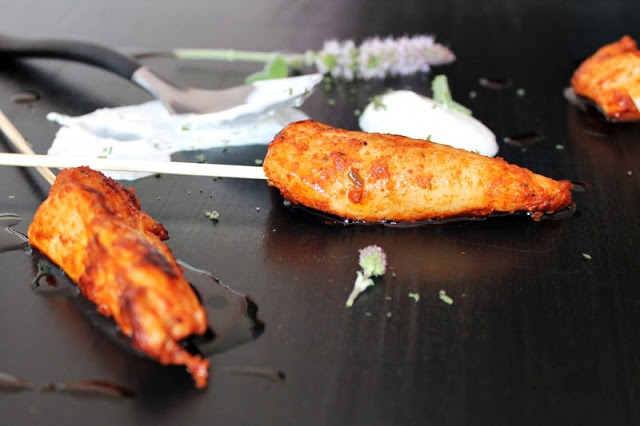 Chicken Skewers with Smoked Paprika and Mint Yogurt
Serves 4 as an appetizer
12 wooden skewers
3 chicken breasts
1 tbsp dried Provencal herbs
1,5 tbsp smoked paprika powder
2 dl / 0.85 cups Greek yogurt
2 tbsp olive oil
½ handful fresh mint
1 tbsp lemon juice
salt, pepper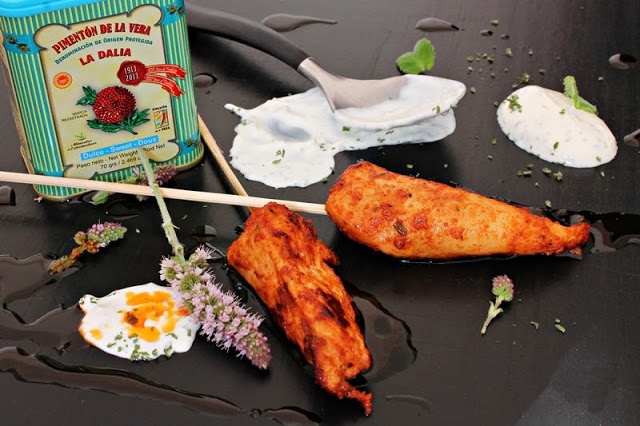 Soak the wooden skewers in water, this will keep the skewers from burning and it won't split a easily. Cut the chicken breast in stripes, four pieces for each breast is usually a good size. Combine the chicken with olive oil, smoked paprika powder and the dried Provencal herbs and let marinate for an hour.
Meanwhile chop the mint and combine with the yoghurt and season with salt, pepper and lemon juice. Then thread the chicken on the skewers and grill or fry in a pan. If the skewers are too long to fit in the pan you can fry them without the skewers and add them after frying. Fry until cooked through and serve immediately.