Chipotle A Love Story is aiming right for your heart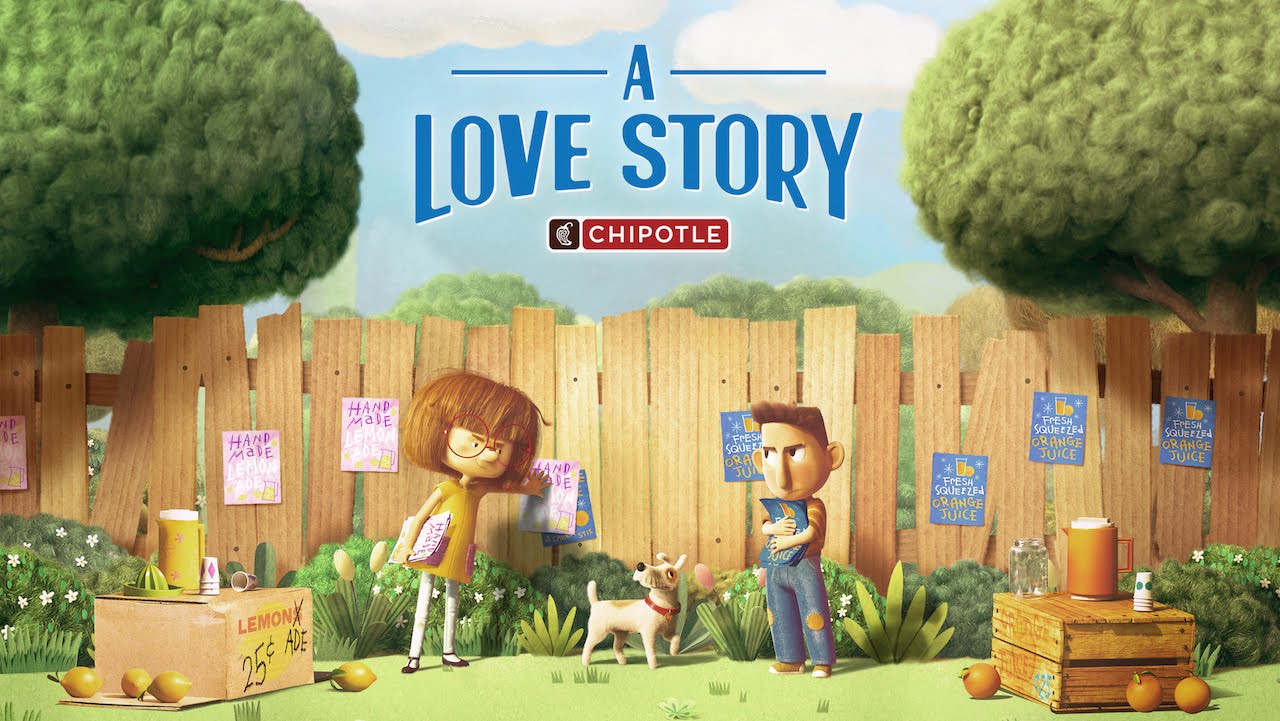 Chipotle A Love Story is a new short film about squeezing lemons and oranges, returning to your roots and finding love. Watch it.
Chipotle A Love Story is the third ambitious animated short film from the burrito selling American giant. All of the animated shorts from Pixar, sorry Chipotle comes with plenty of moral issues and simple storytelling aimed straight for your heart. And they are doing a good job doing so.  The soundtrack for A Love Story is I want it that way, it is performed by Brittany Howard of Alabama Shakes and Jim James of My Morning Jacket.
What is it about?
Chipotle A Love Story is about a boy and a girl. Each one have set up a stand to sell beverages. The girl sells lemonade, the boy orange juice. In an attempt to get some money to take the girl out on a date the young boy decides to market his orange juice.
With this he accidently start off a marketing war between lemons and oranges making the boy and girl competitors and turning the small stands into two food giants. The stand are now called Mister Orange and Lemon Land, both looking like a freshly built casino from The strip in Las Vegas.
It's by now they both realize that they stepped too far away from their original idea. They walk through their factories and discover that there are no real lemons around anymore, only processed food and flavors made by robots. Eventually they both get kicked out of their factories and accidently meet.
They realize how far away from where they started out they've come and together they start up some sort of organic taco shop instead. The end.
Despite its moral pointers it's still good
This may sound incredibly cheesy and the kind of moral short film that makes you throw up in your mouth a little bit. But for me it really doesn't. There are some reasons for that. Despite its recent troubles Chipotle is not a bad company. They try harder than most to do good. The film is not packed with lots of selling of stuff, no special taco you can get for a limited time or anything like that at all. If Chipotle really only wanted to sell they could just spend this money on making one giant cheap burrito sale campaign instead. But they don't, that's why I like this.
Previous Chipotle Animated Films
Chipotle have put out two of these more ambitious animated shorts before. I liked them both. Just like with Chipotle A Love Story they take a similar slam against big food and features exclusive music. All the Chipotle animated shorts have become hits on Youtube. A Love Story have been out for a few weeks and have been viewed more than 6 million times. The first one was called Back To The Start and has 9 million views and The Scarecrow which was the second one is up to 16 million views. Let's take a look at the old ones too.
Back to the Start
Back to the start was released in 2011. The music is The Scientist, a Coldplay song performed by country legend Willie Nelson.
The Scarecrow
The Scarecrow was released in 2013. The film also came with a game for smartphones. The song Pure Imagination is used in the soundtrack and is performed by Fiona Apple.