Chipotle Corn Salsa with Scallions and Onions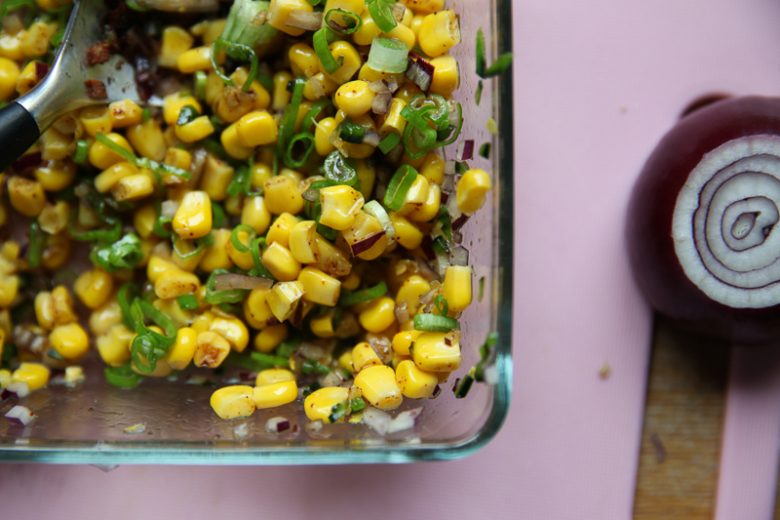 A quick and delicious chipotle corn salsa with sliced scallions and red onion. This one is easy to make and can be used for all sorts of good stuff, try it out.
This chipotle corn salsa is delicious, the great thing is that it takes just a few minutes to make. It's more or less flavored corn out of the can. That is one thing to remember when it comes to cooking. It is ok to take a shortcut every now and then. I think this tasty chipotle corn salsa is a good example of that.
Chipotle Corn Salsa with Scallions
½ cup / 1.2 dl corn
½ small red onion
1 tsp ground chipotle
1-2 scallions
salt
black pepper
1 tbsp olive oil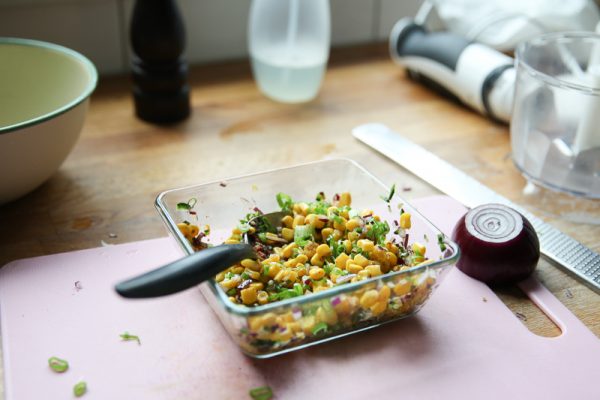 Open the canned corn and let it drain. Chop the red onion and slice the scallions. Combine scallions, onion, and corn. Add the chipotle, olive oil and season with salt and pepper. Done.
As you can see this is as easy as cooking can get. Just chop some stuff and combine it. I use canned corn in my recipe but you can, of course, use fresh or frozen as well. You decide.
This is also a great salsa to experiment with as well. Try adding herbs, cheese or other vegetables to it. Some crumbled feta cheese or a handful of chopped fresh cilantro will transform this into something else.
What To Serve It With
I first made this chipotle corn salsa for a taco here at Ateriet, you'll find all my taco recipes here. The salsa is of course not limited to tacos. Why not try it as a simple side for BBQ or other meat. Top of some lettuce with it or simply serve it with some nachos. The possibilities are endless so do experiment.