Cilantro Rice Balls with Sesame Seeds and Asian Dip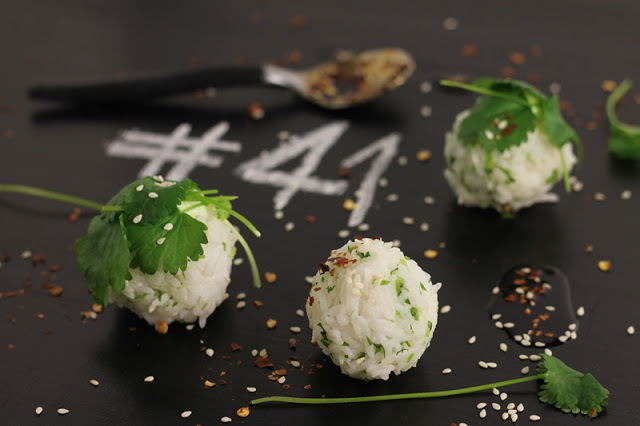 Try these delicious cilantro rice balls with sesame seeds and a great and simple Asian dipping sauce. Perfect for snacking or as a side dish.
The cilantro rice balls is a great way to put a twist on that old steamed rice or to be served as a snack. They are very easy to make, just take fresh cooked rice, allow to cool for a while. Season it and roll it into balls and serve.
In this recipe I flavored them with fresh cilantro and sprinkle them with chili flakes and sesame seeds. On the side I serve an Asian dipping sauce made with Japanese soy, Sriracha sauce and a touch of sesame oil. That sauce can be used for other dishes as well and you'll get it done in minutes.
In my recipe I used basmati rice because I think it's a bit lighter, you can go for sushi rice as well but I think it can get a little too sticky, but I you prefer sushi rice it works fine too. Now lets roll some balls.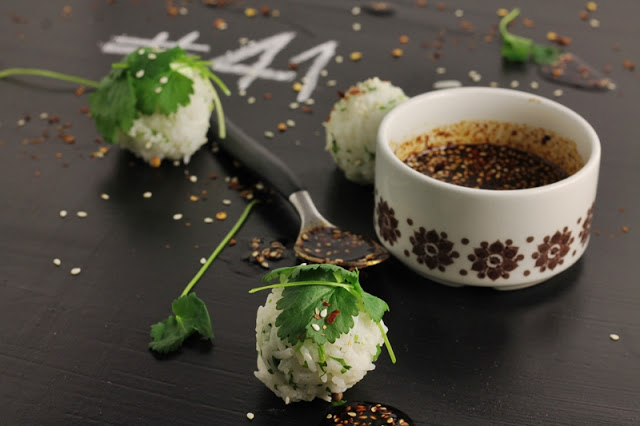 Cilantro Rice Balls with Sesame Seeds and Asian Dip
Serves 4 as a light snack
Rice Balls
300g / 10 oz Cooked basmati rice
1 small handful Fresh cilantro
2 tsp dried crushed chili flakes
2 tsp sesame seeds
Dipping sauce
1 dl / 0,4 cups Japanese soy
1 tbsp Sriracha sauce (or any other hot chili sauce)
1 tsp Sesame oil
1 tsp sesame seeds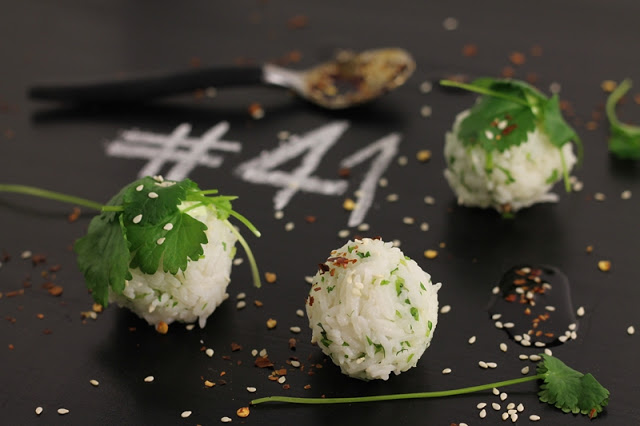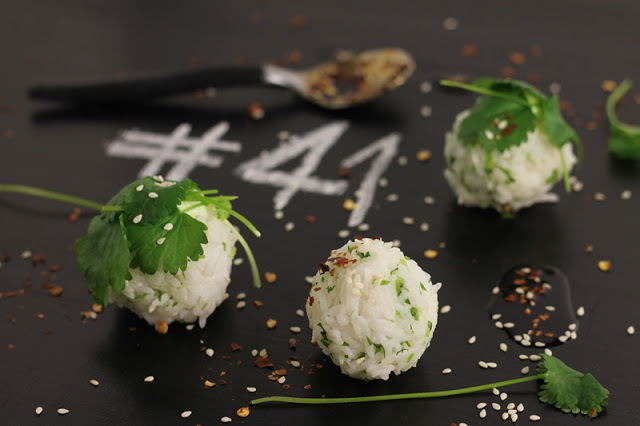 First cook the rice in water and salt, once done leave it to cool down. You don't want to burn your hands and the rice gets a little bit stickier when it starts to cool.
Finely chop the cilantro and combine with the rice and form round balls. You can squeeze the rice lightly if it doesn't stick.
Combine the soy, sesame oil, sriracha sauce and 1 tsp of sesame seeds and add to a small cup for serving. Sprinkle the rice balls with the chili flakes and the sesame seeds, good luck.