Cod Carpaccio with Capers, Onion, Lemon and Parsley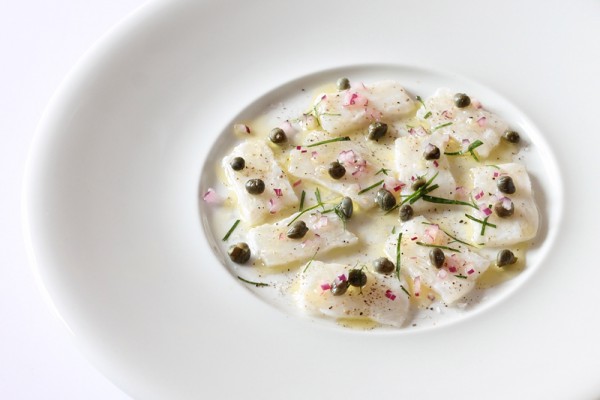 Try this super simple Cod carpaccio with capers and onion, things don't get much easier than this. Just thinly sliced fresh cod with capers, red onion, lemon and a touch of oil this is simplicity perfected.
Cod carpaccio, or maybe you could simply call it marinated cod or perhaps cod ceviché? No matter what you call it you need to test this recipe, it's simple, delicious and anyone can make it. It is very basic and I promise this is worth trying out. All you do is slice fresh fish, in this case, a cod loin. Marinate it with salt and lemon juice. Top it with chopped parsley, red onion, and capers. Add a bit of olive oil and some black pepper. Serve. That is literally all you need to do and the flavor is amazing. It's one of those dishes that become more than its ingredients.
When doing this cod carpaccio the most important thing is that you get very fresh fish, it's actually more important than if you get cod or not. Any good tasting firm white fish will be ok so freshness first. I use a cod loin for this recipe.
If you like this recipe and want to try out some other types of carpaccio I have a few other recipes worth taking a look at. How about a classic beef carpaccio or maybe a beef carpaccio with an Asian twist. If you want to try another one based on fish I have this great tasting tuna carpaccio. Vegetarian? No problem, this beet carpaccio will do the trick, enjoy!
Cod carpaccio with capers and onion
serves 4 as an appetizer
300g / 10 oz fresh cod loin, or any white fresh fish
4 tbsp capers
a few leafs of fresh parsley
1 small red onion
4 tbsp olive oil
lemon juice, from two lemons
black pepper
salt
Slice the cod into thin slices, salt the cod and squeeze over some lemon juice. Let marinate for about 20 minutes. Finely dice the red onion and cut the parsley into a fine julienne. Arrange the cod on a plate and add the onion, new lemon juice, salt, olive oil, parsley, and capers. Serve immediately.