Cod Loin with Pickled Fennel, Grilled Asparagus and Dill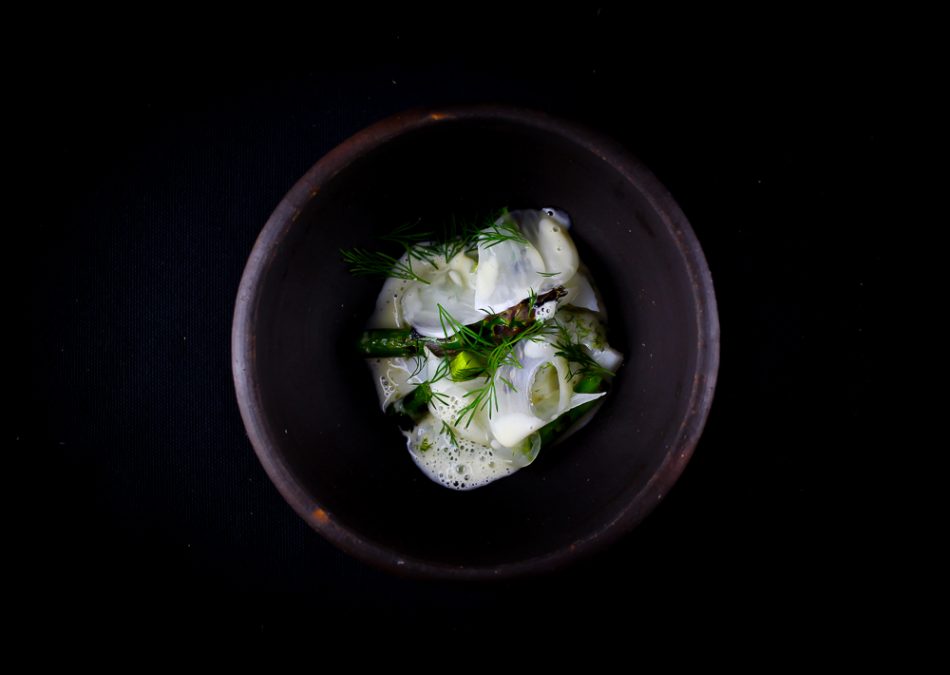 Time to do some cooking again, try this fish appetizer of an oven-baked Cod Loin with pickled fennel, grilled asparagus, dill and a creamy white wine sauce. Not as complicated as it sounds, but very delicious.
This dish of an oven-baked Cod Loin with pickled fennel and asparagus might sound a bit on the complicated side at first glance. It is maybe a bit more tricky than your average dish but it is delicious and it's not really hard. Just take it slow and you'll get it done perfectly.
I split the dish up into each component to make it easier. Also, remember that the only thing you need to watch is the fish when you bake it and the asparagus when grilling those. The dill, sauce and pickled fennel can be prepared just be put on the plate once it's time to serve.
The recipe is an appetizer but feel free to make it bigger and maybe serve something on the side if you're on the hunt for a main course. Now let's cook.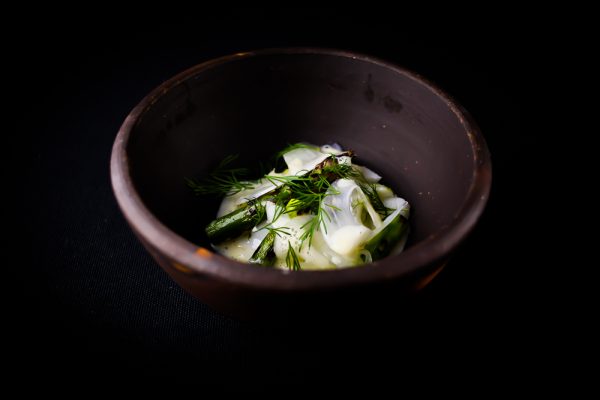 Cod Loin with Pickled Fennel, Grilled Asparagus and Dill
serves 4 as an appetizer
The Sauce
3 tbsp white fish meat/trimmings (from the cod loin part of the recipe)
1 small piece of fennel
1 small onion
1 clove of garlic
water
½ / cup / 1,15 dl dry white wine
½ / cup / 1,15 dl heavy cream
salt, pepper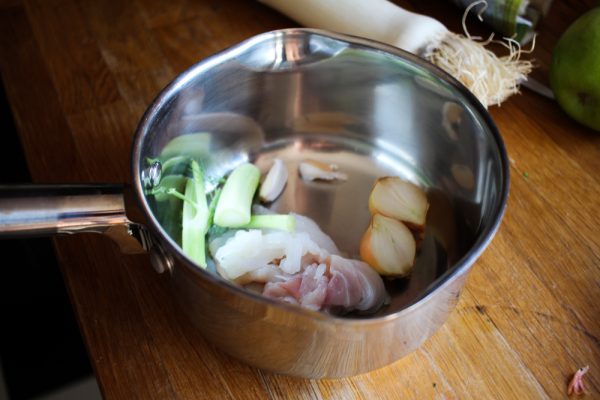 Usually, you use fish bones when you're making a stock but for a small dish like this, you don't need to get that. Just use a bit of the trimmings that you'll get from the cod. For me, that was roughly 3 tbsp of chopped meat and bones.
Add the fish into a pot with some trimmings of the fennel, the same goes here. Use just a piece of the fennel that is for the pickled fennel in that part of the recipe.
Add an onion and cover with water. Bring to a boil and let simmer for about 20-30 minutes. Strain the fish and vegetables and reduce the liquid until you have about  ½ / cup / 1,15 dl left. Then add the wine and reduce until you again have about ½ / cup / 1,15 dl.
Then add the cream and reduce a third time until you have a bit more than  ½ / cup / 1,15 dl. Season with salt and pepper and maybe a small dash of wine if you think it needs some acidity. Set aside and heat up and whisk when serving.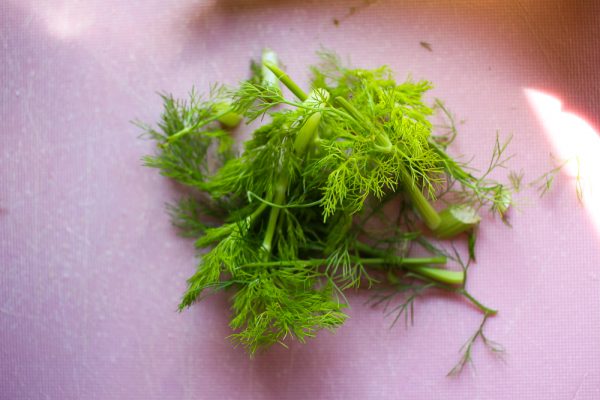 Pickled Fennel
1 bulb of fennel
3 tbsp white wine vinegar
6 tbsp sugar
9 tbsp water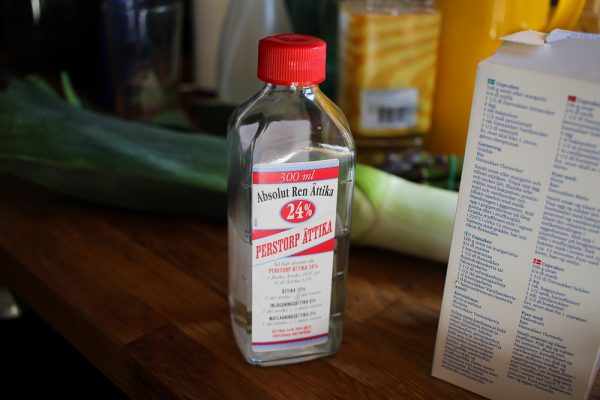 Cut off the leafy dill-looking tops of the fennel, we are keeping this for the cod later. Also, remember to cut off a piece to use for the fish sauce.
Then slice the fennel as thin as you can with a knife. If you have a mandoline use that, mine can't slice that thin so I use a knife and that worked fine. Then add vinegar, sugar and water to a pot and bring to a boil. Add the fennel to a glass jar and pour over the liquid. Set aside and leave to cool.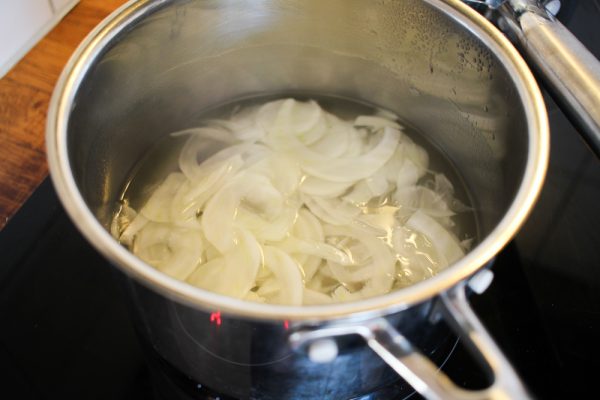 Oven-baked cod loin
1 lb cod loin, trimmed and skinless, (use trimmings in sauce)
Fennel dill (from the fennel)
salt
2 tbsp olive oil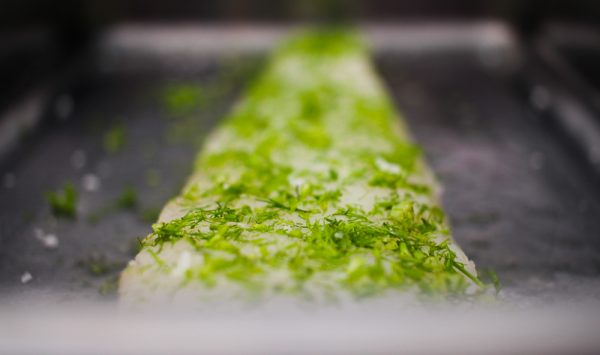 Add the oil to a pan. Add the fish, season with salt and then chop the fennel dill and spread on top of the cod. Set aside to rest for about one hour. This resting step in not crucial but if you leave it for an hour or so the salt will have more time to penetrate the meat and it will be better. But as I said, not crucial.
Then heat the oven to 200°F / 100°C and place the pan in the middle of the oven. Bake until done, use a thermometer if you have one. You want a knife to be able to slide through, the perfect temperature in the middle of the fish is around 132°F / 56°C. A little over or under won't kill anyone or ruin dinner so try to keep it at that.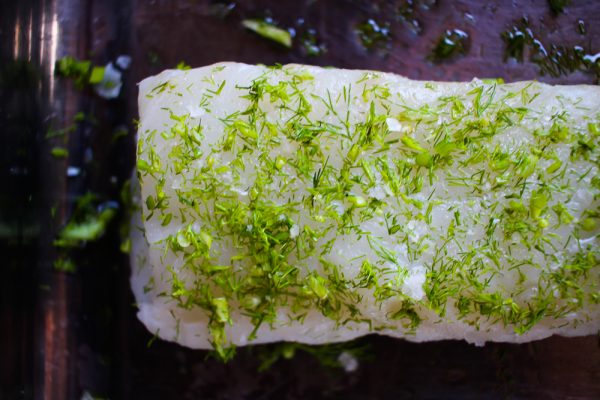 Grilled Green Asparagus
8 fresh asparagus
salt, pepper
1 tbsp olive oil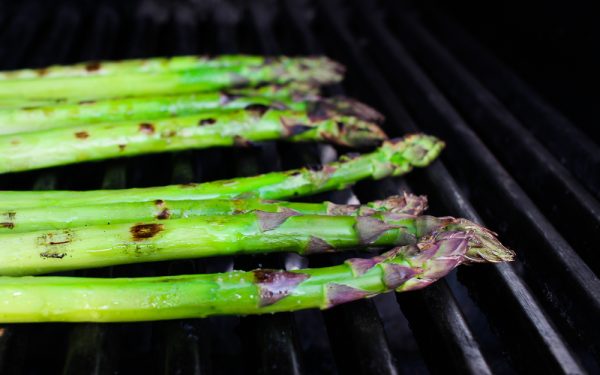 Get your grill ready. If you don't have one you can roast the asparagus in a pan or use a grilling pan. I used my gas grill, it worked great. You'll need it quite hot so make sure it is before you start.
Cut off the bottom parts of the asparagus and peel them if needed. I did since the asparagus I found was quite thick and stringy. Then toss them in the oil and season with salt and pepper.
Grill until almost soft and plenty of grill marks on them. That's not just to make it look cool. This dish is quite mild so it needs something with a bit of an attitude. Then cut the asparagus into smaller pieces, I cut mine into three pieces each.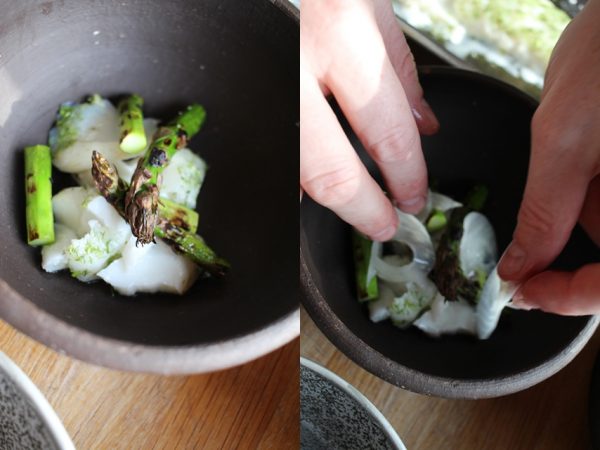 Plating
Dill
Now let's plate. Bring out four deep plates. Take out the cod from the oven and heat the sauce. You can also pull out the fennel from the liquid.
You simply use a spoon to break off parts of the cod and add them to the bottom of each plate. Add the pickled fennel on top. Then add the asparagus and finish with the sauce and some fresh dill. Serve.
Good luck and hope you try this recipe out. For more to eat check out all my recipes here.