Cognitive Cooking with Chef Watson Cookbook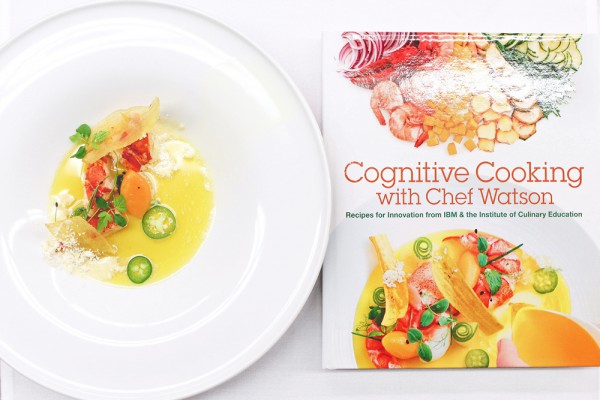 Cook and think different with the Chef Watson Cookbook released by IBM and the Institute of Culinary Education.
During the last three years the ICE (Institute of Culinary Education) have been collaborating with IBM and the Watson computer system to cook and pair ingredients different and with the help of artificial intelligence. This has now resulted in the Chef Watson Cookbook, a creative collaboration of man and machine.
What the ICE and IBM have been doing is to create a system with Watson by adding huge amounts of data like texture, taste, chemical structure and loads more and with all this data you can with the help of Watson create different combinations of ingredients than you might not otherwise try. Using the system the chefs at ICE could enter specific ingredients and let Watson come up with combinations with different criterias like pleasantness, surprise and synergy of ingredients.
Now that the system have been tested a cookbook have been created to tell us about this very interesting project and to try some of the recipes that have been created by Watson and the ICE. The cookbook was released on the 14th of April and are available where books are sold.
Below you can watch a TED-talk by Florian Pinel who is a senior software engineer in the Watson Life department ofthe IBM Watson Group.
 About Watson
Watson is an artificially intelligent computer system capable of answering questions posed in natural language. Watson was named after IBM's first CEO and industrialist Thomas J. Watson. The Watson system could possibly be applied to any science in the future. Its first commercial application is for management decisions in lung cancer treatment. Watson is also known for taking first place in the game show Jeopardy against two former (human) champions.
About the Institute of Culinary Education
The ICE was founded in 1975 by Peter Kump and offers career training programs in Culinary Arts, Pastry & Baking,Culinary Management, and Hospitality Management. The ICE has launched more than 10,000 creative careers in food. The ICE is based in New York City, USA.