Crab with Cilantro and Crushed Fresh Avocado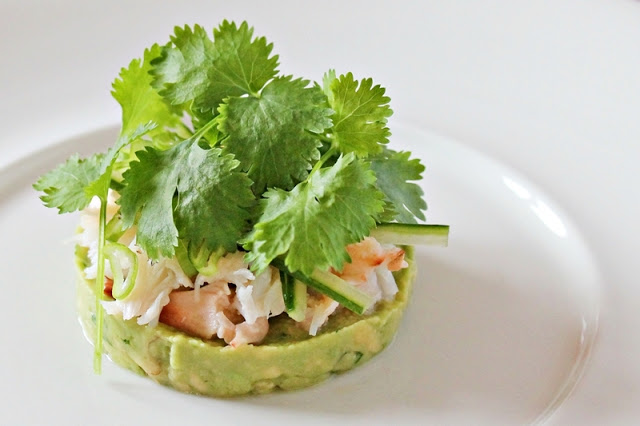 Crab with cilantro is a good match, add fresh avocado and you're in heaven. Try out this appetizer with crushed avocado, fresh crab and lots of fresh cilantro to go with it. 
For this recipe, I used fresh crab claws which I boiled in salted water and then removed the meat. Make sure you use white crab meat. If you can't get hold of any crab you can replace the crab with shrimps. The combination honestly works great with most seafood. If the budget is not an issue why not try it with some lobster?
At a glance, the photos here look like there is nothing but avocado, crab and cilantro, but that's not the case. Almost hidden underneath the cilantro are cucumber and scallions. They add perfect crunch and freshness to this dish.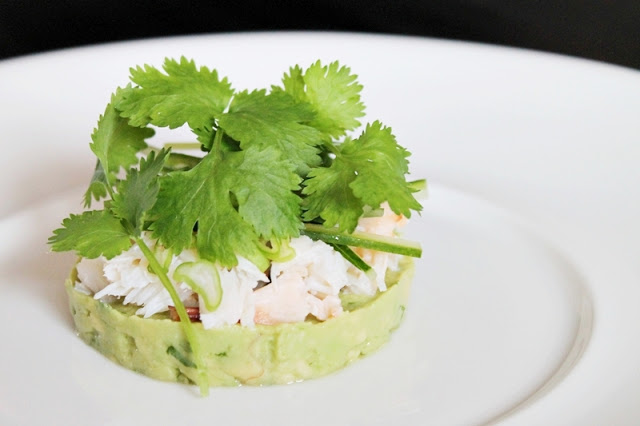 Crab with cilantro & crushed avocado
serves 4 as an appetizer
300g / 10 oz crab meat
fresh cilantro
2 avocados
½ cucumber
3 spring onions
2 tbsp olive oil
2 limes
salt, pepper
Peel and crush the avocado into a rough paste, chop some cilantro and add to the avocado and combine. Add fresh lime juice, salt and pepper. Season to taste.
Dice the cucumber and slice some spring onion. Plate the avocado cream and put the crab meat on top together with some cucumber and spring onion. Garnish with fresh cilantro.
A Twist To The Recipe
If you're feeling a bit adventurous you can use these same flavors for something different. If you instead of crushing the avocado decide to dice into big chunks instead you can build a great salad or side to a fish dish.
For a salad just use the same things but add some more stuff. Chopped lettuce, more cucumber, maybe even a lime vinaigrette on the side.
This is just one way you can transform this and many other recipes. Try to always keep that in mind, I do that all the time. When I was a chef I also did it and I know that many others do too. Deconstruct, dice or slice in a different way or serve with something else than what the recipe tells you to. I promise you'll discover new ideas and recipes all the time.
Also, don't forget to check out all the recipes here, there are plenty of other great ones to make your own.