Creamy Sunchoke Soup with Parsnips and Salami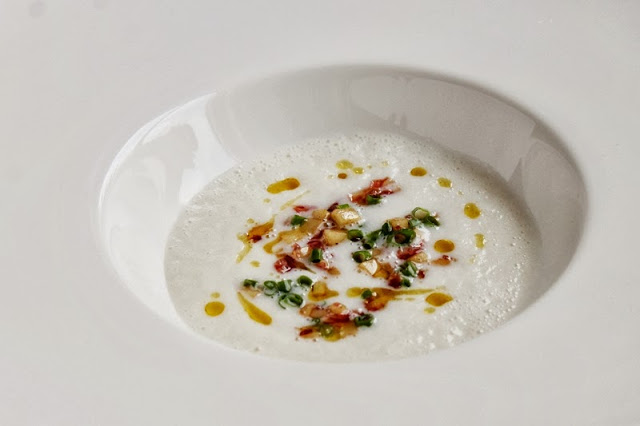 Try this delicious creamy sunchoke soup, I serve it with some fried parsnips, onions and salami.
This creamy sunchoke soup has everything you want from a soup. It's creamy, rich and delicious. Sunchokes or Jerusalem artichokes as you also can call them are in full season and probably the most classic way to serve them is to make a soup, so let's keep it simple and do just that.
I used some leftover salami that I fried with some parsnips and onion for this recipe but bacon or pork are great as well so feel free to replace the salami with that.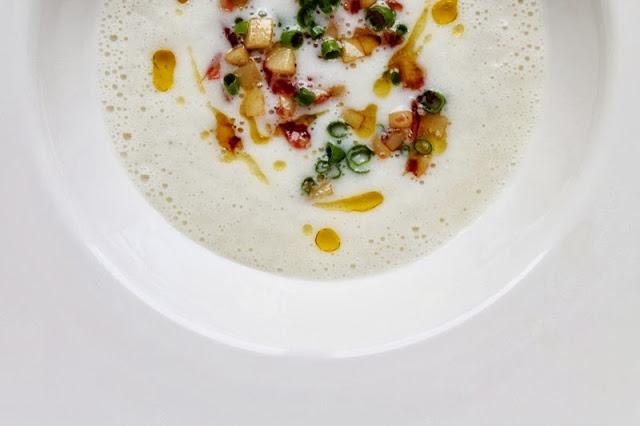 Creamy Sunchoke Soup with Parsnips and Salami
Serves 4 as an appetizer
About 500g / 1.1 lb Sunchokes/Jerusalem artichokes
2 dl / 0.84 cups cream
4 dl 1.7 cups water
1 clove garlic
2 tbsp butter
2 shallot onions
1 dl / 0.4 cups white wine
1 tbsp olive oil
1 lemon
Salt, pepper
Garnish
2-3 parsnips
8 thin slices salami
10 straws fresh chives
Olive oil, for garnish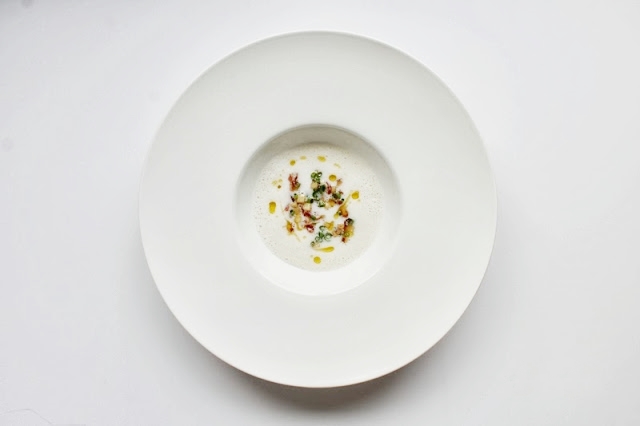 Peel the artichokes and put in cold water with some lemon juice, this will keep the artichokes from going brown. Chop the garlic and shallots and fry them until soft with the butter, add the artichokes and fry them for a few minutes without browning.
Add salt, pepper and white wine let the wine reduce until half is left and the cover with water and simmer until the artichokes are cooked through. Add the cream and bring to a boil and then blend the soup until completely smooth. Season with salt, pepper and the olive oil. Adjust the thickness and creaminess with water and cream if necessary.
Peel and dice the parsnip, dice the salami and slice the chives. Roast the diced parsnip in some butter, remove from heat and combine with the salami and chives. Serve the soup with the parsnip and salami mix and a few drops of olive oil. Good luck.
For more soup recipes you can check out some other great ones here.