Crunchy Mediterranean Side Salad with Plenty of Vegetables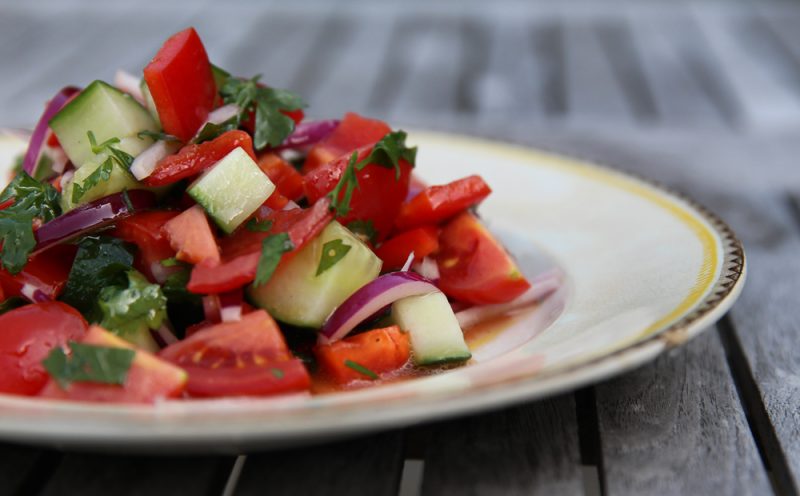 I decided to call this a Crunchy Mediterranean side salad with plenty of vegetables. Well, it's a salad so naturally, it comes with plenty of vegetables but I don't really have a name for this one. But it is delicious so do try it out.
This crunchy Mediterranean side salad is another one of my favorites. Like most of my recipes here at Ateriet, it is very easy to make and I think it's delicious. What I like about is the crunch and that it comes with real vegetables. There's not a single leaf of salad greens in this one unless you consider parsley a salad green.
What I think makes it good is the crunch and how you get that almost Gazpacho flavor on the salad. This is thanks to the vinegar and all those lovely veggies. Well, enough talk about it. Let's just make the salad shall we?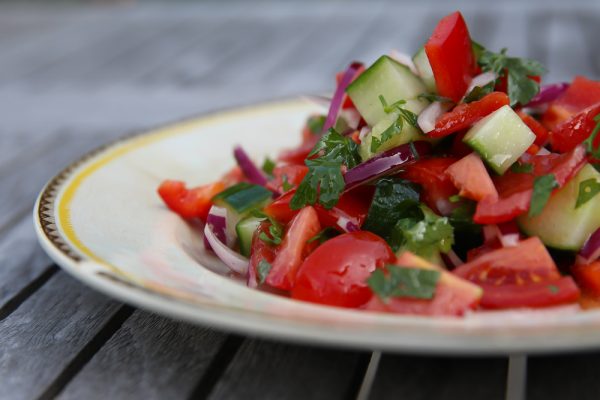 Crunchy Mediterranean Side Salad
serves 4-6 as a side salad
1 cucumber
1 red onion
2-3 tomatoes
1 red pepper
1 handful of fresh parsley
2 tbsp olive oil
1.5 tbsp red wine vinegar
salt
pepper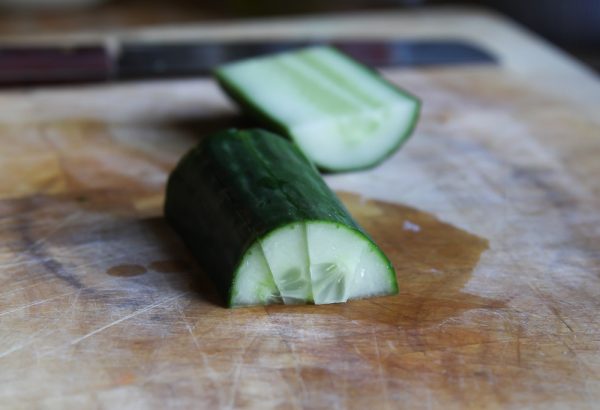 Ok, this is as simple as it gets. Chop all the vegetables in cubes about 1.5 cm x 1.5 cm / 0.6 inch x 0.6 inch. Add all the vegetables to a big bowl. Add oil, vinegar, salt and pepper. Chop the parsley roughly and add. Let sit for about half an hour and then serve. That's it.
As you can see it doesn't get much easier and if you judge by the recipe this sounds just like a bunch of chopped vegetables. You're right and you're wrong. It is just chopped vegetables but after marinating and releasing all its juices this turns into something better than what it's made of. I served this salad numerous times and people always love it. So please try it out.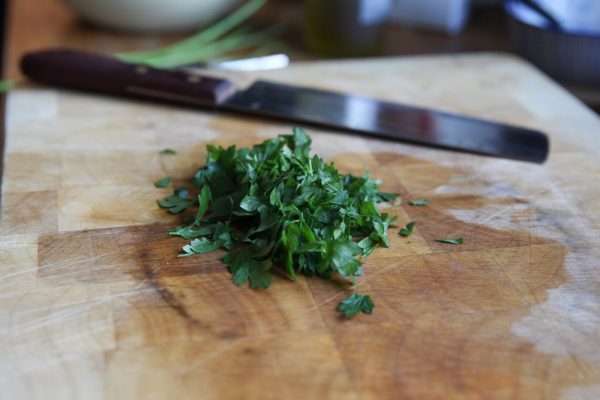 Crunchy Mediterranean Side Salad Serving Suggestions
Well, this goes with most things but I have a few favorites. As always you can, of course, use the recipe any way you like, here are my favorite things to serve it with.
Grilled or roast pork with herbs

Grilled chicken breasts

With sourdough bread and some charcuterie

Seared fish
That's it, good luck cooking and don't forget to check out the full recipe archives here as well.