10 Delicious Tomato Recipes that uses tomatoes in every way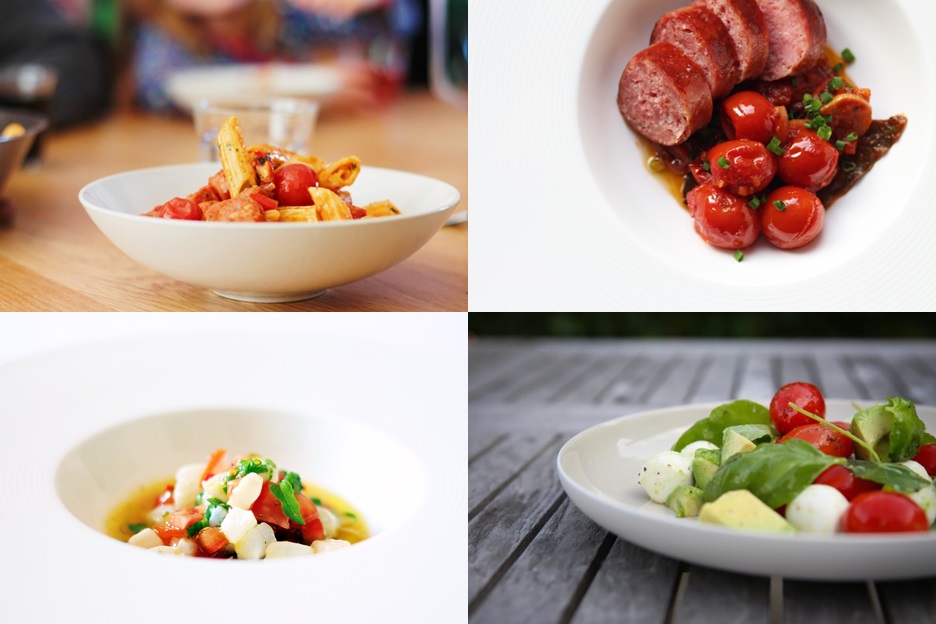 I don't think there is any more versatile or delicious vegetable than the tomato. I keep coming back to it and use it in different ways. To show just how delicious and versatile it is I wrapped up 10 Delicious Tomato Recipes, these are all delicious, try them!
You can't go wrong with delicious tomato recipes. You can get them year round, even if the quality isn't always as good. But you don't even have to get them fresh to enjoy them. A few of the recipes in this collection uses canned tomatoes. Absolutely nothing wrong with that, it's a staple used weekly in my home, and for good reasons.
They are cheap, delicious and you can keep them in the pantry as long as you like, even though my rotation is quite high. Now let's check out 10 delicious tomato recipes. These are all recipes published here before.
In this roundup I just wrote the actual recipe, if you want more details and photos for any of them there is a link in each title of the recipe, click it and you'll land at the original post.
Lastly, before we start cooking. I have shown my love for tomatoes before, check out this.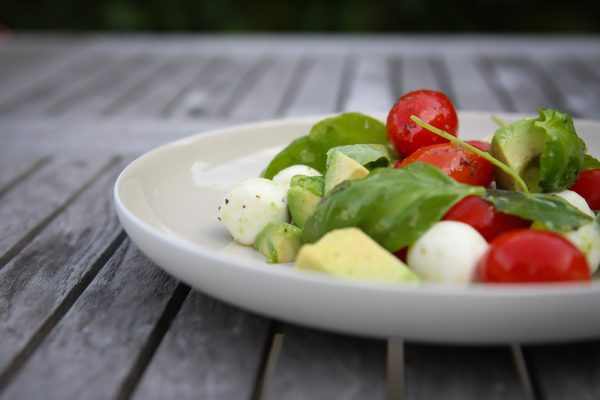 serves 4 as a side
7 oz / 200 g mini mozzarella balls
1 avocado
7 oz / 200 g cocktail tomatoes
about 10-15 fresh basil leaves
about 10 fresh nasturtium leaves
1 tbsp olive oil
salt
black pepper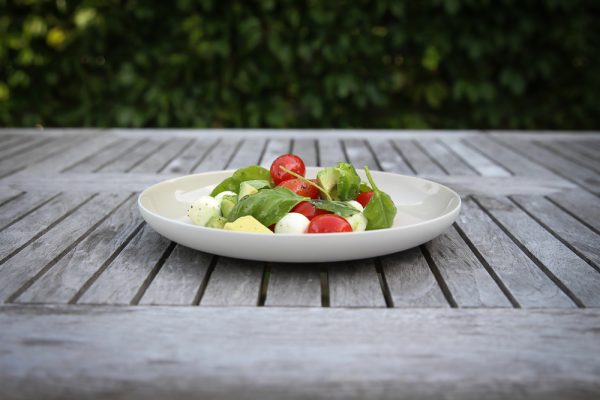 Open the mozzarella and discard the liquid. Add them to a big bowl. Rinse and add the tomatoes whole. If you can't find good cocktail tomatoes you can use regular tomatoes and cut them up into big chunks. Add the nasturtium leaves and half of the basil leaves. Chop the other basil leaves roughly and then add. Add olive oil and season with salt and pepper. Serve immediately.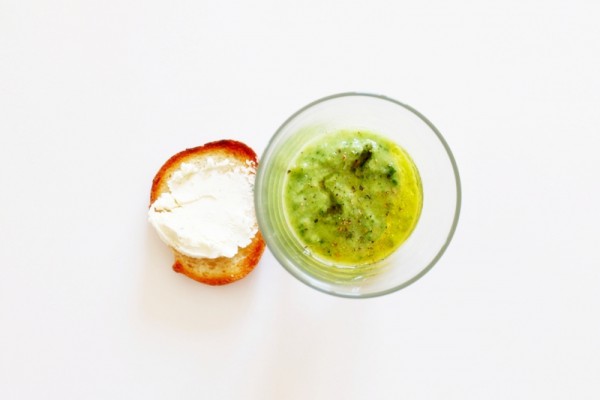 serves 6-8 as an appetizer
1 cucumber
2 green peppers
2 green chili, jalapeno or other, seeds removed
4 yellow or green tomatoes
4 tbsp white wine vinegar
4 tbsp olive oil
2 slices of white bread
salt, black pepper
2-3 cloves of garlic
1 small baguette
4 tbsp cream cheese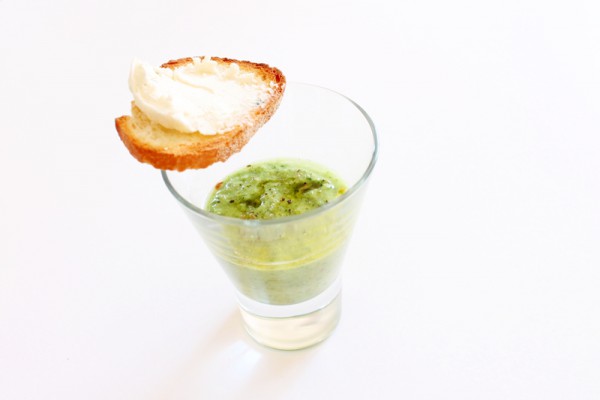 Cut all vegetables into pieces, add a few pieces of white bread and splash over some vinegar, olive oil, salt and pepper. Let sit out for half an hour to let the vegetables marinate.
Blend the vegetables into a soup, season with vinegar, oil, salt and pepper. Cut bread into thin slices and toast, spread on some cream cheese. Serve the soup ice cold.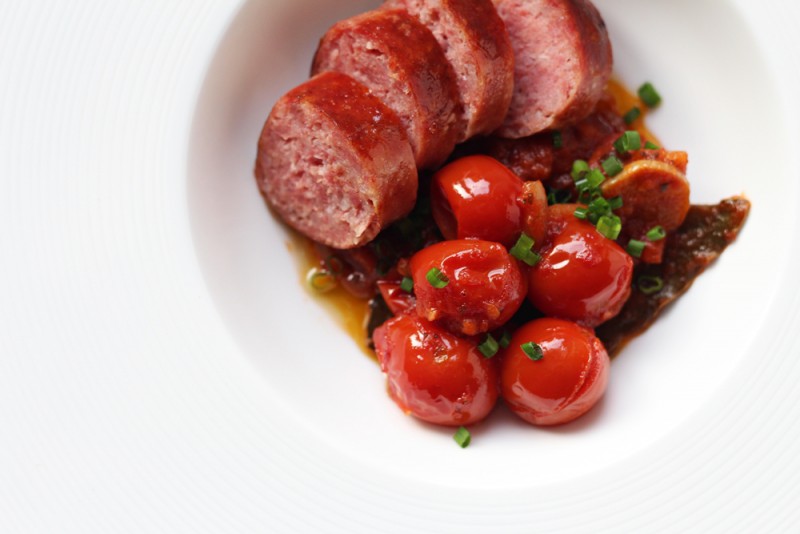 Serves 2 as an appetizer, or add pasta or bread for a full meal.
2 Italian fresh salsiccia (or similar with the same flavor profile)
1 bay leaf
2.3 dl / 1 cup water
1 tbsp tomato paste
1 tbsp chopped chives
2 cloves garlic
1,2 dl / 0.5 cups dry white wine
1 tbsp olive oil
150g / 5.3 oz small whole tomatoes
salt, pepper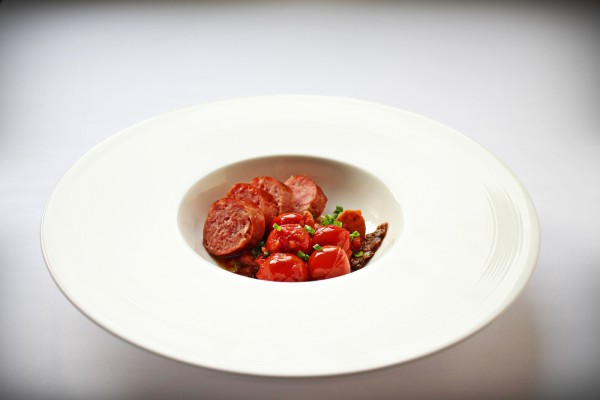 On low heat fry the salsiccia until golden and cooked through, then add chopped garlic, a little bit of olive oil, tomato paste and a few small pieces of salsiccia. Let it roast for a few minutes. Add white wine, a little bit of water and the tomatoes, season with salt and pepper and then leave to simmer on low to medium heat for about one hour. Season if necessary, then reheat the salsiccia and slice, serve with a spoonful of sauce and some of the tomatoes and some sliced chives.
As you can see I serve this as a snack or appetizer but it can, of course, be served as a main course as well. Why not add some fresh pasta, fresh bread or a rustic salad. Good luck!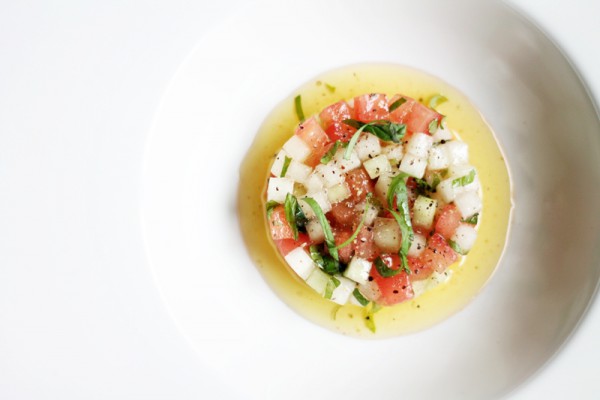 serves 4-6 as an appetizer
2-3 tomatoes
1 cucumber
1 small honeydew melon
2 tbsp olive oil
salt
black pepper
10 leaves fresh mint
lemon juice, from 2 fresh lemons
Peel and deseed tomatoes, cucumber, and the melon, when cutting away the skin of the tomatoes I usually cut them into wedges first. After seeds and skin are removed dice them into small cubes and combine with olive oil, some lemon juice, salt and black pepper.
Finely slice a few leaves of mint and add to the tartar. Serve with a few extra drops of olive oil and some more freshly ground black pepper.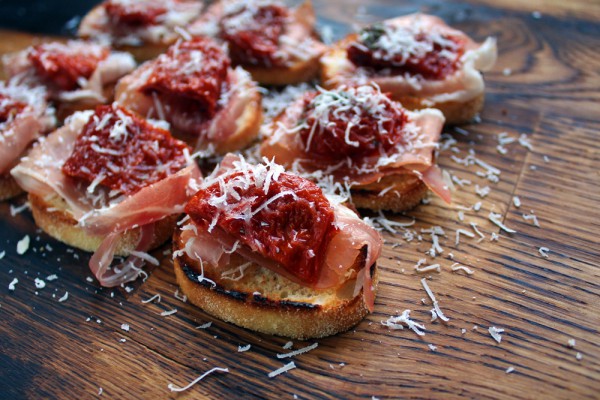 Serves 4-6 as a light snack
1 baguette
8 slices Parma ham
1 piece Parmesan cheese
8-12 sundried tomatoes
olive oil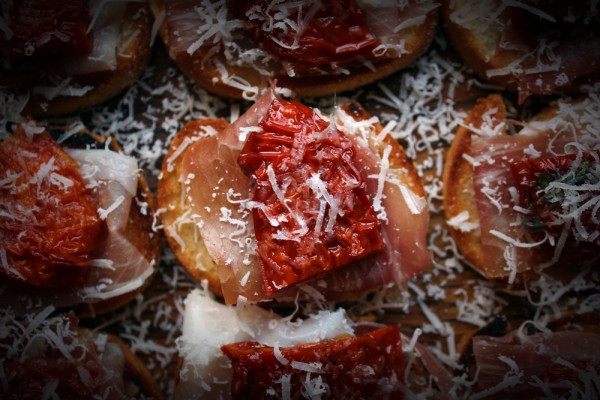 Cut the sundried tomatoes into smaller pieces, about half the size of a slice of toast is fine. Tear the Parma ham in about the same size. Slice the baguette and brush with a little bit of olive oil and toast on high heat in the oven or in a frying pan until golden. Leave to cool. Add a piece of Parma ham and a piece of tomato on top and grate some Parmesan on top. Add a few drops of olive oil.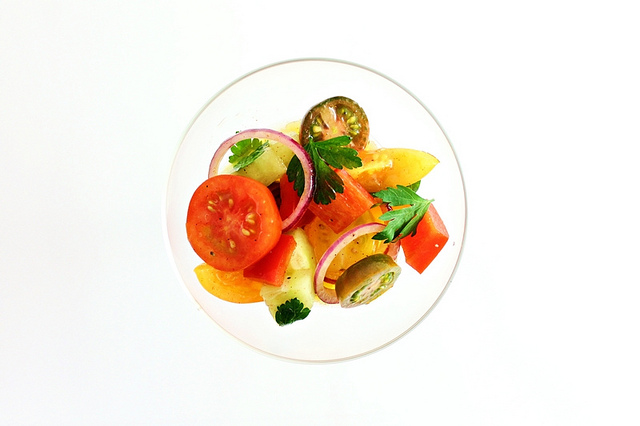 Serves 4 as a side or appetizer
150g / 5 oz tomatoes, different sizes and colors
1 cucumber
1-2 bell peppers
1 red onion
1-2 cloves garlic
1 tsp dried chili flakes
1 tbsp chopped parsley
2 tbsp white wine vinegar
3 tbsp olive oil
black pepper
sea salt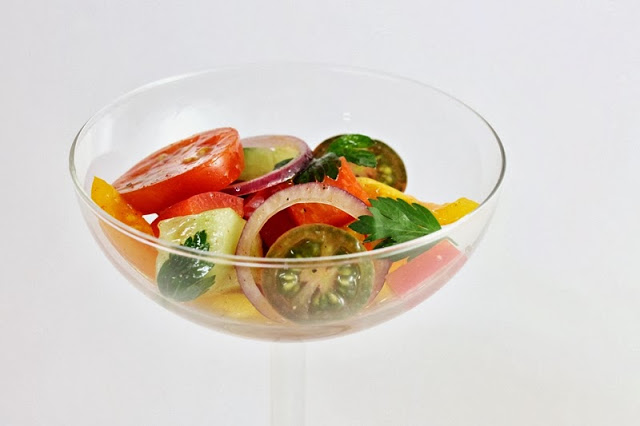 Dice and slice the cucumber, peppers and tomatoes, make sure to cut them in different sizes and shapes, this will make the salad look much better. Peel and thinly slice the red onion and garlic. Combine all vegetables and add olive oil, chili, red onion, garlic, parsley, vinegar, salt and pepper and then let marinate for at least one hour.
It's fine to let it marinade for longer but serve it the same day as you made it, in my opinion, it loses it's freshness otherwise. In time for serving taste the salad and adjust the seasoning if necessary. Serve.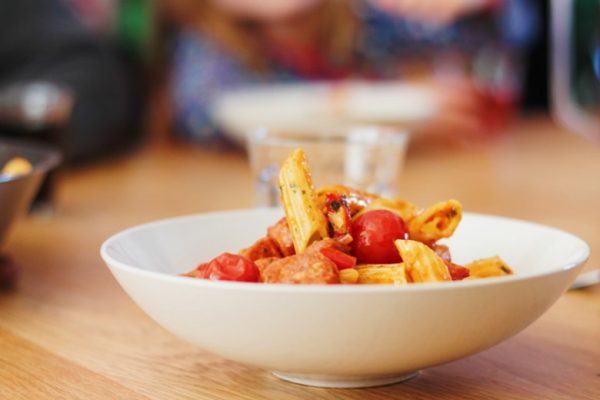 Serves 4
350g / 12 oz penne pasta
1 big red bell pepper
1 can of canned cherry tomatoes
4 cloves of garlic
1 tsp dried Provencal spice
200g / 7 oz salsiccia sausage
Olive oil
Parmesan cheese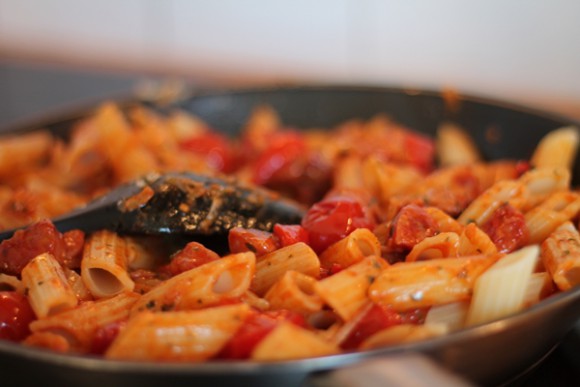 Chop the pepper, salsiccia and garlic. Add to a pan and fry until cooked. You don't have to use any extra oil or other fat because once the cooking starts the fat in the salsiccia will be enough. Add the provencal spice, if you don't have any you can replace it with some other dried herbs like basil, oregano or parsley. Add the canned tomatoes and leave to simmer on low heat for about 20 minutes.
Boil the pasta in salted water but drain it before it is fully cooked. Then add the pasta to the sauce and let it simmer for about one minute. Serve with some parmesan cheese and a salad on the side.
Serves 4 as an appetizer
150 g / 5.3 oz fresh cod
2-3 tomatoes
10 leaves holy basil
2 tbsp olive oil
4 tbsp fresh lime juice
Salt
black pepper
4 spring onions/scallions
1 red chili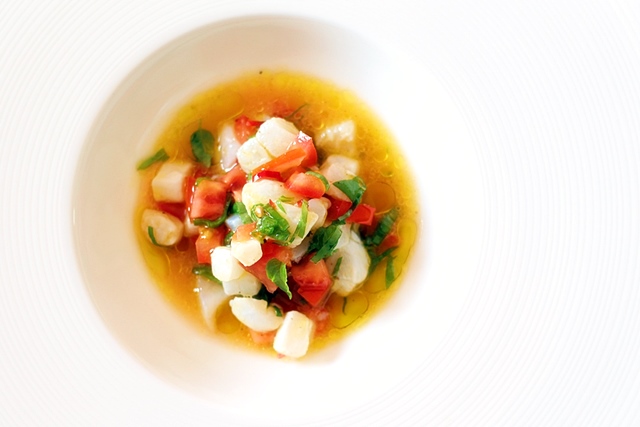 Dice the tomatoes and allow the excess liquid drip off for about 15 minutes in a sieve. Then add the tomatoes to a bowl. Dice the cod and add to the tomatoes. Add lime juice, salt, pepper and sliced spring onions and chili and let marinate for half an hour.
Roughly chop the holy basil and add to the fish, season with salt and pepper and let sit for another half hour. Before serving, check the taste and adjust flavors if necessary.
serves 4-6 as a side salad
1 cucumber
1 red onion
2-3 tomatoes
1 red pepper
1 handful of fresh parsley
2 tbsp olive oil
1.5 tbsp red wine vinegar
salt
pepper
Ok, this is as simple as it gets. Chop all the vegetables in cubes about 1.5 cm x 1.5 cm / 0.6 inch x 0.6 inch. Add all the vegetables to a big bowl. Add oil, vinegar, salt and pepper. Chop the parsley roughly and add. Let sit for about half an hour and then serve. That's it.
As you can see it doesn't get much easier and if you judge by the recipe this sounds just like a bunch of chopped vegetables. You're right and you're wrong. It is just chopped vegetables but after marinating and releasing all its juices this turns into something better than what it's made of. I served this salad numerous times and people always love it. So please try it out.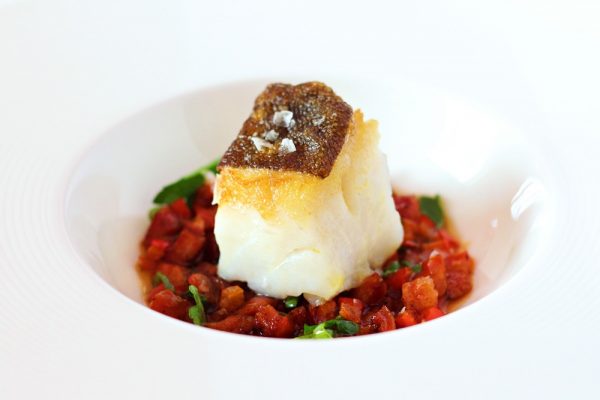 serves 4
6-800g / 20-28 oz fresh loin of cod
4-6 tomatoes
150g raw Italian Salsiccia
3 tbsp olive oil
a handful of parsley
salt, pepper
Cut the cod in serving size pieces, salt them and leave in the fridge for about two hours. Dice the Salsicca and tomatoes. Add the Salsiccia to a pan and add a little bit of olive oil and cook until they are done, about 5-10 minutes. Add the tomatoes and lower the heat to low and let it cook for about 15 minutes. Add a bit of water if it gets to dry, season with salt and pepper. Chop the parsley and add to the ragu.
Take the cod and pad dry with paper and then cook skin side first in olive oil. Once they have a golden colour on the skin remove and finish cooking in the oven on medium heat. Serve. Good luck.