Do we need packaging? WWF Just might not think so.
WWF have created a campaign called Just that asks the question Do we need packaging?
Just is an campaign by WWF or World Wildlife Fund have created with Leo Burnett in Australia and it asks the question Do we need packaging?
Not always, at least not for everything and when we do it can often be made in a more sustainable way than what we often see everyday. In this campaign WWF took a number of common products that most people use on a regular basis that is often packed in plastic. Then they packaged natural food items that can replace these products.
Examples of these is cinnamon sticks instead of mouthwash, fresh grapefruits instead of bathtub cleaning and honey instead of burn relief.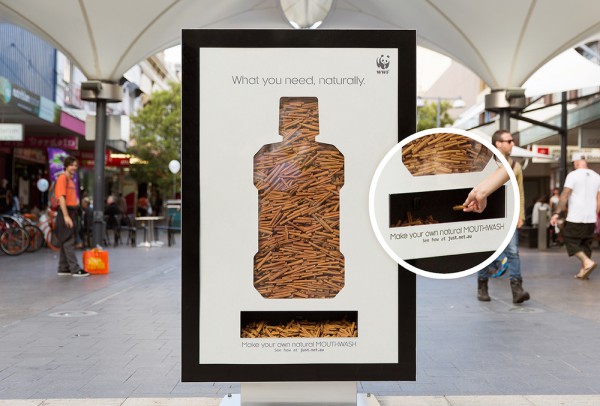 The campaign have had several parts. A full range of these alternative products was packed in natural and biodegradable packaging including instructions on how to use them as a replacement. People interested were given the products and was encouraged to post it on social media which help spread the word on the Just campaign.
The second part was billboard's of the products that is actually filled with the products and free for anyone to take. And finally a web site was created where the whole campaign and its purpose is explained. Along with each product there are a short instructional film on how to use the replacement product.
So do we need packaging? Well the obvious answer is yes of course but a more critical view on what products we use and if they are really necessary is a good first step. It's easy to put blame on the producing companies and to try to influence them to make more environmentally packaging is of course a good thing but nothing speaks more clear to any company than their customers taking their business elsewhere.
So to make the biggest change in the fastest way try to buy as much as possible in biodegradable and environmentally friendly packaging and the alternatives from the producers will grow fast.