Eating at Alinea Turned Out To Be A Sweet Experience – In A Bad Way
Not that long ago I finally had the chance to be eating at Alinea. It turned out to be a sweet experience, in a bad way.
I've been dreaming of eating at Alinea for a long time. Since I'm living in Sweden it's not like I can swing by whenever I feel the urge to eat some experimental stuff. But this fall a trip to eat at Alinea and some other great places in Chicago was planned and it was time to finally cross this one off the bucket list.
So we came, we ate and drank and in many ways it was a great experience. Great wines, excellent service, beautiful plating, cool interior design but the most important thing didn't really work out. The food.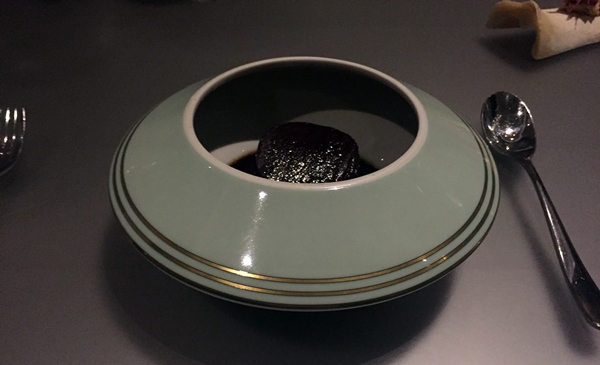 How Eating at Alinea Works
When you eat at Alinea you have to get a ticket. There are no menu like in most restaurants. You book and prepay a ticket at the Alinea website. Once it's time to eat all you have to do is to show up.
I really like this way of booking and paying. Especially since most top restaurants in this category don't offer many choices anyway. Often there is just a set menu to choose. So it's nice to show up and everything is already taken care of. Naturally you can notify the restaurant if you have any dietary restrictions or other requests beforehand so they can make sure that you can eat everything served and get a great experience.
There are three types of experiences to choose from at Alinea. Besides the cost for the ticket you need to choose what to drink. Tax and 20% gratuity is also added to the bill.
The Salon – tickets range from $175 to $225.
The Gallery – tickets range from $295 to $345.
The Alinea Kitchen Table – tickets $385
On top of this you need to get some wine, there are a number of packages offered for each dining experience. Starting at the Standard pairing in The Salon for $115 to The Alinea Pairing for $405.
That means that the cheapest possible way you can eat with a wine package at Alinea is if you find tickets to The Salon and get the cheapest wine pairing available. This will still set you back $388, including tax and gratitude. In comparison me and my friends had an amazing meal at The Publican a few days later.  A thirteen course meal there including everything set us back $450. For four people.
I get that eating at one of the most acclaimed restaurants in the world is expensive but this also makes the expectations very high. So what do you get for it and how good is it?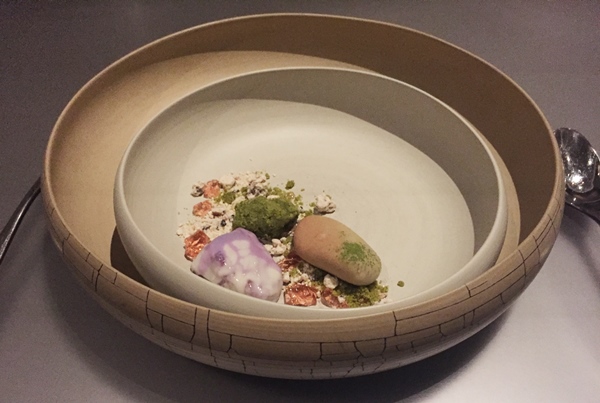 The Food at Alinea
Since I'm not rich and I pay for my own food (sponsors welcome) me and my friends went for the cheapest option. The Salon menu with the standard wine pairing. The focus in this text will be about the food so I'm only going to say this about the pairing.
We started out with Champagne and went through about 10 wines, all perfectly paired with the food. In my opinion you have to really know your wine to appreciate going for a pricier option, not that I tried any of those but if a wine goes great with the food and taste excellent what's there to fix.
Now let's move on to the food and this is where the trouble begins. I'm not going to go through every dish but the ones that stood out. Some in a good way and some in a bad. Also I'm writing what I remember so there are elements in most of the dishes that I either forgot or left out.
Whenever I'm eating out I try to enjoy myself as much as possible and leave the writing til later, there are no notes to go back to.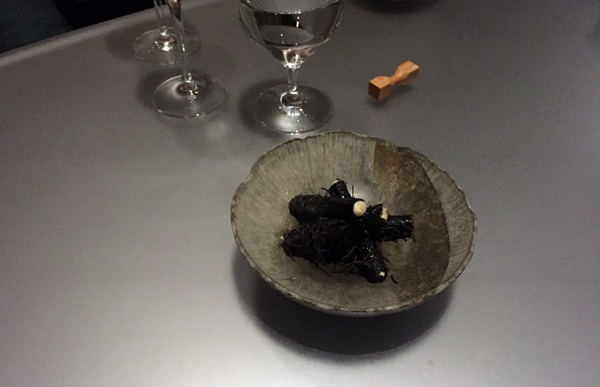 Trout Roe, Coconut, Passion Fruit
A great presentation, as our first course we got an ice bowl filled with passion fruit sorbet, coconut cream, golden trout roe and a macadamia jelly. This is also where trouble starts for me.
The coconut cream is very rich and sweet, the passion fruit sorbet is just as sweet as one you might be served as a dessert. Everything tastes great but it is way too sweet. This could just as well be a dessert with trout roe on top.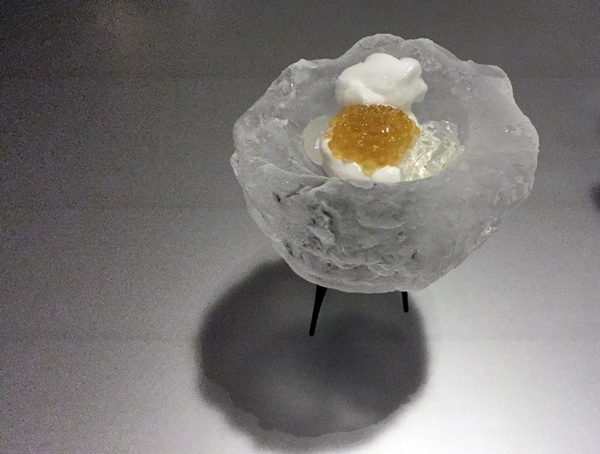 Scallop, Shio Kombu Nori, Corn, Butter
This one was part amazing part not so amazing. The scallops was made into paper served in bowls with shreds of the paper sticking out. Then the waiters poured in an butter and corn broth and the scallop paper turned into big noodles that you ate using chopsticks out of the broth. Great use of technique and a great presentation. Small rolls of nori filled with something I can't remember was served separately.
The scallop paper was amazing but the broth they was served in was incredibly sweet. Scallops are naturally quite sweet, pair that with corn and butter and things simply get too sweet.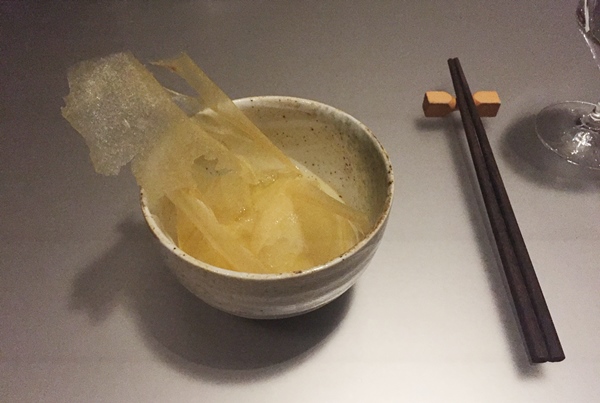 Paprika, Jamon Ibérico, Apple, Yuzu
This dish came in three parts, one roll of apple served with yuzu and lemon verbena. A great presentation and a great bite. Next part was a Jamon Iberico foam and underneath was a red paprika puré. It tasted like mild Jamon Iberico foam with red paprika. Nothing special and the paprika overpowered the flavor of the foam completely. Not great at all.
Lastly we got something that my wife described as melted ice cream. Some sort of thick cider orange soup/sauce with maple jelly floating inside of it. Oh yeah, it was about as sweet as melted ice cream as well.
There was some more stuff in it as well, one of us got a sphere filled with something but I'm guessing we accidently broke ours without realizing it.

Sanma, Avocado, Katsuobushi, Mackerel
I'm not sure how I'm suppose to feel about this one. The plate in the photo is for two, one fish to share and three different bites each. The bites was great and the sauces covering the fish was good too. But the taste of the mackerel was too overpowering, you had that fat taste of mackerel stuck in your mouth throughout the whole dish. With a milder fish this could have been much better.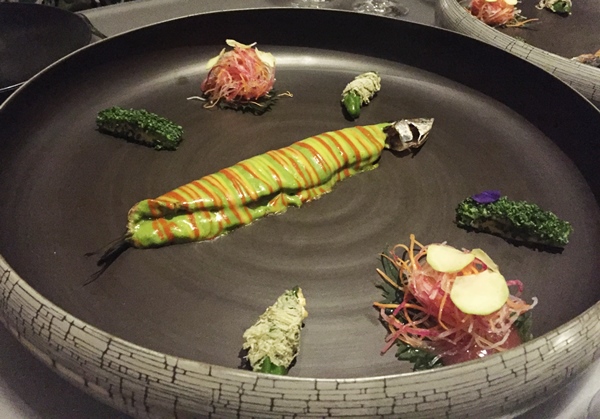 Pork Belly, Curry, Banana
So, this was the weirdest dish of the evening. If I'm going to be mean it was pork with saffron, fried banana and curry served in a silicone boob. The plate really is silicon and it really did taste of the things I mentioned.
The slices of pork belly was perfectly cooked but to me it doesn't work with neither curry, saffron or banana. This also made it very sweet, fatty and rich. This is the one dish I can't understand how it made its way onto the menu at all. Luckily things got better.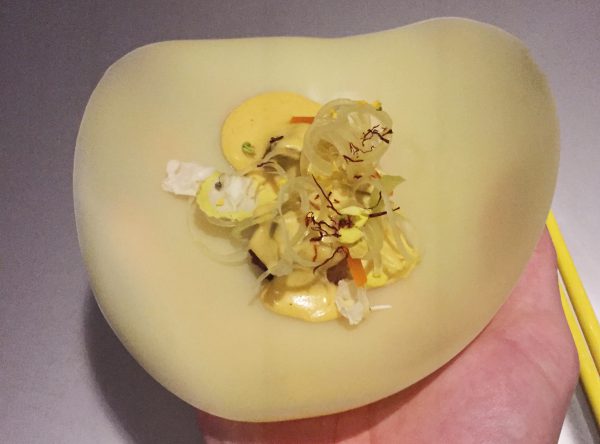 Black Truffle, Gruyère, Pumpernickel
This was great. Crunchy pumpernickel bread, a smooth cream of gruyère and black truffle. Served as one bite in one great looking plate.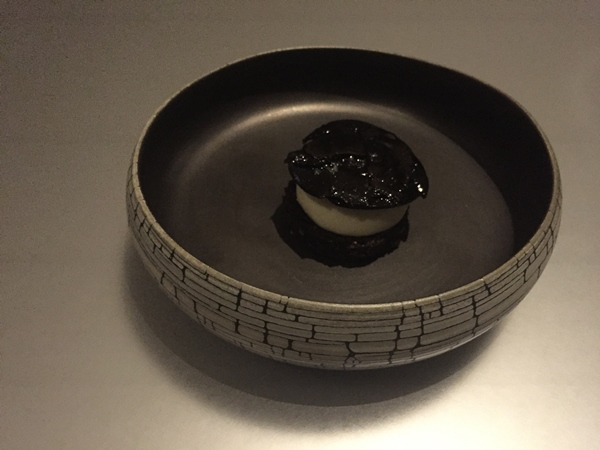 Wagyu, Rice, Myoga
Another great dish. One bite of wagyu beef on top of a crunchy rice cake with Japanese ginger on top. The wagyu felt like a creamy butter and the flavor was perfectly balanced.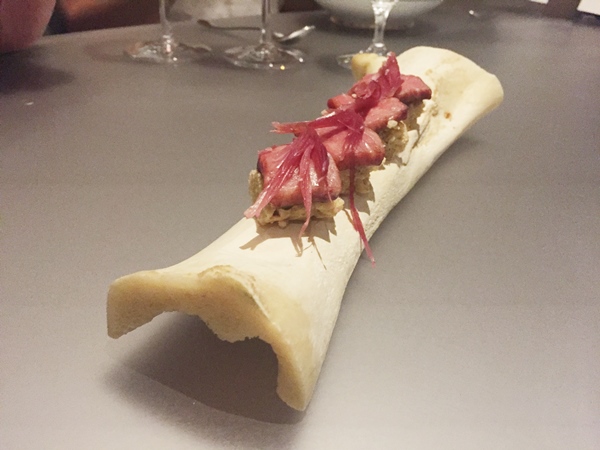 The Balloon
You can't not mention the balloon and I guess they can never take this off the menu. The skin is quite tasty but the main point is that it's so much fun. Helium laughs and a great way to wrap up an evening.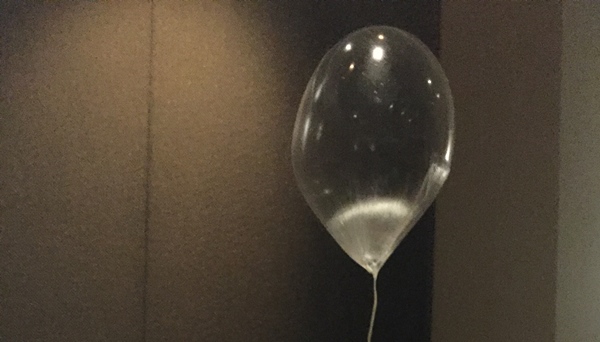 So was the food worth it?
I really wanted this to be great and in part it was. The scallop (minus the broth), the truffle pumpernickel and the wagyu was amazing. On the bad side is the pork belly, mackerel and melted ice cream. To me that is just not good enough. At least not if you're among the top restaurants in the world and charge like you are.
Overall too much is too sweet with not enough acidity and salt. Flavors need to be more on point and there can't be dishes that doesn't hold up.
Things wasn't as creative as they should have been either. Yes, the paper and the balloon is cool and we got a clever rock filled with nut cream for one of the desserts. On the other hand we got served at least six types of jelly. Is that enough when you're suppose to be one of the most creative restaurants in the world?
There are two explanations for why. Either I'm getting used to things and seen most of the techniques used or Alinea saves up most of the really cool stuff for The Gallery Guests and The Kitchen Table. Both explanations are sad.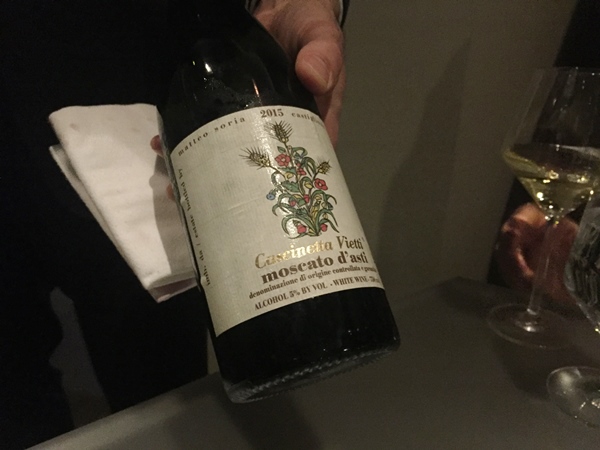 Alinea's Excellent Service
If the food is not worth the cost for eating at Alinea I have to give the service the top grade. There is not a single thing to complain about. Great attention to detail, not too serious and overall just a perfect service.
After our dinner we decided to go to The Aviary for some drinks and the waiters set that up for us perfectly. One Uber ride later we had a table waiting for us and they knew all the details about us, you should all visit there. Those are the details that really makes service great.
I only wish the food would have been just as good.
Ateriet Restaurant Reviews
Ateriet loves restaurants and we eat out as much as we can. Although Ateriet's focus is not mainly reviewing restaurants sometimes we find places that are worth writing about. All those can be found under the tag Restaurant Reviews. We visit way more restaurants than we write about. It's also worth noting that we don't give out grades or anything like that, we just eat. Then sometimes we write. Enjoy.