Eating with the Chefs Cookbook by the founder of Fool Magazine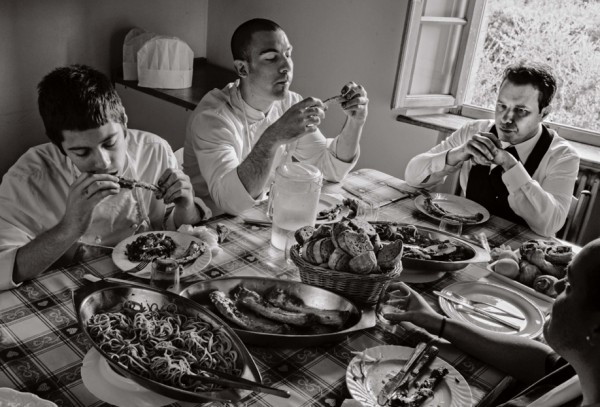 See a preview of the Eating with the Chefs Cookbook by Per-Anders Jörgensen, the man behind Fool Magazine.
Eating with the Chefs is a new cookbook from Phaidon and Per-Anders Jörgensen of Fool Magazine. In the chefs cookbook we get to follow the daily staff meals shared by chefs and front-of-house staff at eighteen of the worlds top restaurants.
Some of the restuarants are Noma, The French Laundry, El Celler de Can Roca and Le Chateaubriand. Through the exquisite photography by Per-Anders Jörgensen that anyone who ever looked through a copy of Fool Magazine knows are spectacular and with easy to follow recipes the package is complete. The book will give you a unique insight to what the staff are actually eating behind those kitchen walls, and it's not bad.
As a former chef myself it is cool to see these environments that seems to be universal, in kitchens everywhere the staff sits around eating often great food but always under stress and sometimes it is hard to appreciate how good you actually ate. A good reminder for any chef I guess.
If you are a fan of Fool Magazine and the work of Per-Anders Jörgensen and are coming to Sweden we must also recommend you to visit the Fool agency and Gallery at Regementsgatan 8 in Malmö in the south of Sweden. In the gallery there is usually great food photographs on display by either Per-Anders or other equally talented food photographers. Just check the opening times before booking a trip since the gallery doesn't stay open all day.
About Per-Anders Jörgensen
Per-Anders Jörgensen is the editor in chief of the food magazine Fool, recently named the World's Best Food Magazine at the Gourmand Cookbook Awards. Jörgensen is known for his stunning images that have been reproduced in publications worldwide, including the books Mugaritz and Cook It Raw both published by Phaidon. He lives in Sweden.