Eatpops got some great packaging that is worth having a look at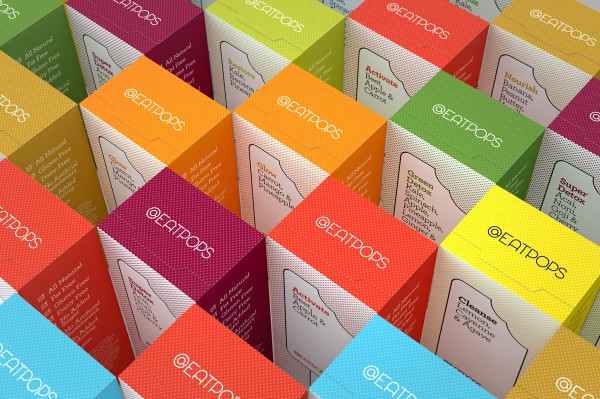 Eatpops is an organic ice pop maker from New York, USA. With the launch of their eight first flavors they hired Doubleday & Cartwright to create something great to package the ice pops in. They did some great work, check it out below.
Eatpops is a organic ice pop maker that holds purity, honesty and delight as their biggest words of guidance. Combine this with frozen ice pops in eight different flavors and you pretty much got the work brief that was given to Doubleday & Cartwright.
They got the task of naming, branding and packaging this ice cream in a way that would hold purity, honesty and delight in focus.
To make Eatpops stand out in a frozen section packed with bright colors and loud messages they went in a different direction. With a clean and contemporary look and colors that feels more natural than artificially colored they also named each flavor.
The names were given with the main ingredients in mind. Both its functions as nutrients and its flavors needed to be represented for each name. See some examples below.
Eatpops also has a big thing going in social media and is actually using its name @Eatpops in all their products. The plan is to also sell the Eatpops in non traditional places like festivals, pop-up venues and ice cream trucks.
You can get Eatpops at Whole Foods, AmazonFresh, Babeth's Feast and Westside Market. As mentioned they are highly active on social media so you can check them out on Instagram and Twitter. For more work by Doubleday & Cartwright go here.
For a full list of other great ice cream packaging you can check out a great collection here.
Also if this sounds in any way familiar these Icepops used to be called Innocent icepops, we liked back then as well so you can check that out here.