Findus Jultallrik – How Swedish Findus Created The Saddest Christmas Dinner in History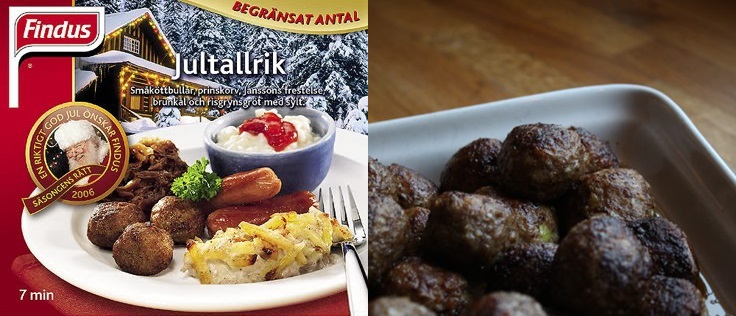 Read all about Findus Jultallrik. How the Swedish Company Findus created a frozen Christmas dinner that turned out to be the saddest meal in history.
Findus Jultallrik was a frozen meal sold and marketed by the Swedish company Findus between 2006 and 2008. It was also one of the saddest meals ever created. Imagine sitting all alone on Christmas and microwaving your dinner in seven minutes.
For those of you wondering a Jultallrik translates to Christmas plate. Like a miniature Christmas Smorgasbord that have been picked together just for you. Having a jultallrik is not that unusual in Sweden during Christmas and at some restaurants you can find it during December. It is also often available for office Christmas lunches since it is much easier to cater separate plates instead of a full Christmas dinner.
The food company Findus decided to capitalize on Christmas and made their own frozen Jultallrik. People have been talking about it ever since.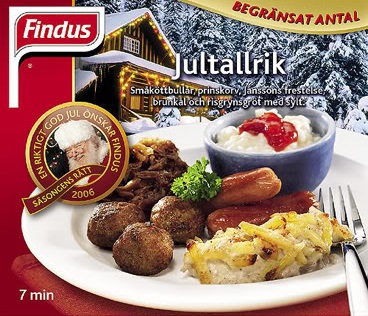 Was this a real product?
Indeed it was. The Findus Jultallrik was sold in Sweden between 2006 and 2008. It was meant to be a complete Christmas Dinner. It's hard to find real facts about the Jultallrik now. Partly because the internet was not as great in 2006 as it is today. A search at the Findus website gives exactly zero hits.
But it was real and it was sold for around 20 Swedish krona, that's a little over 2 dollars for the saddest meal of your life.
What was in the Findus Jultallrik?
The Jultallrik came in a plastic tray that could be pulled apart. One big and one small part. The bigger part held all the warm food, the main course if you will. The smaller part held the dessert.
The main dish part held the following
Janssons Frestelse – This is sort of a creamy potato gratin flavored with Swedish anchovies.
Brown Cabbage – Actually white cabbage which is boiled with sugar, beer or pork stock and sometimes soy. You can read more about it here.
Prinskorv – Small smoked sausages.
Meatballs – Common in Sweden at Christmas, you can read more about those here.
The dessert which was pulled off before microwaving the main course held Ris ala Malta. That is creamed rice served with a berry sauce.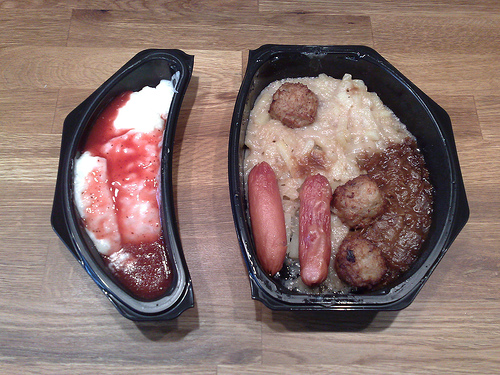 How did the Findus Jultallrik taste?
Sadly I have never had the chance to try it. Since food reviews was far less common ten years ago it is also hard to find much about it. However frozen meals are rarely a taste explosion and the few sources I have found range from inedible to better than expected.
The Swedish newspaper Dagens Nyheter contacted Findus in 2007 and asked about the quality which they had harsh critique about. The only good thing they had to say about it was that it was good it was a limited edition.
I also found another review in this old blog where I also borrowed some photos. There the taste is described as not that bad but the sadness is too much. It's simply better to skip Christmas according to the writer.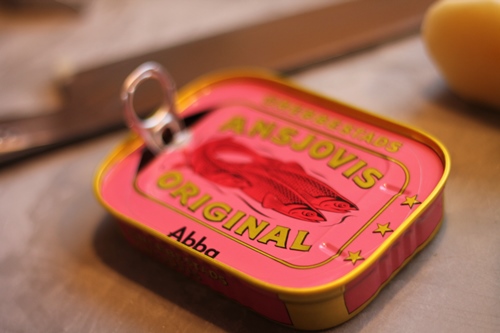 Where did this idea come from?
Findus is one of the biggest food companies in Sweden. Their core business is frozen foods. Both vegetables and ready meals. When it comes to the frozen ready meals there are the market leader.
As most food companies Findus made and still make seasonal products. Since Christmas is the time of the year when most money is spent buying food there was money to be made. Findus already produced many of the ingredients in the Jultallrik so putting one together was more a matter of logistics than starting to produce new products.
So being the only company offering something tasty and valuable in time for Christmas is not really a bad idea. Findus sells loads of frozen ready meals so why shouldn't a few of those regular buyers appreciate some new Christmas flavors during December?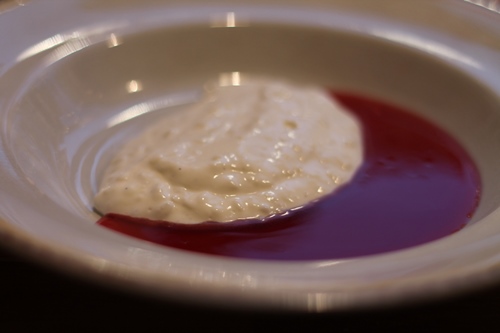 So what happened?
The Jultallrik actually sold out. When you look at the sales the Jultallrik must be considered a hit. It's hard to find any real sale data but when a Swedish newspaper talked to Findus in 2007 they claimed to have doubled the production from 2006. In a separate source it is claimed that about 200.000 meals was sold in 2008. After that Findus decided to stop making the Jultallrik.
Why you wonder?
The sher image of anyone sitting around at Christmas eating one of these frozen meals was just too much for people. The Findus Jultallrik became the symbol of the involentary lonely Christmas. It was ridiculed and mocked by most of us.
It was simply too sad. The dish was even used in an exhibition at Värmlands Museum in 2007 in a show called Hell – A Fiendishly Story. In the exhibition, among other sad things was a plastic Christmas tree and one Findus Jultallrik.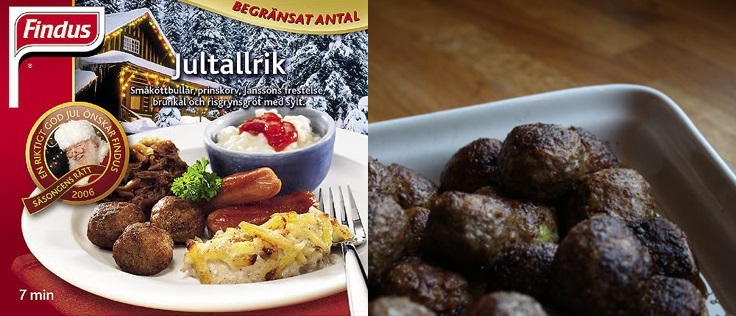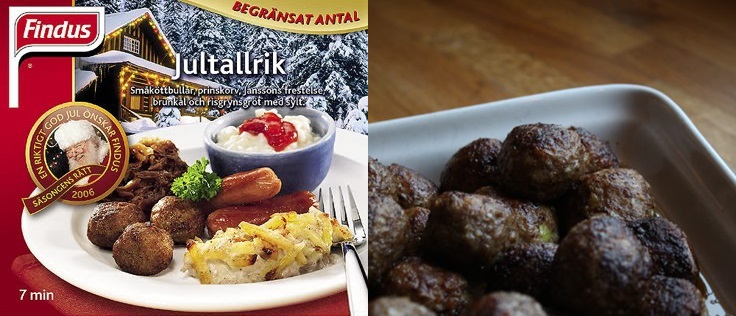 Who bought this?
According to sales around 200.000 people did. Many of those was probably happy and enjoyed the new flavors just in time for Christmas. The sad thing about this whole story was that the hardest critics at the time criticised that someone had to eat it alone. Meaning not themselves.
This is what Jenny Damberg writes in her book "Nu äter vi" (Let's eat) in a short passage about the Jultallrik. I totally agree. The critics was sad about the fact that some people spend the holidays alone and the Findus Jultallrik became the symbol of this.
The actual eaters sat quiet, enjoying their holiday meal.
Bring it back!
The Findus Jultallrik is still talked about and there have been calls for it to be relaunched. Most of these come not from the ones who actually want it but from those who want to buy it for fun.
As an ironic hipster joke on how sad it is, more fun than actually reaching out an inviting or visiting someone you suspect will spend Christmas alone.
Which is probably the saddest thing in this whole story.
Ateriet Swedish Christmas Food Series
Here at Ateriet we love the Swedish Christmas Food and we have published some other articles about some of the classic drinks and foods of the Swedish Christmas. All our articles on Swedish Christmas can be found here.