Fish with a Human Head – Great Art Photography by Gioele Ferreri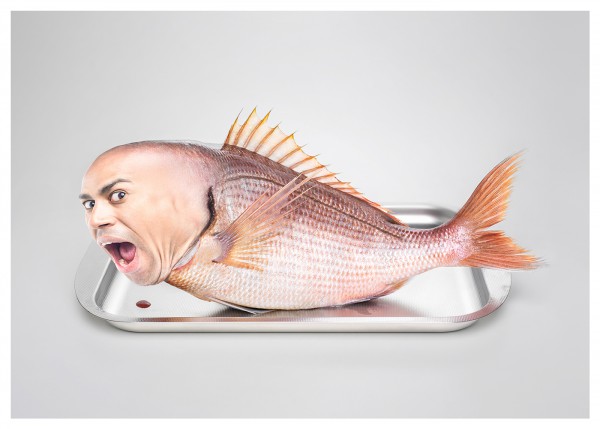 Take a look at this great and a bit scary fish with a human head, it is an photo by photographer Gioele Ferreri.
This fish with a human head is an art photo by photographer Gioele Ferreri from Italy. It is made for the Artexpo 2015 in Milano where it is currently on exhibition. Artexpo is an art exhibition where artist can meet business. If you're in Milano before the 30th of September you should consider making a visit.
The project with this fish with a human head is called Fish & Cynisism and with it Gioele are asking some uncomfortable questions. Read his statement about this project below.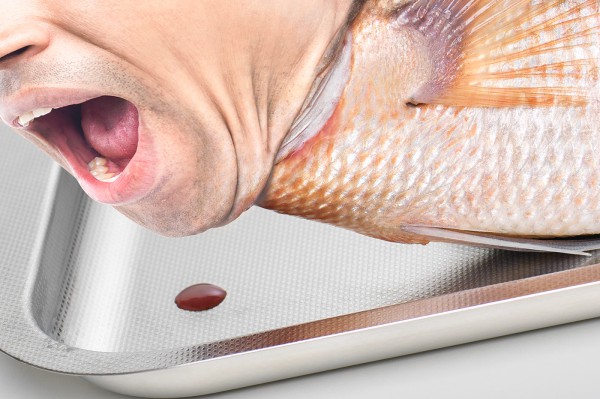 "Fish & Cynicism"
What it feels like to be eaten?
What is that feeling agitated, fearful, suffocating an animal or a personality test
and trying to reason with emotion when it is aware that it will be the "food" if not the only limited,
ordinary, discounted seasoning of a dish from the restaurant?
These same emotions and expressiveness are present in this work but with an expression, emotion,
a reaction of all those known to us that we see and we recognize every day .. The movements of the soul human.
Nobody would limit our freedom to others' choices, we all want to have fun and continue to play our hobby,
cultivate our friendships, relationships and make money our ambitions.
Because an animal can not have this kind of freedom if its "predator" will not let him?
The name "Fish & Cynicism" comes from the name of one of London's most dishes eaten today "Fish & Chips" because
sometimes "eat humanity" would open their eyes and minds to wider horizons.
Gioele Ferreri
You can read more about the Artexpo in Milano here and check out more of the work by Gioele Ferreri here.