Follow Your Pizza – Clever Ads For The First Pizza With A Tracking Code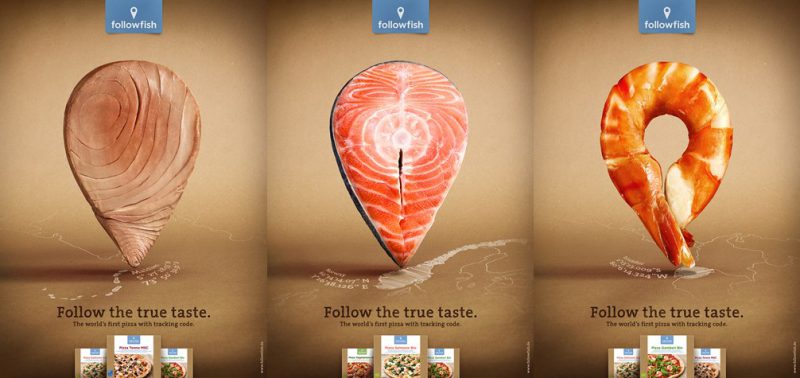 Check out these clever ads, they let you know exactly where your pizza ingredients are coming from with a clever idea. So follow your pizza.
Follow your pizza or at least all of their ingredients. German pizza brand Followfish has released a range of pizzas that are fully traceable down to its last ingredient. And they are using this fact in a clever way in their ads. Each key ingredients has been shaped into and mark that has its point set in the country of origin.
In the ads that you can see below, they turned an artichoke, a shrimp and a slice of tuna and have them pointing to its country of origin. What I think they missed with these ads is they are selling pizza. Sure, artichokes, shrimps and even tuna might taste nice on a pizza so why not show the food? I like the idea but it would have been nice to make it look more like a meal than what it does now. But one thing is very clever about this ad.
What's so clever about this?
Followfish has highlighted the ingredients origin as the selling point for their pizzas. Does that mean that all other pizza companies have no idea where their ingredients come from? Not at all. Everyone knows where their stuff comes from. Which means that any serious company could have used this idea. They simply took something that everyone is already doing and marketed it as a unique selling point. Clever advertising at its best.
For more great food advertising do check out my full coverage here. I also have plenty great food culture about pizza so don't miss out on that either.