This art food project features food on faces in ways you've never seen before. The project is called Menu and you need to see it.
Food on Faces is  the theme for this art food photo series. The project is called Menu and is created by Chef Robbie Postma and Photographer Robert Harrison. The project features eight different photos where Robbie Postma's face has been covered in food.
But it's not like someone just threw on some cream and took a photo. These photos are created with every detail in mind. Both the design of how the food is placed on the face and the photographs is at the highest level.
Whenever you see food on faces projects it is impossible to not think of the classic work by Arcimboldo and there have been a similar project with junk food on faces that I featured here before.
But this is on another level, where the junk food project is cool and the work by Arcimboldo is impossible to disregard this is updated and feels fresh. I also love how they kept the shape of the face and not just used the face as a base for building a food sculpture.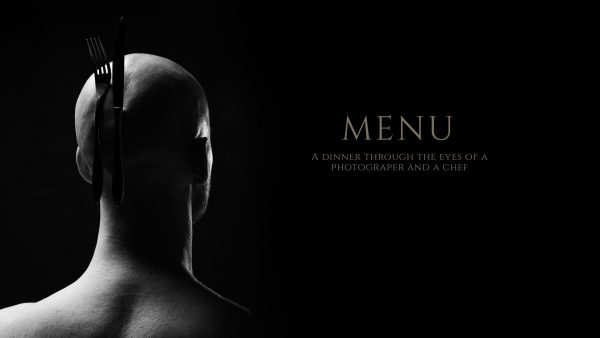 How It Got Started
Robbie and Robert met while working at J. Walter Thompson. An award-winning ad agency in Amsterdam. Luckily the agency happily encourages their employees to have fun with creativity and innovation. So when the idea of this food on faces project grew they got a studio to work in.
The project was named Menu and with research, material testing, preparation and testing and trying all the photos it took a full year to create these eight photos. The photos follow each dish or element you'll find when you open up a restaurant menu. All those components are represented in the photos.
It starts of with vegetables, moves on to seafood and meat. Add some starch, have some wine and end the dinner with coffee and something sweet. As you can see in the photos they have kept the same attention to details and composition as any top chef or restaurant do.
There has been no digital manipulation of the photos. Every piece of rice, coffee bean of shell of crab you see attached to Robbie's face was put there by hand.
More About The Project
Since the project was completed Robbie and Robert have decided to keep exploring the world of food and art and have formed Postma-Harrison.com. The Menu photo project will be featured at professional photography congress SHOOT Amsterdam (http://www.shoot-amsterdam.nl/) on 3 April 2017.
Here is what the artist say about their project.
Robbie Postma, Chef / Food Creative:
"A good menu is a story with its own narrative arc. That's what we've tried to recreate in this project: we deconstructed a traditional menu into all its separate elements and ingredients and reconstructed it in a disruptive way – using my own face as the canvas to present our very own 'MENU'.  This project in its essence is about the quest for perfection and represents the importance of taking enormous amount of time and attention to create something beautiful."
Robert Harrison, Visual Designer / Photographer:
"The devil is on the detail and that's something we really took to heart when shooting the photography. Each single ingredient was painstakingly hand-placed onto the face, resulting in literally hours of preparation for each shot. For us it was important to work in a very organic way, shoot everything in camera and use no digital manipulation at all.  This attention to detail and technique, combined with the unexpected scenarios – I guess some would say downright disturbing images – is what has this such a compelling project to work on."
VEGETABLES
Welcome! As a first course we serve you an exciting variety of vegetables.
When creating a menu play around with different shapes and colours. We have all these beauties of nature we can turn into an experience on a plate.
Enjoy!
Ingredients:  Variety of carrots, radish and courgette.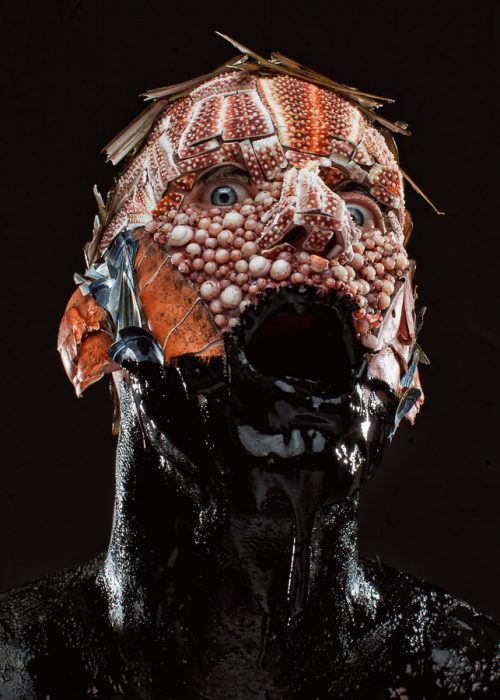 SEAFOOD
Next. A small serve captured from the great waters of the earth.  When serving a multiple course menu, serve just enough to keep your guest gasping for more.
Ingredients: Octopus ink, lobster, mussels, mackerel skin, octopus suckles, sea urchin, razor clams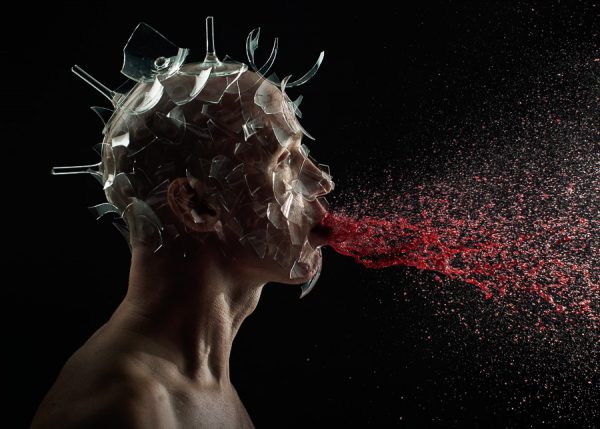 WINE
With the next dish we're serving this red wine to compliment the deep red tones of the meat. When pairing the right drink with your dish you can create an explosion of taste.
Ingredients: Glass & red wine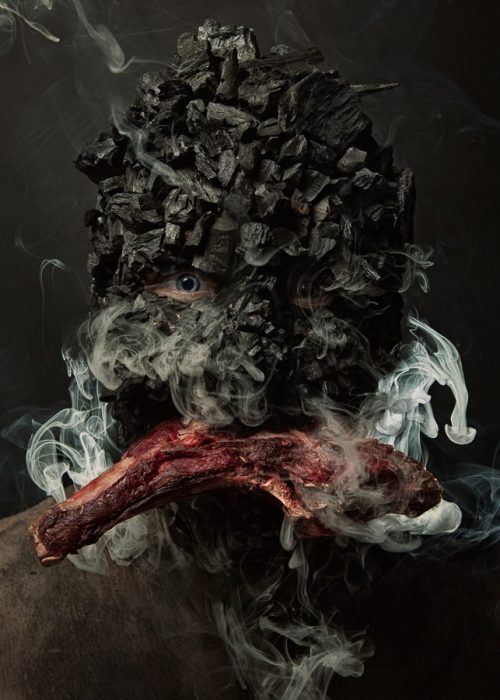 MEAT
Now serving an aged, smoked and barbecue grilled prime rib. Different cooking techniques can help to create variety and intensify flavours in your menu.
Ingredients: Charcoal, smoke, aged prime rib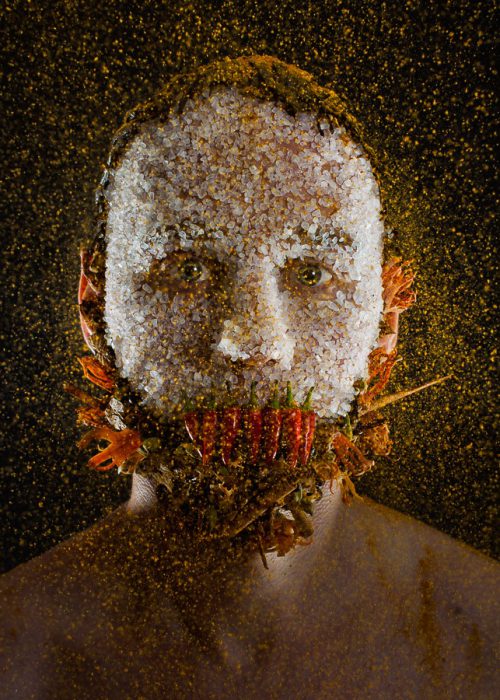 SPICES
Before you, a more complex dish with different kinds of spices.  Combine different flavors when creating a dish but keep them identifiable.
Ingredients: Vanilla, rock salt, star anise, coriander seeds, nutmeg, mace, white pepper, red peppers, cardamom, cinnamon, curry powder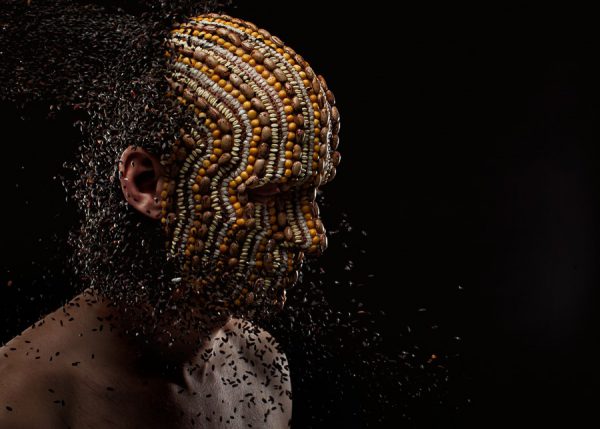 STARCH
The following dish contains carefully selected varieties of starch. The most important thing in making a menu is balance and attention to detail
Ingredients: Black rice, white rice, yellow peas, Borlotti beans, quinoa, wheat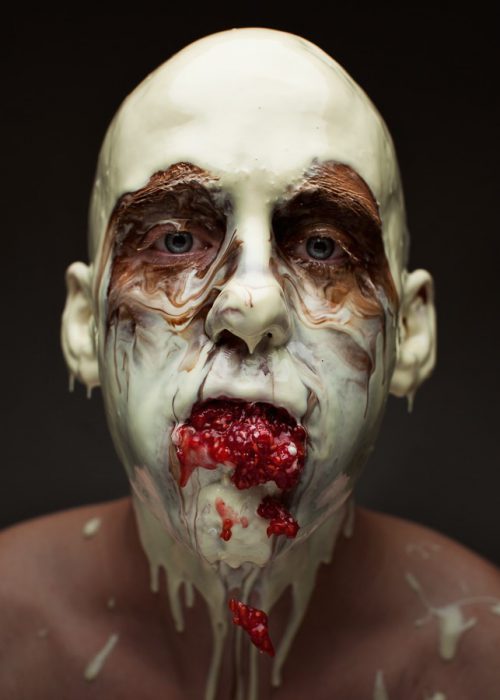 SWEETS
As a final dish we're serving this sweet sensation. Try to build up to a climax when building your menu.
Ingredients: White chocolate, dark chocolate, raspberries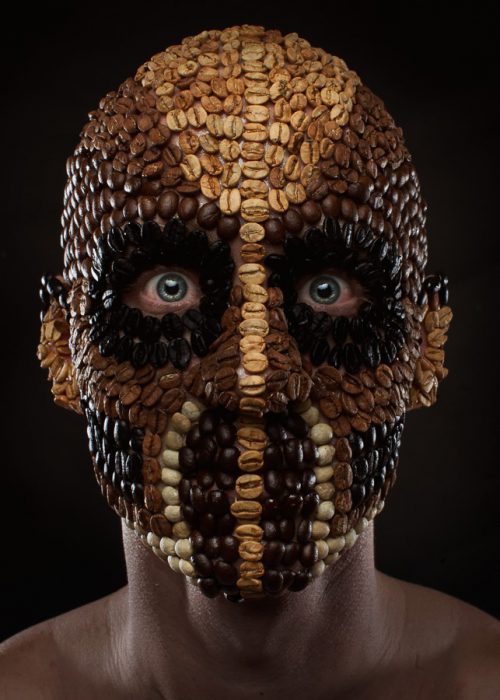 COFFEE
How would you like your coffee?  One single ingredient can be used in endless variations.
Ingredient: coffee beans
Tags: amsterdam, art, food art, food photography, photography