4 Simple and Great Tasting Fresh Oyster Toppings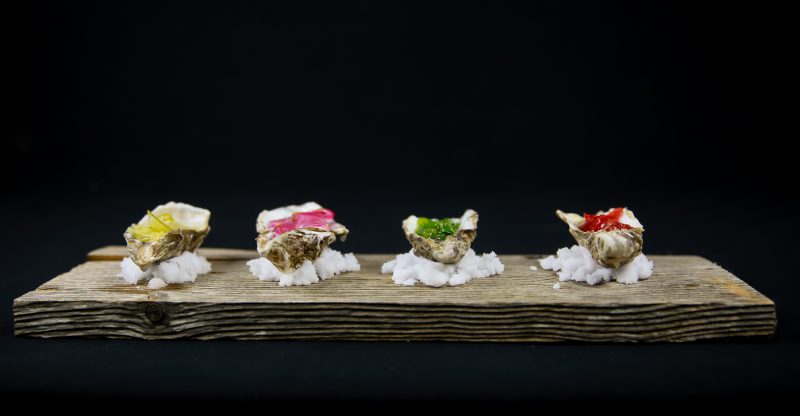 Put a twist on your fresh oysters, here are 4 simple and great tasting fresh oyster toppings, you'll get them done in no time.
Making fresh oyster toppings is a fun way to put a twist on oysters. I bought some fresh oysters a few weekends ago and decided to try out some new and simple oyster toppings.
The classic way of eating oysters with lemon or shallots and vinegar are great but it's also fun to try something new. These oyster toppings are all fresh, easy to make and will give you a new taste of oysters.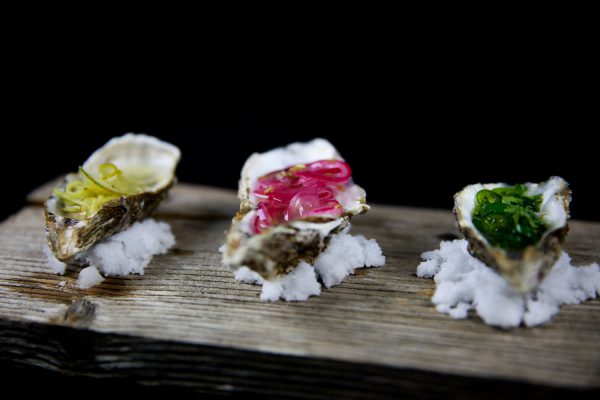 Let's go through them one by one and then you can decide if you want to try them all or just one or two. Each recipe will be enough for about 6-10 oysters depending on how much you add and how big oysters you're serving.
As you can see I serve my oysters on an old piece of wood. The white stuff under each oyster is just salt mixed with a few drops of water. It's cheap and looks good. Perfect if you are short on the traditional crushed ice. Now let's get cooking.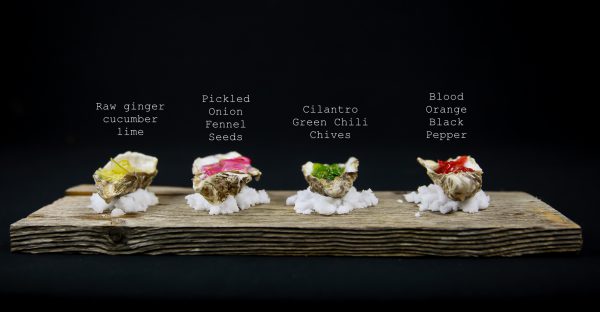 Fresh Oyster Topping with Raw Ginger, Cucumber and Lime
Crisp cucumber, acidity from the lime and some sting from the ginger. This one pairs perfectly with the oyster.
1 piece of fresh ginger, about the size of your pinkie finger
¼ cucumber
½ lime
1 lime
salt
Peel and cut the ginger in thin strips. Peel and deseed the cucumber, cut into thin strips. Combine and squeeze in the juice from one lime. Take the half lime and cut into very thin slices. Combine with the other ingredients. Season with salt. Done.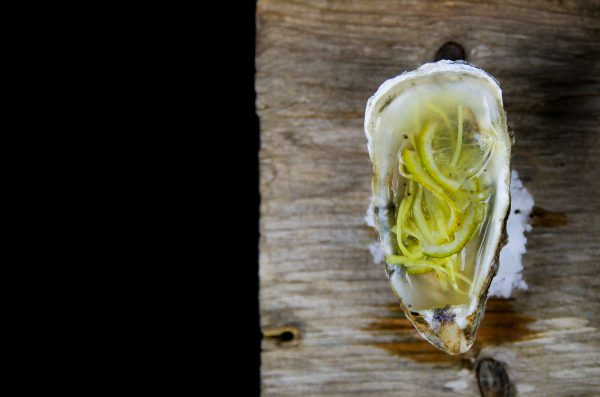 Fresh Oyster Topping with Pickled Onion and Fennel Seeds
2 red onions
2 tsp fennel seeds
0.5 cups sugar
0.5 cups water
0.5 cups red wine vinegar
Peel and slice the onions thin. Bring sugar, water and vinegar to a boil. Add the onion and fennel seeds and let simmer on low heat for about 5-10 minutes. Leave to cool. Strain the liquid once it's cool and top the oysters.
This recipe works great, crispy and acidic onions with a touch of anise and fennel from the seeds.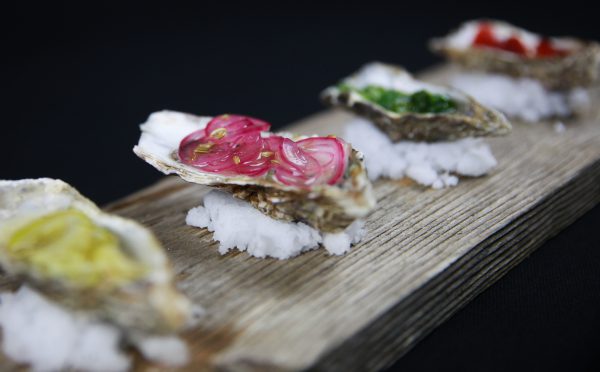 Fresh Oyster Topping with Cilantro, Green Chili and Chives
This one is a little bit different, I personally love the heat and freshness of green chili. With the cilantro and chives it turns out great.
1 handful fresh cilantro
1 small green chili
½ handful of fresh chives
1 tbsp olive oil
1 lime
salt, pepper
Chop the cilantro, chili and chives. Combine in a bowl. Add the olive oil and squeeze in the lime. Season with salt and pepper.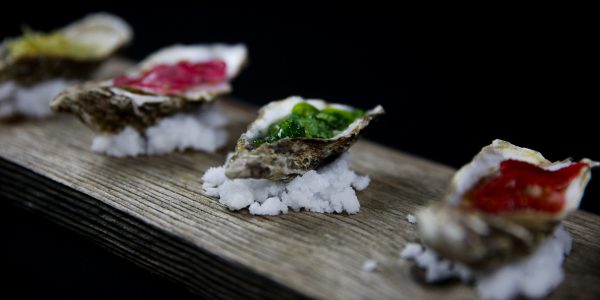 Fresh Oyster Topping with Blood Orange and Black Pepper
I really love blood oranges, they aren't always in season so if they are not when you want to try this recipe you can make it with pink grapefruit as well. Not quite the same but also very delicious.
1 blood orange
1 tbsp olive oil
1 tsp red wine vinegar
black pepper
Peel the orange with a knife and then cut out the fillets. Combine with olive oil, vinegar and a few twists of black pepper. Done.