Fried Cabbage, Egg, Chanterelles, Herbs and Croutons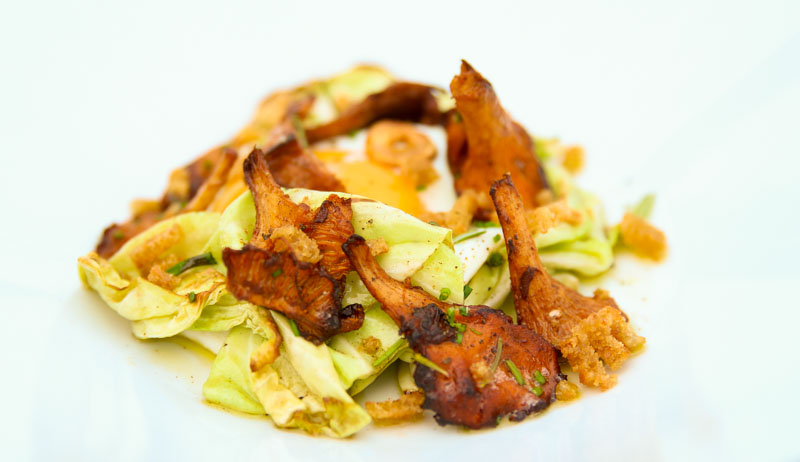 Simple food is always a good idea. Try this late summer appetizer with fried cabbage, egg, chanterelles, some herbs and crispy croutons.
Fried cabbage is simply the best. Especially this time of year when it is still fresh and more resemble a tasty salad than that chewy cabbage you might find during the winter. It's always nice to use a vegetable as the main attraction for a dish and leave out the meat.
This is exactly that, simple great tasting vegetable that's in season paired with simply a fried egg, some crispy croutons and a few chanterelles that you might or might not have found in the forest.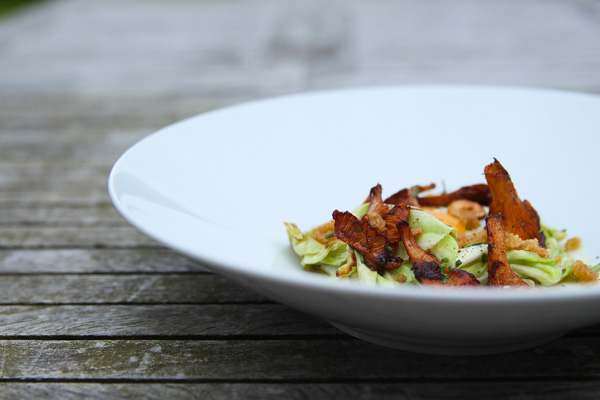 The idea with the dish is creamy egg yolk, crispy acidic cabbage, butter and chanterelles. What gives that extra touch is the vinegar in the cabbage. This dish is also one where it is easy to replace the cabbage with any other kale or cabbage. The same goes for the chanterelles, if you can't find any chanterelles use any other flavorful mushrooms. Now let's get cooking.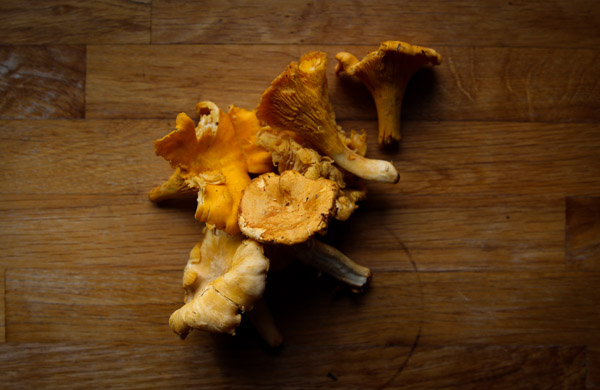 Fried Cabbage, Egg, Chanterelles, Herbs and Croutons
Serves 4 as an appetizer
250g / 8.8 oz fresh chanterelles
4 eggs
1 clove of garlic
1 sprig fresh rosemary
A few straws of chives
3 tbsp butter
4 big outer leaves of fresh white cabbage from one head of cabbage
1-2 slices of white bread
1,5 tbsp white wine vinegar
1,5 tbsp olive oil
Salt, pepper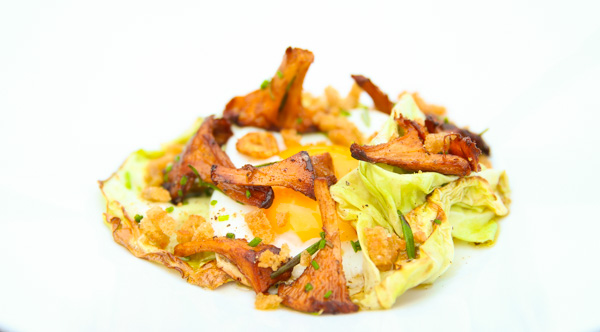 What to do
Remove the outer leaves of the cabbage, remove the stems from the leaves and cut into three big pieces for each serving. Save the rest of the cabbage for another day. Chop the chives and rosemary. Peel the garlic and slice thin. Remove any dirt from the chanterelles and pull into smaller pieces if they are big. Leave smaller ones whole.
Heat a frying pan and add the butter. Add the chanterelles and fry until slightly crisp and dark brown to golden in color, season with salt and pepper. Add the garlic and herbs and turn down the heat and cook for another minute. Remove the chanterelles and set aside. Keep warm.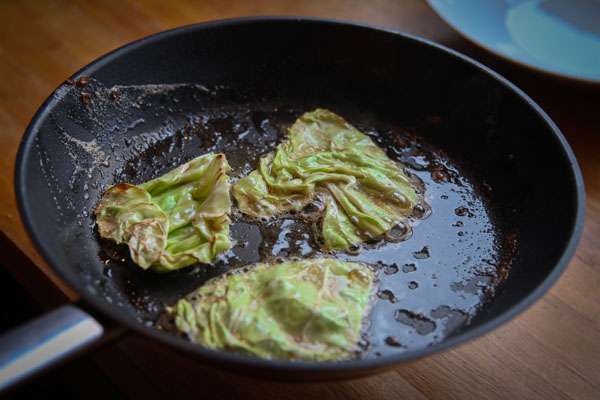 Reheat the butter and fry the white cabbage in the same butter. A few seconds on each side should be enough. Remove from the pan and season with salt, pepper. Marinate the cabbage while still warm with the vinegar and olive oil. Keep warm.
Fry the eggs in the pan at the same time as the bread. The bread should be crisp when the eggs are done, use two pans if you have trouble fitting it all at once. When the bread is crisp chop it to smaller pieces.
Plate the dish, start with some cabbage, then the egg and top things off with the chanterelles and croutons. Serve.