Goat Cheese Packaging Design for Dancing Goats Dairy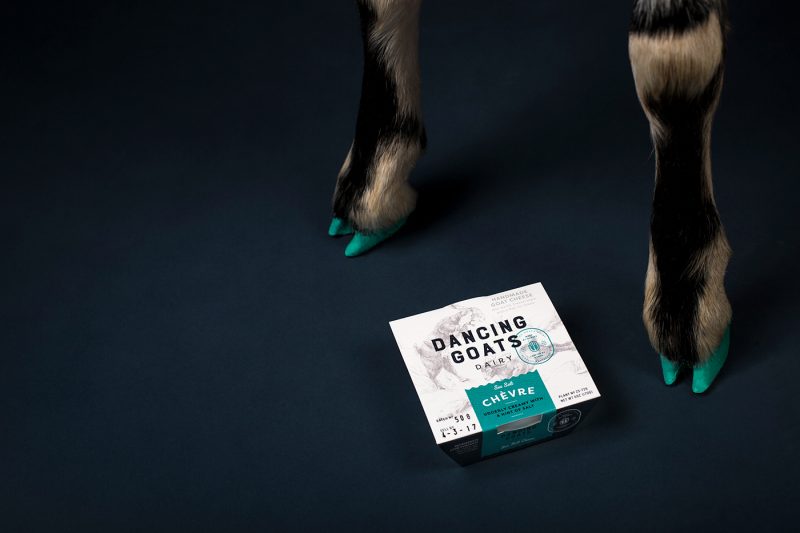 The goat cheese packaging design for Dancing Goats Dairy is one you should take an extra look at. As a bonus, there are a few great looking photos of a goat. What's not to love?
This goat cheese packaging design for Dancing Goats Dairy has everything you need and it looks great. As a little bonus Refinery 43 who is behind the design also added some beautiful photos of a goat to go with it. But before you start the goat-watching, let's take a closer look at the packaging.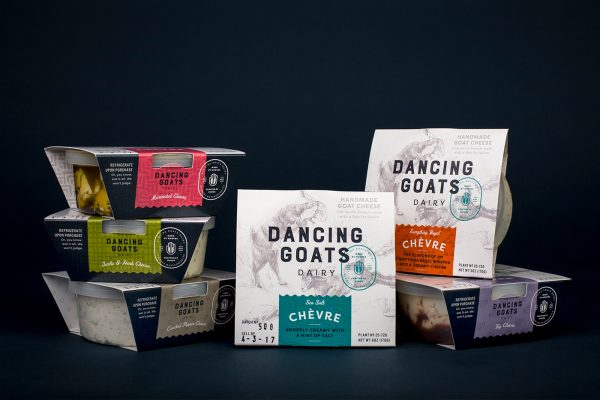 The Goat Cheese Packaging Design
The packaging is a round plastic jar with a snap on lid. It's more or less perfect for storing Chevré cheese, unlike most other brands of goat cheese. The reason is that most types of Chevvré cheeses are fresh and very soft. If you get it in paper or plastic wrapping the cheese tends to smear down more than just a cracker. It's also messy if you're not eating all at once. This packaging solves all those problems. This type of packaging is common for sauces and marinades but you don't see it with cheese very often.
That leaves how to make a plastic jar look good. For packagings like these that usually ends up with two alternatives. Labels or a sleeve around the jar. Luckily Dancing Goats Dairy went with the paper sleeve around the plastic jar. Personally, I think this is a much better choice than labels.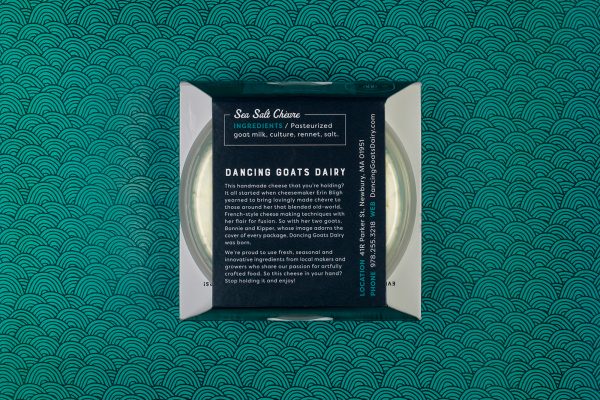 You'll get extra space for design and product information. Every packaging will look the same and as good as it possibly can.
The paper sleeve looks more or less the same for all varieties of the cheese. The front is in white with the brand name and which type of cheese is in it. There is also a couple of Dancing Goats in the background. The sides and bottom come in black with all the other product information.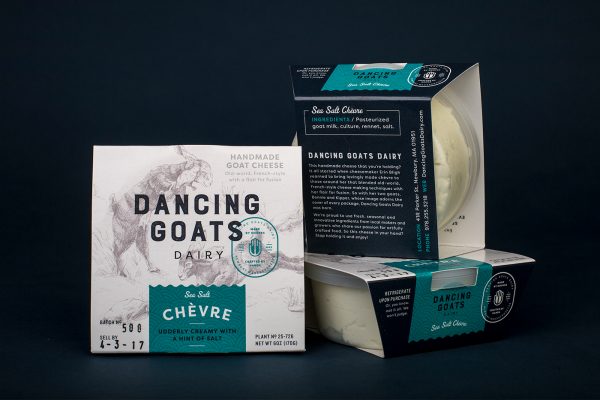 On the side of each packaging is also a third color which is different for each type of cheese. All in all a very good project. The goats I promised in the beginning of this post can be viewed in all its beauty below.
For more great food packaging don't forget to check out my full coverage here. There is also different Goat Cheese Packaging Design I featured before that I think is worth taking a second look at.