Goat Cheese on Toast – Classic Chevré Chaud Recipe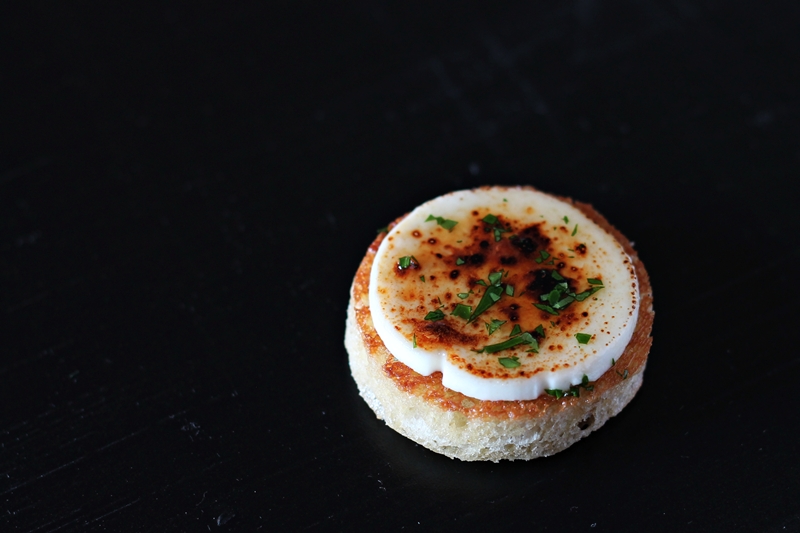 Chevré Chaud is delicious and the name sounds a little bit fancy. Luckily it just means warm goat cheese, learn how to make this classic in a great snack size serving. It's time to make Goat Cheese on Toast.
Goat cheese on toast or Chevrè Chaud as the French call it is a classic appetizer. It's simple, tasty and a great way to serve goat cheese. The combination of warm French goat cheese, a crisp toast and a bit of honey with just a touch of vinegar is an amazing combination. Pair that up with a glass of white wine and your evening will be off to a great start.
It is a very simple appetizer to make, all you need is some fresh goat cheese or Chevrè. That's a fresh, usually round goat cheese with white mold on the sides. you'll need one slice about the thickness of a slice of bread if you want to serve it as an appetizer.
In my photo, I used a smaller kind and served it as a tapas snack instead, but don't worry, the recipe is more or less the same either way. Only thing is, if you are serving the goat cheese as an appetizer you might want to add a salad on the side, some arugula, tomatoes and a slice of cucumber or two works fine but feel free to add any of your own salad favorites.
Goat cheese on toast – Classic Chevré Chaud Recipe
serves 4 as an appetizer
4 slices of goat cheese, mold left on (chevrè)
2 tbsp honey
1 tsp red wine vinegar
salt, black pepper
parsley
salad your way
4 slices of white bread
2 tbsp butter
In a pan toast the bread in butter, you want the bread to be slightly bigger than the cheese, otherwise, the cheese will melt out on the sides of the bread but if it´s too big it will burn in the oven. Leave around a third of an inch/1 cm or bread outside the cheese. Once the bread is toasted put one slice of goat cheese on each slice and put in the middle of the oven on 390f/200°C until golden, this takes around ten minutes.
Meanwhile, prepare the salad and combine the honey with the vinegar and season with salt, pepper and a bit of diced parsley. Put the salad on plates and as soon as the cheese is done put one cheese toast on each plate, add the honey vinaigrette on top of the cheese and serve straight away.
Good luck and I hope you like this recipe as much as I do. For more recipes don't forget to check out my full archives with plenty of recipes. 
If you want to try another recipe with goat cheese I recommend this Bresaola, pickles and goat cheese salad.