Great Packaging For Alo Stockfish from Norway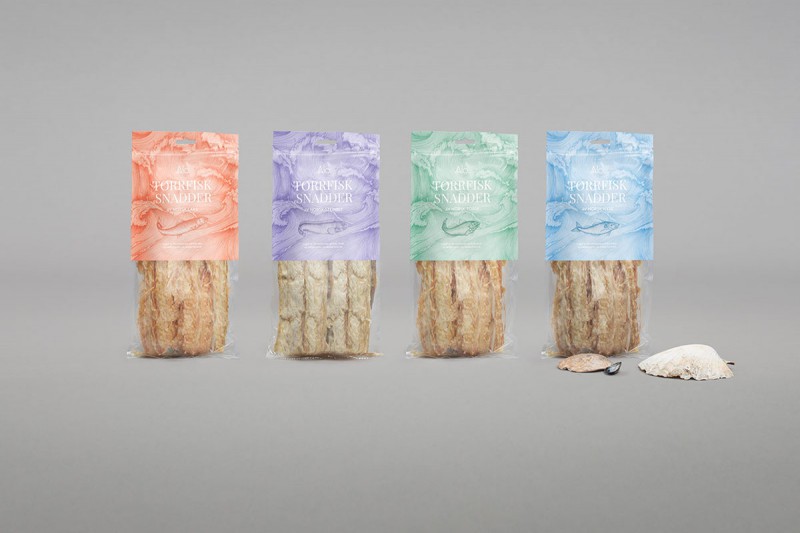 Alo Stockfish is Norwegian dried fish that has been blessed with some great packaging and branding, take a closer look at the design here.
Alo Stockfish is a Norwegian dried fish brand that wants to breathe new life into the old traditions of Norwegian seafood. One part of highlighting this traditional food is to package the products in a modern way.
So for the design Alo have made a range of simple plastic pouches with different colors representing each type of product. But dried fish can actually look beautiful so luckily Alo have chosen to let most of the packaging show the product inside. The upper part of the bag holds the name, product information and design.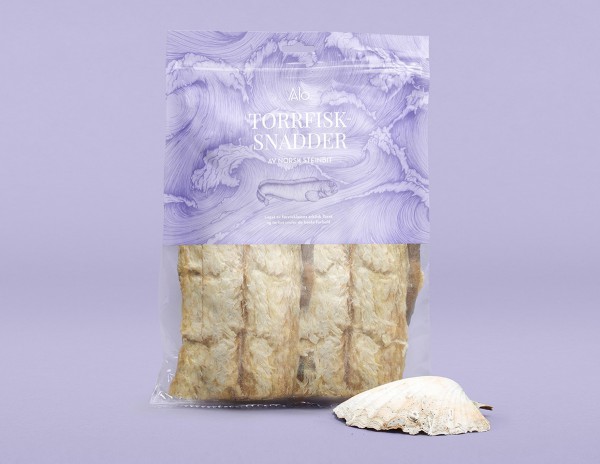 Waves shape the background pattern in the graphic design along with an illustration of the type of fish that has been dried. The name Alo comes from the noise made by seagulls and people during fishing in the old days.
The A in Alo is also a clever design, the shape of it is inspired by the shape of the traditional Norwegian wooden racks used for the traditional drying of fish.

About Alo Stockfish (quoted from Alo)
Alo Stockfish is part of Innomarin, a young company, but with roots dating back to the rich fisheries and processing traditions along the Norwegian coast and in Arctic waters. Alo's products reflect the company's values, which focus on sustainability, quality, traditions, natural tastes and innovation.
Alo's production facility is at Stadlandet in Norway, at a local family enterprise with long traditions that prides itself on producing first-class natural snacks made from dried fish. Alo – dried fish snacks – are produced from first-class fillets that stem from sustainable fisheries. The fish are filleted on board the fishing boats, using methods that ensure that their culinary properties and good natural flavour remain intact.
Upon delivery, each individual fillet is manually checked before being prepared for drying. In order to ensure as good a product as possible, the drying process has been moved to a modern drier in a controlled environment that results in an even and optimal drying process. After drying, the fillets are 'gently' pounded. This is important in order to preserve as much as possible of the good flavour 'inside' each fillet.