Green Almonds – Everything You Need To Know About Fresh Almonds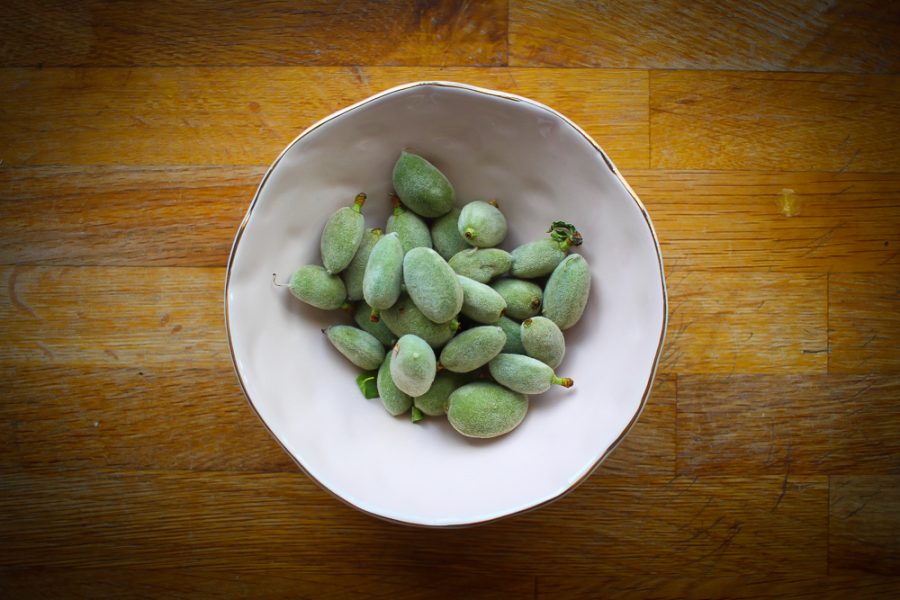 Green almonds or fresh almonds are just that. Those things you think of as hard nuts can also be found fresh and green. Find out everything you need to know about green almonds including how to use them.
Up until just about a week ago I had never tried or even tried to find green almonds or fresh almonds which they are. I found them by accident, bought a pack and took them home. After some trial and error and some research, I thought it would be a good idea to share what I think about them. Let's start at the top with what they are, how to eat them and by the end of this article I've got two simple recipes that you can use them in.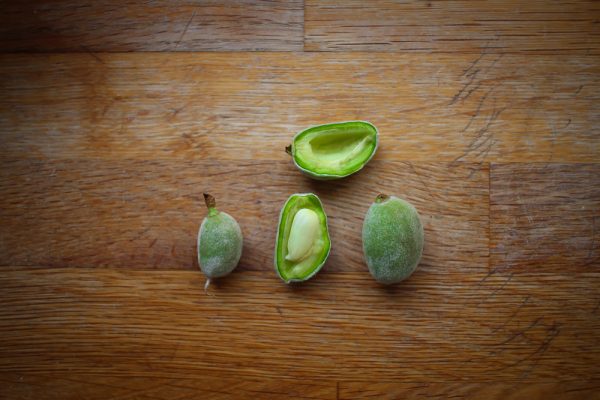 What are green almonds?
Almonds or Prunus Dulcis or Prunus Amygdalus in Latin is both the name for the tree and the seed of the almond tree. What we normally think of is the brown almond nut, most commonly bought peeled. That very same nut fresh is green almonds or fresh almonds.
It can be interesting to know that the nut is actually the seed of the almond tree and is not a real nut. But to be honest we think of it as a nut and besides when using them fresh that is also how we use them, so the fact that it's a seed is more of botanical interest than culinary.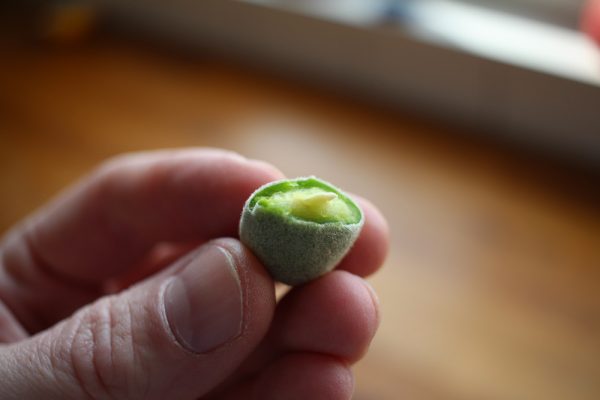 Where and when to buy green almonds
While you can get regular almonds all year round green almonds have a brief season. One or two months during spring, which can depend on where in the world you find yourself. Naturally, you can usually get green almonds close to where almonds grow. But with a bit of luck, you'll be able to find them anywhere, I found mine here in Sweden and they were grown in Turkey so I guess you can get lucky.
However, you are not bound to find any in regular stores. Farmers markets or good supermarkets or speciality stores are your best bets. It's also worth going to any middle eastern store you might have near you. If they don't have fresh ones you might find pickled green almonds which are quite different but not bad. The ones I tried are really crunchy, acidic and salty.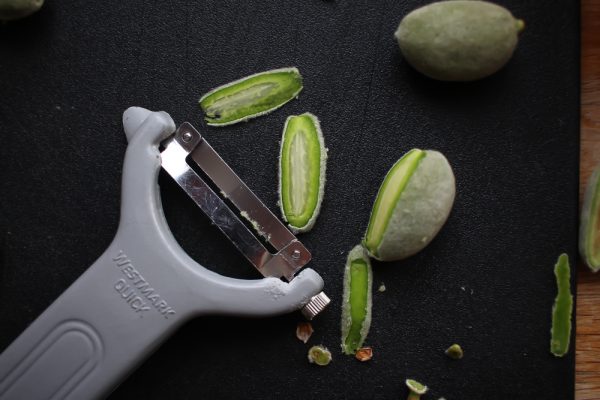 How to eat green almonds
Here's the thing. You can eat them whole. It feels weird at first since the almond looks like an unripe fuzzy plum but it is surprisingly good. You can just sprinkle them with a pinch of salt or just go at them as they are. You can, of course, use them in cooking as well, which brings us to what matters. How they taste.
What do green almonds taste like
Describing flavors in words is not easy. Let's start with the texture. If fresh like they should be they are crunchy, not far from a Granny Smith apple, a little bit tart and they are a bit on the fuzzy side. Not unlike an unripe peach or plum. From what I hear they go quite bitter when they lose their freshness fast so if you can get a sample in the store try them before buying. Mine was really good so I didn't have that problem.
The seed inside the almonds is light green and a bit gelatinous. It turns more into its nut texture once it gets older. That part of the almond doesn't taste much so use them whole.
My best attempt to describe the flavor would be green and fresh. Think of a crunchy slightly tart green apple, watermelon rind or maybe a green strawberry, all in a good way.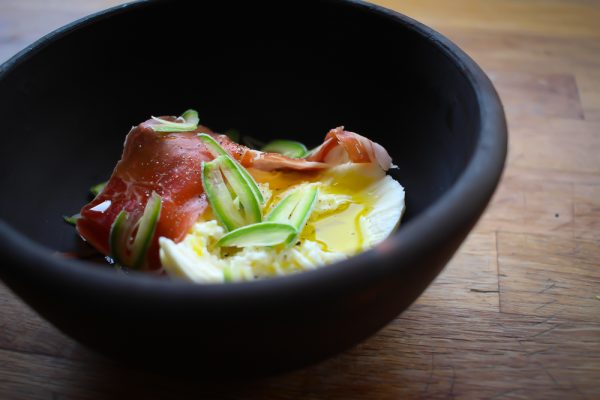 Cooking with green almonds
Now for the important stuff. How do we use these in cooking.?I have to be honest here, I didn't experiment that much with them, just two quick things I put together. One way is to sauteeing them in olive oil, lemon and some salt and serve them as snacks, like the classic olives cousin. That's nice but it kind of ruins the green flavor so I wanted to use them raw as well.
For that, I made a simple dish of mozzarella with Spanish Jamon Serrano, olive oil and shaved green almonds. That way you'll get a crunchy piece with every bite and you'll get to show your guests how beautiful they are. Here are the recipes for both versions.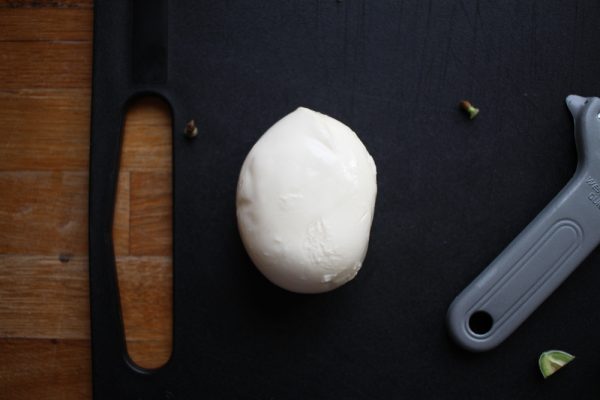 Homemade green almonds for snacking
½ cup / 1.2 dl fresh green almonds
3 tbsp mild olive oil
1 lemon
salt
Heat the oil on medium temperature, add the almonds and sauteé for a few minutes. Turn down the heat to low and let them cook for about twenty minutes. Shake them around every few minutes. Once cooked through squeeze in the lemon and give them a shake. Lift them out of the oil and sprinkle with the salt. Serve as snacks.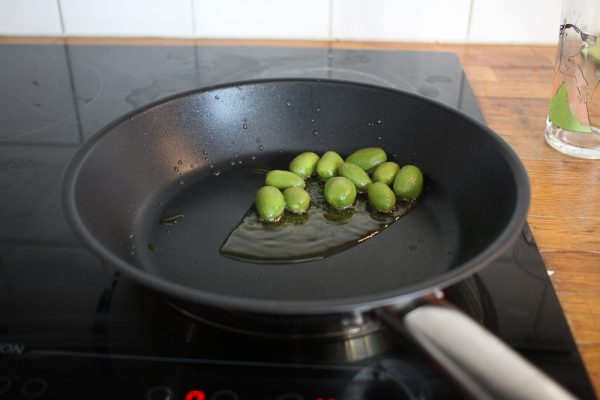 Mozzarella and Jamon Serrano with shaved green almonds
½ piece of fresh mozzarella
2 slices Jamon Serrano
3 shaved almonds
salt, pepper
About as easy as it gets. Tear the mozzarella into a few big chunks. Add to a bowl. Add the ham and then shave the almonds on top using a potato peeler or knife. Drizzle with oil and add some salt and pepper on top. Serve immediately.
Other great ingredients
Every now and then but sadly not as often as I wish I have time for I dig into a specific ingredient. Try to learn as much as possible and share both what I find out and how I use the ingredients for cooking. If you liked this article please check out some of my other ones, you can find them all here.
A few of my favorite ones are the lingonberry, rhubarb and blood orange, check them out and let me know if you like them.