Grilled Lamb Skewers with Fresh Tomato Salsa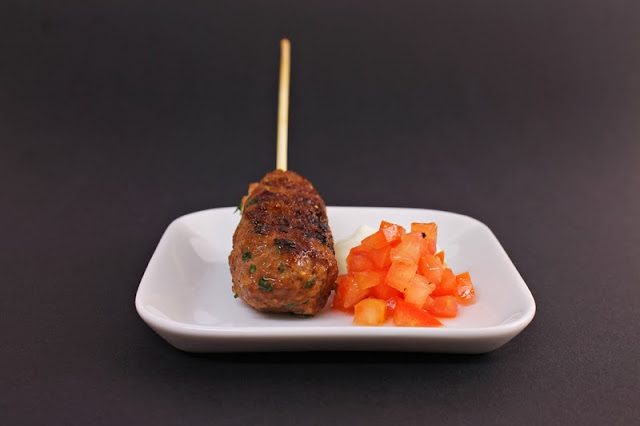 Try this recipe for Grilled Lamb Skewers, they pair great with a fresh tomato salsa and a lemon yogurt. A great recipe for this grilling season.
Grilled lamb skewers are a summer favorite of mine. Simple, cheap, great tasting, what more could you ask for. The recipe was originally made as a tapas or buffé dish so in the photos there is only one lamb skewer served. But I adjusted the recipe to make four full servings. Three grilled lamb skewers for each serving should be enough.
I grilled my skewers but you can pan fry them as well if the weather is not right or you don't have a good grill. I use wooden skewers, make sure to place these in water before you start. That way they will hopefully not start to burn when you grill them and there are less risk that the split and leave splinters in the meat.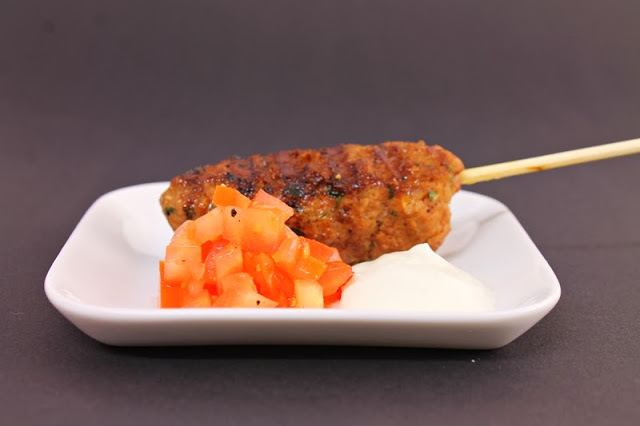 The ground lamb is mixed with herbs, garlic and some paprika powder. On the side I serve a super simple tomato salsa. I left the salsa with only tomatoes, oil and some vinegar. The reason is that I have lots of herbs and garlic in the lamb so I thought it would be better with a very clean tasting tomato salsa.
There is also an equally simple lemon yogurt on the side. Get a Greek-style thick yogurt and simply combine it with some fresh lemon juice and salt.
The one thing missing is a side, I haven't written out a recipe but I usually go with something classic like roast potatoes, grilled bread and maybe a green salad. Good luck.
Grilled Lamb Skewers with Fresh Tomato Salsa & Lemon Yogurt
Serves 4
Make sure to check the fat content of the meat because lamb meat tend to sometimes be really fatty and the next be very lean. A fat content at around fifteen percent is perfect. If you can't find meat with the right fat level you can mix it with either ground pork or beef.
Lamb Skewers
700g / 24 oz ground lamb meat
4 tbsp fresh parsley, chopped
4 tbsp fresh oregano, chopped
4 cloves garlic
2 tbsp paprika powder
4 tbsp olive oil
1 dl / 0,4 cups water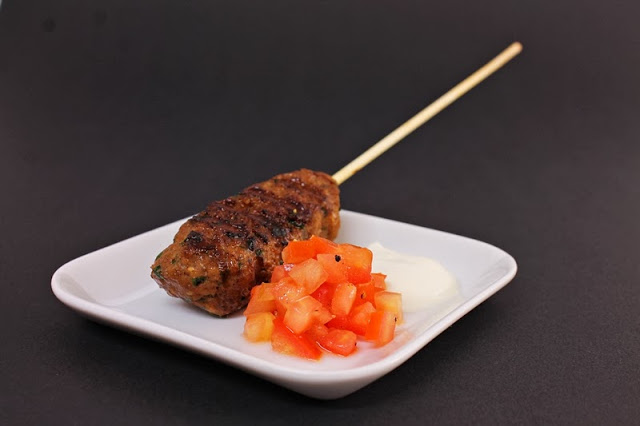 Tomato Salsa
6 tomatoes
1,5 tbsp white wine vinegar
3 tbsp Olive oil
salt, black pepper
Lemon Yogurt
2 dl / 0,8 cups Greek yogurt
2 lemons
salt
Combine the ground lamb meat with chopped parsley, oregano, garlic, paprika powder, salt, pepper, olive oil and water. Combine the meat until the herbs and spices are evenly distributed.
Fry a little piece of meat to check the flavor before shaping the meat for the skewers. When you're satisfied with the flavor then shape the meat to fit the skewers and grill them on high heat on each side. Continue to cook the lamb in the oven until done. You can eat lamb pink but when it comes to grilled lamb skewers like this I prefer to cook them all the way, with the herbs, spices and sides it will not feel dry anyway.
Dice the tomatoes and combine them with olive oil, white wine vinegar, salt and pepper and let marinade for one hour. Remove the liquid from the tomatoes and check the taste of the salsa.
Combine the yogurt with salt  and lemon juice. Serve the skewers with equal amounts of salsa and yoghurt.