Grilled Pork Loin with Lemon and Herbs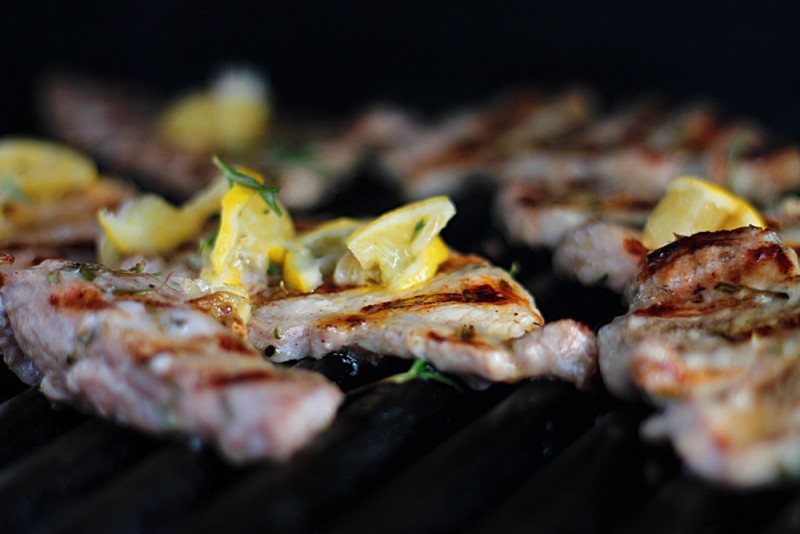 Try this recipe for Grilled Pork Loin with Lemon and Herbs, it's a great and quick way to serve pork loin.
I love pork but I'm not a huge fan of the more leaner pieces, usually I stick with the fattier pieces that is perfect for long and slow roasting. But this recipe with thin sliced pork loin that I came up with is actually really good.
The reason why I don't like the leaner cuts is that you need to cook them well done since it's pork. With a lean cut that usually means dry meat unless it is cooked absolutely perfect which is hard. So I tried to do something different when I wa going to grill some pork.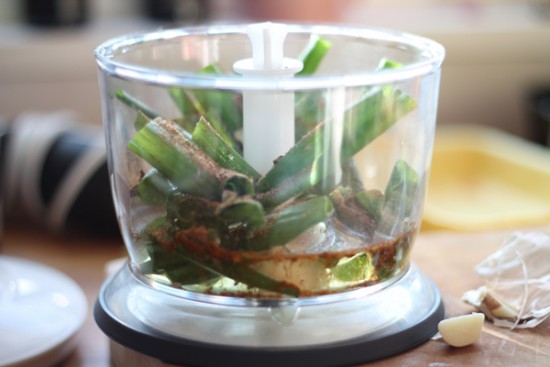 Instead of cutting the pork in regular thick slices and grilling them or whole roasting the piece I sliced the pork loin very thin, about ⅓ inch or 1 centimeter thick for each slice. Then I made a flavorful marinade with lemon, herbs and onion. With a thin slice you can cook a piece like this in a matter of seconds, but it does require high heat so you get that great charred taste. Also the pork loin needs to be served immediately after being grilled so make sure you have everything else ready before you start grilling.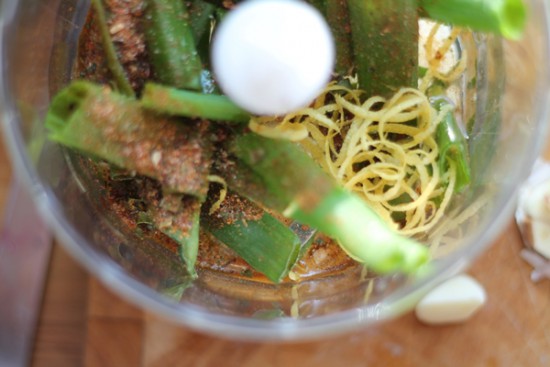 This recipe is only for the grilled pork loin, you have to figure out what to serve on the side on your own. I can recommend some grilled vegetables or maybe a nice salad though. I have posted a full guide to grilling vegetables here that you can check out. Now let's grill some pork.
Grilled Pork Loin with Lemon and Herbs
Serves 4
600g fresh pork loin
4 lemons
A handful of fresh rosemary
A few leaves of fresh parsley
2 cloves garlic
1 tsp paprika powder
Salt, pepper
2 scallions/spring onions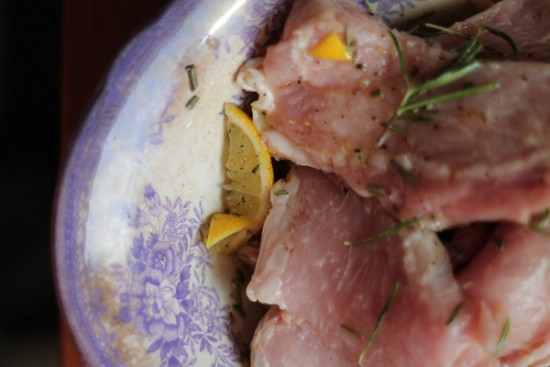 Trim the pork loin and then cut into ⅓ inch / 1 cm thick slices. Zest of the skin of two of the lemons and add to a mixer with the herbs, paprika, scallions and some salt and pepper. Squeeze two lemons in the mixer as well. Mix until smooth and then combine the marinade with the meat. Leave to marinade for about one hour.
Chop the rest of the lemons rough and then grill the pork on high heat on a grill until cooked through. Put the chopped lemons on the grill with the meat and squeeze over the juices on the meat. Season with salt and pepper. Serve.